Si-Manis PSP dan MPO, Kompatibel Smart Kemenkeu dan e-Monev Bappenas
Online App Monitor Usage of Indonesia`s Agricultural Development Budget
Editor : M. Achsan Atjo
Translator : Dhelia Gani

PUBLISHED: Kamis, 07 Februari 2019 , 22:47:00 WIB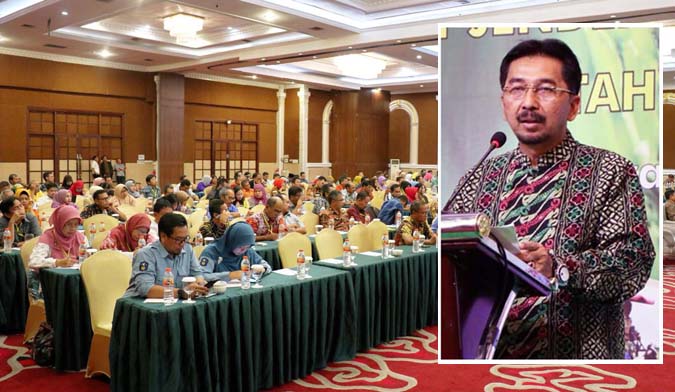 RATEKSIN YOGYA: Lebih 100 peserta dari seluruh RI hadiri rapat teknis Ditjen PSP di Yogyakarta, yang dibuka oleh Dirjen Sarwo Edhy (inset), tindak lanjut Rakorsin Bogor, penghujung Januari 2019 (Foto2: Humas)
Yogyakarta, DIY (B2B) - Kementerian Pertanian RI mengingatkan setiap satuan kerja (satker) melakukan pemantauan dan pengendalian intensif serta aktif melaporkan periodik perkembangan kegiatan prasarana dan sarana pertanian (PSP) di daerah masing-masing melalui berbagai instrumen pemantauan dan evaluasi kinerja anggaran/kegiatan dengan aplikasi online Smart dari Kemenkeu, e-Monev Bappenas dan Model Pelaporan Online (MPO) serta Si-Manis PSP yang diluncurkan Ditjen PSP Kementan.
Hal itu dikemukakan Direktur Jenderal PSP Kementan, Sarwo Edhy saat membuka ´rapat teknis pengelolaan anggaran Ditjen PSP´ di Yogyakarta, Rabu (6/2), yang diikuti lebih dari 100 peserta dari seluruh Indonesia, dan dihadiri oleh Sekretaris Ditjen PSP, Mulyadi Hendiawan.
"Empat aplikasi yang dikembangkan Kemenkeu, Bappenas dan Ditjen PSP Kementan bertujuan memastikan bahwa pelaksanaan seluruh kegiatan PSP berjalan sesuai target," kata Sarwo Edhy, yang berada di Yogyakarta dua hari setelah dilantik Mentan Amran Sulaiman, Senin (4/2), menggantikan Pending Dadih Permana sebagai Dirjen PSP.
Sebagaimana diketahui, Smart adalah aplikasi online Sistem Monitoring dan Evaluasi Kinerja Terpadu Kementerian Keuangan (Kemenkeu). Sementara e-Monev yang dikembangkan oleh Badan Perencanaan Pembangunan Nasional (Bappenas) adalah aplikasi untuk pemantauan pelaksanaan rencana pembangunan dan pelaporannya.
"Aplikasi Kemenkeu dan Bappenas kompatibel dengan Si-Manis PSP dan MPO dari Ditjen PSP Kementan. Fungsinya, selain menjadi media informasi juga menjadi sarana pengawasan bantuan, dan kemudahan prasarana dan sarana pertanian," kata Sarwo Edhy, yang sebelumnya menjabat Direktur Buah dan Florikultura di Ditjen Hortikultura.
Dirjen Sarwo Edhy menambahkan rapat teknis di Yogyakarta merupakan tindak lanjut dari ´rapat koordinasi, dan sinkronisasi´ atau Rakorsin lingkup Ditjen PSP di Bogor pada 22 - 24 Januari 2019.
"Berbeda dengan Rakorsin Bogor yang bertujuan menyelaraskan kebijakan program sekaligus menyusun strategi percepatan pelaksanaan kegiatan tahun anggaran, Ratek Yogya ajang mendetailkan strategi percepatan pelaksanaan kegiatan TA 2019. Pada kesempatan ini, dapat disepakati pula kebijakan relokasi kegiatan dan komitmen daerah terkait kesanggupan melaksanakan kegiatan lingkup Ditjen PSP," katanya.
Yogyakarta (B2B) - Indonesian Agriculture Ministry reminded every work unit across the country conduct intensive monitoring and control and actively report periodic the activities of agricultural infrastructure and facilities through various budget performance monitoring and evaluation instruments with the Smart online application of the Finance Ministry, e-Monev Bappenas, and Online Reporting Model or the MPO and Si-Manis PSP was launched by the Directorate General of Agricultural Infrastructure and Facilities or the Ditjen PSP.
It was stated by the Director General of PSP, Sarwo Edhy while opened ´budget management technical meeting´ here on Wednesday (February 6) attended by more than 100 participants across the country and Secretary of Ditjen PSP, Mulyadi Hendiawan.
"The four online applications aim to ensure that the implementation of all agricultural infrastructure and facilities development activities goes according to the target," said Sarwo Edhy.
As is known, Smart is an online application of Finance Ministry´s Integrated Performance Monitoring and Evaluation System. Meanwhile e-Monev was developed by the National Development Planning Agency or Bappenas is an application to monitor the implementation of development plans and reporting.
"Both online applications are compatible with Si-Manis PSP and MPO. Its function, as an information media is also an online application for assistance supervision, and facilitation of agricultural infrastructure and facilities," Sarwo Edhy said.
He said the technical meeting in Yogyakarta to follow up the Bogor coordination meeting on 22 to 24 January 2019.
"Unlike the Bogor coordination meeting, it aims to harmonize program policies and develop a strategy for implementing the budget, Yogyakarta technical meeting for detailed strategies of accelerating implementation of 2019 budget," Edhy said.