Big Data Pertanian: 2,5 Juta Petani Jateng Partisipasi Kartu Tani
2.5 million Central Java Farmers participated Indonesia`s Tani Card
Editor : M. Achsan Atjo
Translator : Dhelia Gani

PUBLISHED: Selasa, 24 September 2019 , 22:48:00 WIB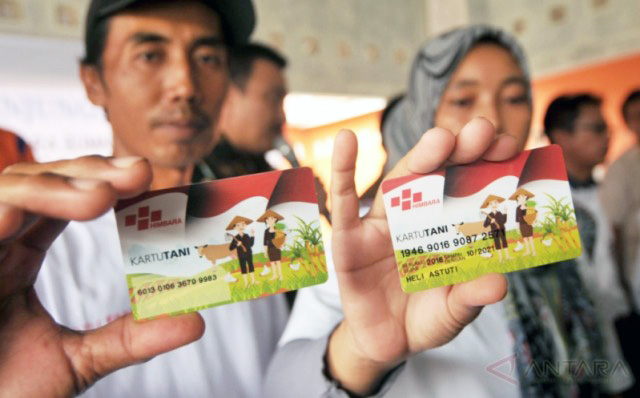 KARTU TANI: Selain untuk memastikan pemberian subsidi pada petani tepat sasaran, juga merupakan data real petani seperti jenis cocok tanaman, luas lahan, dan lokasinya [Foto: istimewa]
Semarang, Jateng [B2B] - Sedikitnya 2,5 juta dari 2,8 juta petani di Provinsi Jawa Tengah telah terdata untuk kepemilikan Kartu Tani yang dikeluarkan Kementerian Pertanian RI, dan hanya 300.000 petani yang saat ini belum ter-input dalam Big Data dari Kartu Tani.
"Saat ini hanya kurang 300 ribu petani saja yang belum menerima kartu tani. Kami terus mengejar pendataan dengan mempercepat program Kartu Tani. Bulan ini, sudah ada 194.871 kartu yang dalam proses pembagian," kata Suryo Banendro, Kepala Dinas Pertanian dan Perkebunan [Distanbun] Pemprov Jateng pada Senin [23/9].
Menurutnya, Kartu Tani selain untuk memastikan pemberian subsidi pada petani tepat sasaran, juga merupakan data real petani. Seperti jenis cocok tanaman, luas lahan, dan lokasinya. Hal itu berguna untuk memantau produksi pertanian Jateng dengan baik.
"Tujuannya agar kebijakan-kebijakan yang diambil akan sesuai dengan kebutuhan di lapangan," katanya.
Suryo Banendro menambahkan Distanbun Pemprov Jateng menargetkan dalam waktu yang tidak lama, semua petani di Jateng sudah mendapat Kartu Tani. Mereka juga akan terus mensosialisasikan tentang penggunaan dan manfaat dari kartu tersebut.
Di Jateng, program Kartu Tani yang diluncurkan oleh Gubernur Jateng Ganjar Pranowo pada 2015 bukan hanya untuk memudahkan para petani dan bicara soal pembagian pupuk bersubdisi saja. Namun lebih dari itu, program itu adalah upaya pendataan petani di Jawa Tengah sesuai kondisi di lapangan.
"Program tersebut pun sebenarnya adalah pendataan untuk mengetahui siapa, tanam apa, di mana dan berapa luasannya, untuk kemudian diambil kebijakan yang sesuai bagi mereka," kata Suryo Banendro.
Dalam kesempatan terpisah, Gubernur Ganjar Pranowo menegaskan program Kartu Tani bukan hanya berbicara soal pupuk bersubsidi, namun lebih pada pendataan petani di lapangan, karena data pertanian penting untuk menjadikan Indonesia sebagai negara swasembada pangan.
"Saat ini, hanya Jawa Tengah yang memiliki data pertanian terlengkap yang tidak dimiliki daerah lain. Mulai data siapa petaninya, di mana lokasinya, dia tanam apa, berapa luasannya dan lain sebagainya," kata Ganjar.
Data-data tersebut, tambah Ganjar, sangatlah penting untuk dasar pengambilan kebijakan soal pertanian Jateng dan Indonesia di masa yang akan datang. [Sur]
Semarang of Central Java [B2B] - At least 2.5 million of the 2.8 million farmers in Central Java province have been recorded to participate in Tani Card program of Indonesian Agriculture Ministry, and only 300,000 farmers have not been inputted by Big Data of Tani Card, according to senior official of the Central Java provincial government.