Evaluasi #Bekerja, Auditor IV ItJenTan Ingatkan Profesionalitas Tim Evaluator
Indonesian Govt Evaluates Poverty Alleviation Programs of Agriculture Ministry
Editor : M. Achsan Atjo
Translator : Dhelia Gani

PUBLISHED: Selasa, 08 Oktober 2019 , 22:52:00 WIB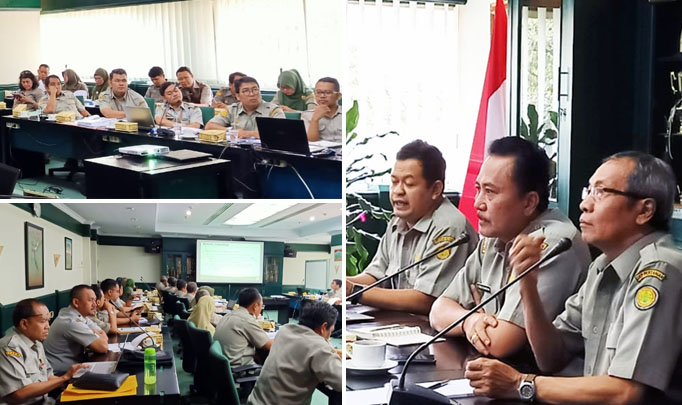 RAKOR EVALUASI: Inspektur IV ItJenTan, IGMN Kuswandana [tengah, inset kanan] membuka Rakor Evaluasi didampingi Bambang Irawan dan Endro Gunawan dari PSEKP [Foto2: Humas ItJenTan]
Jakarta [B2B] - Inspektorat Jenderal Kementerian Pertanian [ItJenTan] menggelar rapat koordinasi pembahasan evaluasi Program #Bekerja untuk merumuskan indikator evaluasi kegiatan Program 'Bedah Kemiskinan Rakyat Sejahtera Berbasis Pertanian' untuk pengentasan kemiskinan melalui usaha ternak ayam/itik dan budidaya hortikultura demi meningkatkan pendapatan rumah tangga miskin pertanian [RTMP]. Program #Bekerja mengacu pada Peraturan Presiden [Perpres] No 96/2015 tentang Perubahan Atas Perpres No 15/2010 tentang Percepatan Penanggulangan Kemiskinan.
"Syarat menjadi tim evaluator harus profesional dan independen, tak kalah penting adalah berani dan mampu melakukan evaluasi. Artinya, tim evaluator harus memiliki integritas yang tinggi terhadap kegiatan yang dievaluasi," kata Inspektur IV ItJenTan, IGMN Kuswandana saat membuka kegiatan Rakor Evaluasi Program #Bekerja di Jakarta, Senin [7/10].
Kuswandana menambahkan Tim Evaluasi ItJenTan bekerja berdasarkan Keputusan Menteri Pertanian [Kepmentan] Nomor: 58/KPts/OT.050/M/1/2019 tentang Tim Pelaksana Program #Bekerja 2019, ItJenTan selaku APIP Kementerian Pertanian mempunyai tugas sebagai tim evaluator, sehingga dapat merumuskan indikator evaluasi kegiatan #Bekerja dengan melakukan peninjauan dan monitoring sesuai kriteria yang ditetapkan, dan melaporkan hasil evaluasi kepada Menteri Pertanian RI.
Rakor juga memaparkan 'metode evaluasi program' #Bekerja 2019 oleh narasumber dari Pusat Sosial Ekonomi dan Kebijakan Pertanian di Sekretariat Jenderal Kementan [PSEKP] Bambang Irawan dan Endro Gunawan. Turut hadir penanggung jawab kegiatan #Bekerja dari eselon satu lingkup Ditjen Peternakan dan Kesehatan Hewan, Ditjen Hortikultura, Ditjen Perkebunan, Badan Litbang Pertanian [Balitbangtan], Badan Ketahanan Pangan [BKP] dan para auditor lingkup ItJenTan.
Sebagaimana diketahui, Kementan menargetkan alokasi 10,45 juta ekor ayam/itik untuk 209.127 RTMP yang dilaksanakan oleh 14 satuan kerja pelaksana kegiatan [Satker] di 2.366 desa dari 206 kecamatan pada 57 kabupaten/kota di 12 provinsi dari hasil verifikasi hingga 27 Agustus 2019 dalam Program #Bekerja.
Sebelumnya diberitakan, Program #Bekerja merupakan upaya pengentasan kemiskinan di Indonesia berbasis pertanian dalam tiga tahapan: jangka pendek, menengah, dan panjang yang diperuntukkan bagi RTMP. Kementan melibatkan sejumlah pakar di bidangnya untuk meningkatkan akuntabilitas kinerjanya agar kegiatan on the track menurunkan angka kemiskinan di pedesaan tercapai.
"Perkembangan kegiatan #Bekerja 2019 hingga 27 Agustus 2019 telah melaksanakan proses verifikasi oleh 14 satker pelaksana dengan realisasi 209.127 RTMP atau sudah 100%," kata Dirjen Peternakan dan Kesehatan Hewan [PKH Kementan] I Ketut Diarmita pada Rakor #Bekerja 2019 di Jakarta, Rabu [28/8]. [Ri2n]
Jakarta [B2B] - Inspectorate General of the Agriculture Ministry held the coordination meeting for evaluation of poverty alleviation programs through chicken farming and horticulture called the #Bekerja to increase the income of poor agricultural households across the country, according to the senior official of agriculture ministry.