33 PNS ItJenTan Lakukan Sumpah Jabatan bersama 414 PNS Kementan
Oath of Office 414 Civil Servants of Indonesian Agriculture Ministry
Reporter : Gusmiati Waris
Editor : Cahyani Harzi
Translator : Dhelia Gani

PUBLISHED: Senin, 04 Maret 2019 , 22:56:00 WIB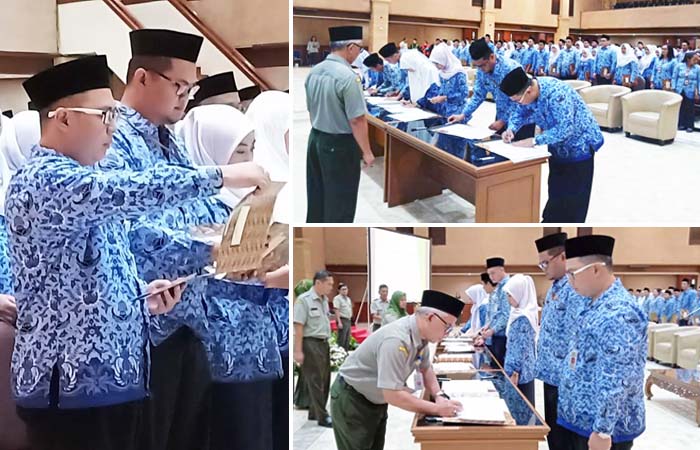 ABDI NEGARA: 33 PNS ItJenTan diambil sumpah jabatan bersama 414 PNS Kementan disaksikan oleh Karo OKE Kementan, Abdul Halim (Foto2: Humas ItJenTan)
Jakarta (B2B) - Sedikitnya 414 PNS di Kementerian Pertanian melaksanakan sumpah jabatan sebagai abdi negara di Jakarta, Senin (4/3), 33 di antaranya adalah PNS di lingkup Inspektorat Jenderal (ItJenTan). Sebagian dari mereka adalah CPNS 2018, selebihnya merupakan CPNS 2009 dan 2015 pada 11 unit kerja eselon satu Kementan, yang belum melaksanakan sumpah jabatan sesuai instruksi PP No 11/2017 disumpah.
"Pengambilan sumpah PNS Kementan merupakan upaya pembinaan sebagai aparatur negara, setia dan taat pada Pancasila dan UUD 1945, dan diharapkan mendukung terciptanya good governance di Kementan," kata Kepala Biro Organisasi dan Kepegawaian Setjen Kementan, Abdul Halim dalam arahannya usai sumpah jabatan di Auditorium kantor pusat Kementan, kawasan Ragunan.
Menurut Abdul Halim, pengambilan sumpah jabatan merupakan suatu keharusan bagi PNS, dan menjadi motivasi untuk bekerja keras, ikhlas dan tuntas serta memberikan pelayanan maksimal agar visi dan misi Kementan terwujud.
"Hal utama yang harus difahami seorang PNS adalah peraturan kepegawaian, serta mengerti hak dan kewajibannya sehingga dapat melaksanakan tugasnya dengan baik sesuai sumpah jabatan yang diucapkan sebagai aparatur negara," katanya lagi.
Dia mengingatkan, PNS terikat sumpah dan jabatan maka harus melaksanakan seluruh kebijakan Kementan, menghindari konflik kepentingan, dan siap melaporkan segala penyimpangan.
"Bulatkan tekad sebagai PNS profesional dengan mensyukuri karunia dan nikmat dari Tuhan YME karena mendapat kesempatan menjadi PNS," kata Abdul Halim.
Jakarta (B2B) - At least 414 civil servants Indonesian Agriculture Ministry took the oath as the state apparatus, here on Monday (March 4), 33 of whom are civil servants of the Inspectorate General. The Indonesian civil servants oath is an instruction of Government Regulation Number 11/2017.
"The oath of civil servants in the ministry of agriculture is an effort to foster the state apparatus, be loyal and obey the constitution and the state foundation," said the Head of the Organization and Civil Service Bureau, Abdul Halim in his direction.
According to Abdul Halim, taking oaths was an obligation of civil servants, motivation to work hard, be sincere and thoroughly provide the best service to support the achievement of the ministry´s vision and mission.
"The main thing that must be understood by a civil servant is staffing regulations, understand the rights and obligations so that they can carry out their duties properly and correctly," he said.
He reminded them that they were sworn in oaths and had to carry out ministry policies, avoid conflicts of interest, and be ready to report any irregularities.
"Develop your own potential as a professional by being grateful for the gifts and favors of God to get the opportunity as a state civil apparatus," Halim said.