Dirjen PSP: Mekanisasi Pertanian Dorong Efisiensi Biaya dan Tenaga Kerja
Indonesian Govt encourages Farmers to Use Agricultural Machinery
Editor : M. Achsan Atjo
Translator : Dhelia Gani

PUBLISHED: Jum'at, 11 Oktober 2019 , 23:00:00 WIB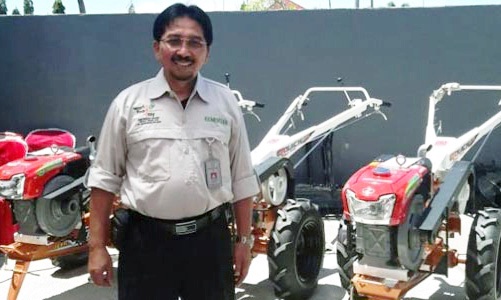 UJI COBA: Dirjen PSP Kementan, Sarwo Edhy usai menyerahkan bantuan Alsintan kepada petani melalui Poktan dan Gapoktan [Foto: Humas Ditjen PSP]
Jakarta [B2B] - Kementerian Pertanian terus mendorong dan mendukung petani untuk terampil menggunakan alat mesin pertanian [Alsintan], sebagai program strategis Direktorat Jenderal Prasarana dan Sarana Pertanian - Kementerian Pertanian [Ditjen PSP Kementan] mengoptimalkan bantuan Alsintan kepada petani melalui kelompok tani di seluruh Indonesia melalui kerjasama dengan dinas pertanian di tingkat provinsi/kabupaten/kota.
Dirjen PSP Kementan Sarwo Edhy memberi contoh tentang penggunaan tenaga manusia menggunakan cangkul maka dalam satu hektar sawah diperlukan 30 - 40 orang, waktu pengerjaan 240 - 400 jam per hektar, dengan biaya minimal Rp 2,5 juta per hektar.
Sementara dengan traktor tangan, hanya diperlukan tenaga kerja dua orang, waktu kerja 16 jam per hektar dan biaya Rp900.000 hingga Rp1,2 juta per hektar.
"Begitu pula saat panen, apabila menggunakan Alsintan hanya perlu waktu tiga jam sudah selesai, sedangkan kalau menggunakan tenaga manusia perlu waktu satu minggu," kata Dirjen Sarwo Edhy.
Keuntungan lainnya adalah saat tanam bisa serentak, karena pengolahan lahan bisa cepat sehingga petani bisa tanam tiga kali dalam setahun. Kalkulasi pemerintah dengan mekanisasi dapat menghemat biaya produksi hingga 30% dan menurunkan susut panen 10%.
Mekanisasi juga menghemat biaya olah tanah, biaya tanam dan panen dari pola manual Rp7,3 juta per hektar menjadi Rp5,1 juta per hektar.
"Untuk optimalisasi Alsintan, pemerintah pusat, provinsi, kabupaten dan penyuluh terus memobilisasi penggunaan Alsintan agar bisa digunakan secara optimal oleh petani," katanya.
Jakarta [B2B] - Indonesian government encourages and supports skilled farmers using agricultural machinery [Alsintan], as the strategic program Directorate General of Agricultural Infrastructure and Facilities at the Agriculture Ministry [Ditjen PSP Kementan] optimizing Alsintan´s assistance to farmers through farmer groups across the country who was supported by the agricultural service office at the provincial/district/city level.