2,23 Juta Pedet, Kontes Ternak Sidoarjo `Panggung Sukses` Upsus Siwab
Indonesian Govt Supports Smallholder Farmers to Increase the Cattle Population
Reporter : Gusmiati Waris
Editor : Cahyani Harzi
Translator : Dhelia Gani

PUBLISHED: Minggu, 28 Oktober 2018 , 23:09:00 WIB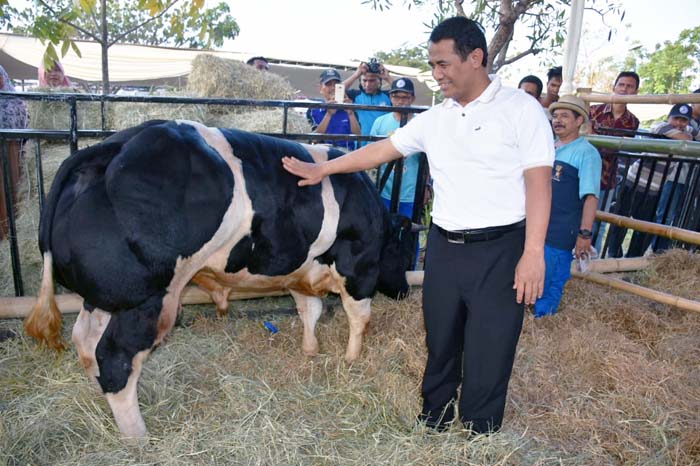 BELGIAN BLUE: Mentan Andi Amran Sulaiman mengamati sapi Belgian Blue berbobot lebih satu ton di Kontes Ternak Sidoarjo (Foto: Humas Kementan)
Sidoarjo, Jatim (B2B) - Setelah diluncurkan Kementerian Pertanian RI pada awal 2017, program Upsus Siwab menghasilkan 2.235.977 ekor anak sapi atau pedet dari indukan sapi milik peternak di seluruh Indonesia. Enam bulan ke depan, populasi pedet diprediksi meningkat hingga 3,5 juta ekor, didasarkan pada jumlah pedet yang segera lahir dan jumlah sapi bunting.
Menteri Pertanian RI Andi Amran Sulaiman menyambut positif capaian program Upsus Siwab - Upaya Khusus Sapi Indukan Wajib Bunting - dan menyampaikan apresiasi pada semangat peternak rakyat.
"Kami bangga pada peternak Indonesia yang bersemangat mengembangkan sapi nasional, sehingga populasinya meningkat, lebih berkualitas, dan mensejahterakan peternak," kata Mentan Amran Sulaiman saat membuka ´Kontes Ternak dan Panen Pedet 2018´ di Pasar Induk Puspa Agro, Sidoarjo, Minggu (28/10).
Ke depan, menurutnya, peternak harus mampu memenuhi kebutuhan dalam negeri bahkan dunia sesuai visi Lumbung Pangan Dunia 2045,
Program Upsus Siwab merupakan terobosan utama Kementan untuk mempercepat peningkatan populasi sapi lokal, dengan strategi optimalisasi inseminasi buatan (IB) di 34 provinsi.
Kementan memberikan gratis semen beku beserta alat dan sarana prasarana, serta biaya operasional kepada peternak. Didukung pelayanan gratis penanganan sapi betina yang mengalami gangguan reproduksi.
Pelaksanaan Upsus Siwab mengacu pada pelaporan kinerja Upsus Siwab yang terverifikasi, terlaporkan dan tercatat didukung teknologi informasi melalui Sistem Informasi Kesehatan Hewan Terintegrasi (iSikhnas) dari Kementan.
Kontes Ternak Sidoarjo menghadirkan lebih 2.500 ekor sapi hasil Upsus Siwab, yang diikuti peternak unggulan dari seluruh Indonesia, sapi jantan ekstrim hasil IB menarik perhatian pengunjung lantaran bobotnya lebih satu ton. Hadir pula sapi jenis Belgian Blue hasil transfer embrio berotot besar, bobotnya 1,2 hingga 1,6 ton.
Sidoarjo, Jatim (B2B) - After being launched by Indonesian Agriculture Minisry in early 2017, the cattle self-sufficiency program or the Siwab produce 2,235,977 calves, locally known as the pedet, across the country. Six months ahead, the calf population is predicted to increase to 3.5 million, based on the number of pregnant cows.
Indonesian Agriculture Minister Andi Amran Sulaiman appreciated the success of Upsus Siwab program - the acronym of a female cow must be pregnant - and he was appreciates the spirit of the people´s farmers.
"We are proud of Indonesian farmers who are eager to develop national cattle, so that the population increases, has more quality, and welfare of farmers," said Minister Sulaiman while opened when opened the the Sidoarjo Livestock Contest here on Sunday (October 28).
In the future, according to him, farmers must be able to meet the needs of domestic cattle and beef.
The Upsus Siwab program is the ministry´s main breakthrough to accelerate the increase of local cattle population, with an optimization strategy for artificial insemination in 34 provinces.
The agriculture ministry provides free frozen cement along with tools and infrastructure, as well as operational costs to farmers, supported by free service handling reproductive disorders of female cattle.
The Upsus Siwab implementation refers to the performance reporting of Upsus Siwab that is verified, reported and recorded supported by information technology through the Integrated Animal Health Information System or the iSikhnas of the ministry.
Sidoarjo Livestock Contest presents more than 2,500 cows that are followed by leading farmers across the country.