Harga Daging Ayam Anjlok, Ditjen PKH Kementan Ajukan 10 Langkah Solusi
10 Steps of Indonesian Govt to overcome Chicken Prices Go Down
Reporter : Gusmiati Waris
Editor : Cahyani Harzi
Translator : Dhelia Gani

PUBLISHED: Rabu, 06 Maret 2019 , 23:15:00 WIB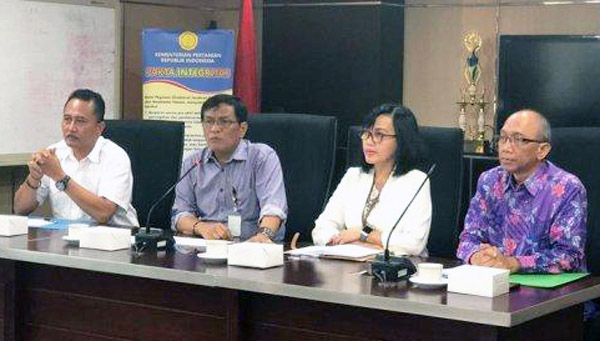 KOORDINASI DAERAH: Dirjen PKH Kementan, I Ketut Diarmita (ke-2 kiri) menjawab pers di Jakarta didampingi ketiga direkturnya (Foto: B2B/Mya)
Jakarta (B2B) - Kementerian Pertanian RI menyanggah tudingan pasokan ayam usia satu hingga 14 hari atau day old chicken/DOC berlebih, tapi karena permintaan pasar menurun yang kerap terjadi pada Maret, sementara harga rata-rata adalah Rp19.000 per kg dan diharapkan naik di atas Rp20.000 per kg sehingga tidak merugikan peternak, bulan lalu harganya anjlok hingga Rp17.300 per kg.
Dirjen Peternakan dan Kesehatan Hewan (PKH) I Ketut Diarmita mengatakan pihaknya menempuh 10 langkah untuk solusi stabilisasi harga daging ayam, yakni mengimbau para integrator untuk memaksimalkan kapasitas cold storage dan pemotongan di rumah potong hewan unggas (RPHU) sebagai langkah pertama.
"Pasar komoditas unggas saat ini didominasi fresh commodity sehingga produk mudah rusak, sebaiknya tidak lagi dijual sebagai ayam segar melainkan ayam beku, ayam olahan dan inovas produk lainnya. Tujuannya agar harga di peternak sebagai farm gate akan kembali normal," kata Dirjen Ketut D kepada pers di Jakarta, Rabu (6/3).
Langkah kedua adalah menunda setting telur ayam ras tetas (hetching egg) selama satu sampai dua pekan untuk semua parent stock. Mengimbau para pelaku usaha pembibit untuk meningkatkan kualitas DOC dengan menerapkan sertifikat Standar Nasional Indonesia (SNI) sebagai langkah ketiga.
Keempat, meningkatkan promosi dan kampanye konsumsi protein hewani untuk mendorong kenaikan konsumsi per kapita per tahun. Kelima, pemerintah daerah seharusnya mengatur dan mengawasi budidaya ayam ras diikuti pendataan para peternak dan populasi ayam ras di wilayahnya.
Keenam, para pelaku usaha diimbau mengukur jumlah ayam pada Januari untuk menjaga keseimbangan produksi dan permintaan. Ketujuh, para integrator per 1 Maret 2019 wajib melaporkan produksi DOC dan tujuan distribusi setiap bulan via online.
"Pemerintah meningkatkan pengawasan terhadap pelaksanaan Permentan No 32 tahun 2017 tentang penyediaan, peredaran dan pengawasan ayam ras, dengan melibatkan dinas terkait di daerah sebagai langkah kedelapan," kata Dirjen Ketut Diarmita.
Kesembilan, mengoptimalkan tim analisa, asistensi dan pengawasan mendukung pelaksanaan Permentan 32 tahun 2017. Ke-10, mengimbau agar para perusahaan integrator terus meningkatkan ekspor mengingat saat ini produksi daging ayam nasional sudah swasembada.
Jakarta (B2B) - Indonesian Agriculture Ministsry denies allegations of excessive supply of day old chicken, but market demand falls every March while the current price of race chicken is IDR 19,000 per kg, and is expected to rise above IDR 20,000 per kg so that farmers do not lose money last month the price dropped to IDR 17,300 per kg.
Director General of Livestocks and Animal Health, I Ketut Diarmita said that it took 10 steps to stabilize the price of chicken meat, especially to integrators to maximize the capacity of cold storage in poultry slaughterhouses.
"The poultry commodity market is currently dominated by fresh commodities so that products are easily damaged, it should no longer be sold as fresh chicken but frozen chicken, processed chicken and other product innovations so that the price at the farm gate returns to normal," Ketut Diarmita told the press here on Wednesday (March 6).
The second step is to delay hetching egg for one to two weeks for the parent stock. Encouraging entrepreneurs to improve the quality of the DOC by implementing the Indonesian National Standard certificate as the third step.
Fourth, increase promotion and campaign for consumption of animal protein to encourage consumption per capita per year. Fifth, the local government should regulate and supervise broiler cultivation, supported by data from farmers and broiler populations in the region.
Sixth, the entrepreneurs were encouraged to measure the number of race chickens in January to maintain the balance of production and demand. Seventh, the integrators per 1 March 2019 must report the production and distribution of DOCs every month via online.
"The government is increasing supervision of implementation of government regulations related to supply, circulation and supervision of chicken, supported by the relevant regional government office as the eighth step," Diarmita said.
Ninth is to optimize the analysis team, assistance and supervision refers to the 2017 agriculture minister regulations. The 10th, asking integrator companies to increase exports, considering that currently national chicken meat production is self-sufficient.