Kementan: Jateng sebagai 1 dari 3 Provinsi Terbaik Dukung Kartu Tani
Central Java, the Best Province in Indonesia Supports Tani Card Program
Editor : M. Achsan Atjo
Translator : Dhelia Gani

PUBLISHED: Selasa, 24 September 2019 , 23:17:00 WIB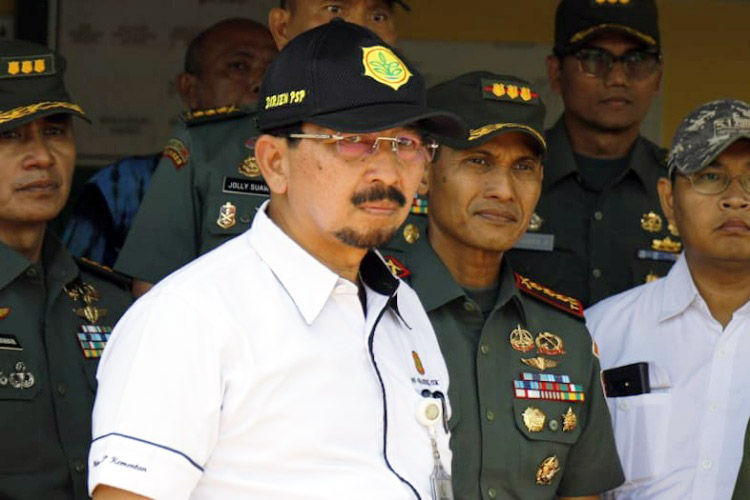 SOSIALISASI PROGRAM: Dirjen PSP Kementan, Sarwo Edhy mengakui Jateng menjadi satu-satunya provinsi yang menyalurkan Kartu Tani ke seluruh petani di kabupaten/kota [Foto: istimewa]
Jakarta [B2B] - Kementerian Pertanian RI menetapkan Jawa Tengah termasuk tiga provinsi terbaik di seluruh Indonesia, mendukung pengembangan Kartu Tani khususnya implementasi penyaluran, tingkat penggunaan hingga upload Rencana Definitif Kebutuhan Kelompok online [e-RDKK], salah satu persyaratan untuk memperoleh sarana produksi pertanian [Saprodi] kelompok tani dari Gapoktan atau lembaga lain penyalur Saprodi, termasuk perencanaan kebutuhan pupuk bersubsidi.
Dirjen Prasarana dan Sarana Pertanian [PSP Kementan] Sarwo Edhy mengatakan program Kartu Tani di Jateng dinilai paling baik dibanding daerah lain karena sejumlah faktor antara lain implementasi penyaluran, tingkat implementasi penggunaan, hingga upload e-RDKK sebagai database Kartu Tani.
"Penghargaan ini akan menjadi penyemangat untuk menyukseskan program Kartu Tani, juga untuk menginspirasi daerah-daerah lainnya agar lebih menggenjot program Kartu Tani," kata Sarwo Edhy.
Menurutnya, seluruh program Kartu Tani nasional kemarin dievaluasi, dan Jateng sebagai provinsi yang terbaik dari segi implementasi, transaksi, hingga penyusunan e-RDKK sebagai basis data Kartu Tani.
Di tingkat implementasi penyaluran Kartu Tani, katanya, Jateng menjadi satu-satunya provinsi yang menyalurkan Kartu Tani ke seluruh petani di kabupaten/kota. Total ada 35 kabupaten/kota menjadi sasaran dari program Kartu Tani.
"Hingga saat ini, sudah ada 2,5 juta dari 2,8 juta petani Jateng yang telah mendapatkan kartu tani, merupakan reputasi yang luar biasa," kata Dirjen PSP Kementan.
Sebelumnya diberitakan, Kepala Dinas Pertanian dan Perkebunan [Distanbun] Pemprov Jateng Suryo Banendro mengatakan bahwa sedikitnya 2,5 juta dari 2,8 juta petani di Provinsi Jawa Tengah telah terdata untuk kepemilikan Kartu Tani yang dikeluarkan Kementerian Pertanian RI, dan hanya 300.000 petani yang saat ini belum ter-input dalam Big Data dari Kartu Tani.
"Saat ini hanya kurang 300 ribu petani saja yang belum menerima kartu tani. Kami terus mengejar pendataan dengan mempercepat program Kartu Tani. Bulan ini, sudah ada 194.871 kartu yang dalam proses pembagian," kata Suryo. [Sur]
Semarang of Central Java [B2B] - Indonesian Agriculture Ministry established the Central Java province among the three best provinces across the country to support the development of the Tani Card, according to the senior official of agriculture ministry.