Verifikasi #Bekerja, Kementan Alokasi 10,45 Juta ekor Ayam/Itik untuk 209.127 RTMP
Indonesian Govt Allocates 10.45 million Chickens/Ducks to to Poor Households
Reporter : Gusmiati Waris
Editor : Cahyani Harzi
Translator : Dhelia Gani

PUBLISHED: Kamis, 29 Agustus 2019 , 23:22:00 WIB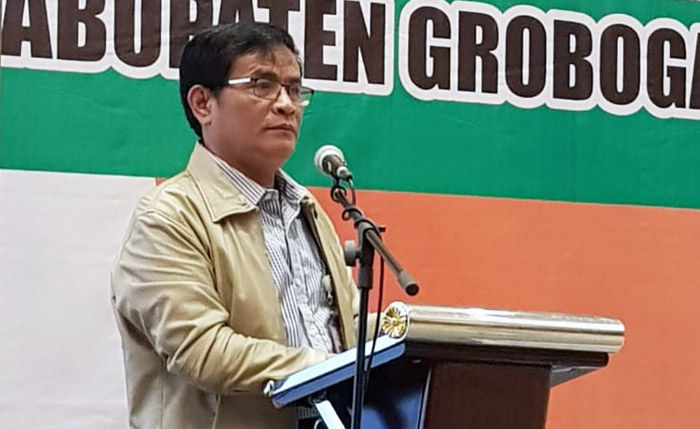 RAKOR GROBOGAN - PEMALANG: Dirjen Peternakan dan Kesehatan Hewan Kementan [PKH] I Ketut Diarmita [Foto: Humas PKH]
Semarang, Jateng [B2B] - Kementerian Pertanian RI menargetkan alokasi 10,45 juta ekor ayam/itik untuk 209.127 rumah tangga miskin pertanian [RTMP] yang dilaksanakan oleh 14 satuan kerja pelaksana kegiatan [Satker] di 2.366 desa dari 206 kecamatan pada 57 kabupaten/kota di 12 provinsi dari hasil verifikasi hingga 27 Agustus 2019 dalam Program Bedah Kemiskinan Rakyat Sejahtera berbasis pertanian [#Bekerja].
Hal itu dikemukakan Direktur Jenderal Peternakan dan Kesehatan Hewan [Dirjen PKH Kementan] I Ketut Diarmita di Kabupaten Grobogan dan Pemalang pada ´Rapat Koordinasi Persiapan Pelaksanaan Distribusi Kegiatan #Bekerja 2019, Rabu [28/8]. Hadir Kepala PKH Pemprov Jateng, Lalu Muhammad Syafriadi, tim pakar Bibit Samad Riyanto dan Imam Subarkah dan 500 peserta dari seluruh perwakilan dinas bidang fungsi PKH Jateng, Itjentan, TP4D Kejari Purwokerto, perusahaan penyedia kegiatan Bekerja.
"Rakor ini untuk mempertajam rencana distribusi pelaksanaan program #Bekerja agar berjalan sesuai aturan. Saya berharap peserta rapat aktif koordinasi melalui diskusi dan komunikasi sehingga distribusi pelaksanaan program $Bekerja diimplementasikan secara baik dan benar," kata Ketut Diarmita.
Program &Bekerja merupakan upaya pengentasan kemiskinan di Indonesia berbasis pertanian dalam tiga tahapan: jangka pendek, menengah, dan panjang yang diperuntukkan bagi RTMP. Kementan melibatkan sejumlah pakar di bidangnya untuk meningkatkan akuntabilitas kinerjanya agar kegiatan on the track menurunkan angka kemiskinan di pedesaan tercapai.
"Perkembangan kegiatan #Bekerja 2019 hingga 27 Agustus 2019 telah melaksanakan proses verifikasi oleh 14 satker pelaksana dengan realisasi 209.127 RTMP atau sudah 100%," kata Ketut Diarmita.
Kepala Dinas PKH Pemprov Jateng, Lalu Muhammad Syafriadi mengapresiasi Program #Bekerja dari Kementan, tingkat pengangguran dan kemiskinan di Jateng bisa di bawah 10%.
Semarang of Central Java [B2B] - Indonesian government targets distribution of 10.45 million chickens/ducks to 209,127 poor households [RTMP] carried out by 14 work units implementing activities in 2,366 villages of 206 sub-districts in 57 districts/cities in 12 provinces from the results of verification until August 27, 2019, according to the senior official of Indonesian agriculture ministry.