Program #Serasi, Lahan Rawa Kalsel Jadi Tumpuan Pangan Nasional
Indonesian Govt to Develop Swamp Land into Rice Production Centers
Reporter : Gusmiati Waris
Editor : Cahyani Harzi
Translator : Dhelia Gani

PUBLISHED: Minggu, 26 Mei 2019 , 23:25:00 WIB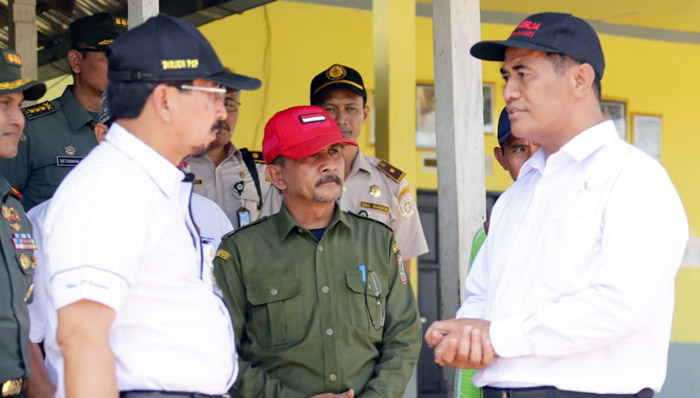 KOORDINASI LAPANGAN: Mentan Amran Sulaiman [kanan] koordinasi dengan Dirjen PSP Sarwo Edhy didampingi pejabat dan TNI AD mendukung pendampingan dan pengawalan #Serasi Kalsel [Foto: Humas Kementan]
Barito Kuala, Kalsel [B2B] - Optimalisasi lahan rawa di Kabupaten Barito Kuala [Batola] Provinsi Kalimantan Selatan [Kalsel] diharapkan mewujudkan target Pemerintah RI menjadikan Kalsel sebagai tumpuan pemenuhan kebutuhan pangan nasional. Kementerian Pertanian RI menyediakan puluhan excavator senilai Rp3 miliar per unit, yang disediakan gratis untuk mendukung pengembangan irigasi sehingga benih padi Inpari 2 yang ideal untuk lahan rawa dapat optimal meningkatkan produksi padi.
Hal itu dikemukakan Menteri Pertanian RI Andi Amran Sulaiman saat meninjau perkembangan Program Selamatkan Rawa Sejahterakan Petani #Serasi di Desa Kokida, Kecamatan Barambai, Sabtu [25/5] didampingi Direktur Jenderal Prasarana dan Sarana Pertanian [Dirjen PSP Kementan] Sarwo Edhy; Kepala Dinas Tanaman Pangan dan Hortikultura [TPH] Batola, Zulkifli Yadi Noor.
Mentan Amran Sulaiman mengatakan Kementan khususnya Ditjen PSP Kementan akan mengerahkan puluhan excavator untuk mengembangkan irigasi dipadu penanaman benih padi Inpari 2 sehingga dapat meningkatkan produksi padi dua ton menjadi enam ton per hektar.
"Dulu, produksi padi hanya dua ton sampai tiga ton per hektar. Bagaimana bisa sejahtera? Kementan punya varietas baru, Inpara 2, produksi maksimal enam ton per hektar dan memang ideal di lahan rawa. Bisa nggak?" tanya Mentan pada sejumlah petani yang ditemuinya di Posko Program #Serasi di Desa Kokida.
Para petani pun sontak menjawab sanggup. "Itu baru sekali, kalau bisa tanam tiga kali setahun, berapa kali lipat pendapatan pertanian meningkat?," kata Amran.
Dirjen PSP Sarwo Edhy menuturkan bahwa Ditjen PSP akan menyiapkan 67 unit excavator besar dan 16 excavator kecil untuk menyiapkan irigasi untuk mendukung pengairan 257.300 hektar sawah di lahan rawa Kalsel, dan alokasi terbesar untuk Batola sekitar 57 unit excavator besar dan 10 unit excavator kecil untuk mencapai target pengairan 56.042 hektar.
Dia menambahkan, Program #Serasi di Kalsel dan provinsi lain adalah meningkatkan indeks pertanaman dan produktivitas 220.000 hektar di Sumsel, Kalsel 153.363 hektar, dan Sulsel 33.505 hektar.
"Jenis kegiatannya berupa survei, investigasi dan design disingkat SID, rehabilitasi jaringan irigasi, bantuan Alsintan pra dan pascapanen, bantuan sarana produksi atau Saprodi, dan pengembangan usaha," katanya.
Dirjen Sarwo Edhy menegaskan bahwa kegiatan tersebut melibatkan TNI-AD dalam pendampingan proses pengerjaan fisik oleh petani di lapangan serta membantu memastikan seluruh pekerjaan terlaksana dengan baik. [Sur]
Barito Kuala of South Borneo [B2B] - Optimizing swamp land in Barito Kuala district, South Kalimantan province is expected to realize the Indonesian government´s target as one of the national rice barns across the country. Indonesian Agriculture Ministry deploy dozens of excavators to support irrigation development.
Agriculture Minister Andi Amran Sulaiman said his ministry specifically the Directorate General of Agricultural Infrastructure and Facilities [Ditjen PSP Kementan] will deploy dozens of excavators to develop irrigation combined with Inpari 2 rice seed planting so that it can increase rice production from two tons to six tons per hectare.
"In the past, rice production was only two to three tons per hectare. How can farmers get rich? There are new varieties, Inpara 2, maximum production of six tons per hectare and is ideal for swamp land," said Minister Sulaiman to a number of farmers.
The farmers answered willingly. "That´s only once, if you can plant three times a year, the yield of rice will multiply."
Director General of Ministry´s Infrastructure and Facilities Sarwo Edhy said that the directorate general he led would prepare 67 big excavator units and 16 small excavators, to prepare irrigation to support 257.300 hectares of rice fields on the South Borneo swamp land, and largest allocation for Barito Kuala is around 57 big excavator units and 10 small excavator units to reach target of 56,042 hectares of rice fields.
He said, the #Serasi Program in South Borneo and other provinces was to increase the cropping index and productivity of 220,000 hectares in South Sumatra, 153,363 hectares in South Kalimantan and 33,505 hectares in South Sulawesi.
"The types of activities are survey, investigation and design, rehabilitation of irrigation networks, free assistance of pre and postharvest agricultural machinery, production facilities, and business development," Edhy said.