Itjentan Tuan Rumah, AAIPI Susun Kerangka Konseptual Auditor Pemerintah
Association of Indonesian Government Internal Auditors Set Up the Conceptual Framework
Editor : M. Achsan Atjo
Translator : Dhelia Gani

PUBLISHED: Rabu, 18 Juli 2018 , 23:29:00 WIB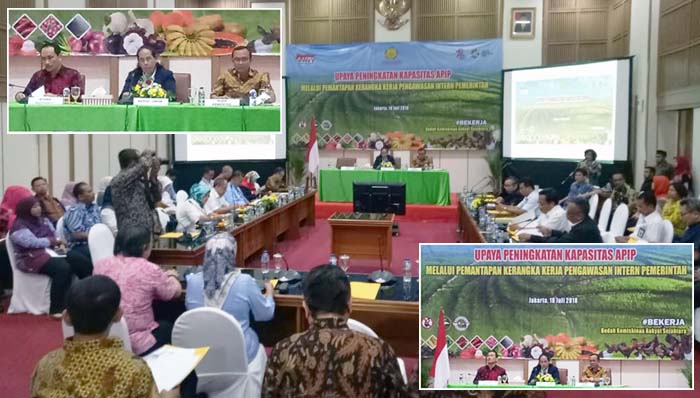 Rapat rutin AAIPI di Kementan (inset) dipimpin Sumiyati didampingi Itjentan Justan Siahaan tindak lanjut dari penyusunan kerangka konseptual Tupoksi APIP (Foto2: Humas Itjentan)
Jakarta (B2B) - Inspektorat Jenderal Kementerian Pertanian RI (Itjentan) menjadi tuan rumah rapat rutin Asosiasi Auditor Intern Pemerintah Indonesia disingkat AAIPI di Jakarta, Rabu (18/7), dalam upaya peningkatan kapasitas Aparat Pengawasan Intern Pemerintah (APIP) melalui pemantapan kerangka kerja pengawasan intern pemerintah.
Ketua AAIPI, Sumiyati mengatakan rapat di Itjentan merupakan tindak lanjut dari penyusunan kerangka konseptual tugas dan fungsi pengawasan intern yang menjadi tugas pokok dan fungsi (Tupoksi) dari APIP di kementerian, lembaga dan instansi pemerintah.
"Kode etik dan standar audit tidak boleh berhenti dalam upaya peningkatan kompetensi. Standar audit pemerintah adalah sebuah norma yang sangat dinamis. Norma ini menjadi acuan tugas auditor dalam mengawal program dan anggaran," kata Sumiyati, yang juga menjabat Irjen Kementerian Keuangan dalam arahannya didampingi Irjen Kementan, Justan Siahaan selaku tuan rumah.
Justan Siahaan menambahkan AAIPI memandang perlu APIP memiliki acuan dalam melaksanakan tugas dan fungsi pengawasan intern. Seyogyanya, pelaksanaan standar audit, kode etik dan telaahan sejawat, dan pengembangan profesi harus dilakukan terintegrasi dalam kerangka acuan, sehingga penyusunan kerangka konseptual menjadi penting.
"Kerangka konseptual merupakan pengembangan dari standar audit, kode etik auditor APIP, dan pedoman telaahan sejawat yang ada saat ini. Selain itu, kerangka konseptual juga mengacu pada praktik pengawasan APIP yang berlaku internasional," kata Justan Siahaan.
Tampak hadir Irjen Kemenkes, Oscar Primadi; Irjen Kemenhub Wahju Satrio Utomo; Irjen Kemendikbud, Totok Suprayitno; dan Irtama Bappenas, Roni Dwi Susanto.
Profil AAIPI
AAIPI adalah organisasi profesi yang beranggotakan perorangan dan unit kerja APIP yang telah memenuhi persyaratan keanggotaan sebagaimana diatur di dalam anggaran rumah tangga (ART).
Unit kerja APIP merupakan instansi pemerintah yang dibentuk dengan tugas melaksanakan pengawasan intern di lingkungan pemerintah pusat dan/atau pemerintah daerah, yang terdiri dari Badan Pengawasan Keuangan dan Pembangunan (BPKP), inspektorat jenderal/inspektorat/unit pengawasan intern pada kementerian/kementerian negara, inspektorat utama/inspektorat lembaga pemerintah non kementerian, inspektorat/unit pengawasan intern pada kesekretariatan lembaga tinggi negara dan lembaga negara, inspektorat provinsi/kabupaten/kota, dan unit pengawasan intern pada badan hukum pemerintah lainnya sesuai dengan peraturan perundang-undangan.
AAIPI didirikan di Jakarta pada 30 November 2012 melalui rapat pleno pembentukan AAIPI di Aula Gandhi kantor BPKP Pusat Jl Pramuka 33 Jakarta Timur.
Dengan terbentuknya AAIPI, maka Forum Bersama (Forbes) APIP Pusat dan Daerah serta organisasi APIP dengan nama lain meleburkan diri dan menjadi anggota AAIPI. Pengurus Forbes APIP di daerah menjadi pengurus AAIPI di wilayah provinsi yang bersangkutan.
Jakarta (B2B) - Inspectorate General of Indonesian Agriculture Ministry or Itjentan hosted a regular meeting Association of Indonesian Government Internal Auditors or AAIPI here on Wednesday (July 18) to improve the capacity of the government´s internal control apparatus or APIP through the consolidation of the framework.
Chairman AAIPI, Sumiyati said the monthly meeting is a follow-up to formulate the conceptual framework, and internal control functions of APIP in ministries and government agencies.
"Code of ethics and audit standards are a major part of efforts to improve competence. Government audit standards are a very dynamic norm. The norm becomes the reference of the auditor´s duty in overseeing the program and budget," said Sumiyati, who also serves as the inspector general of the finance ministry in his direction accompanied by her colleagues, Justan Siahaan.
Mr Siahaan said the AAIPI deems necessary the APIP has a reference to carry out internal supervisory duties and functions. Implementation of audit standards, codes of ethics, peer review, and professional development should be integrated within the terms of reference, so the conceptual framework becomes important.
"The conceptual framework is the development of auditing standards, the code of ethics of APIP auditors, and current peer review guidelines. In addition, the conceptual framework also refers to APIP oversight practices according to international standards, "said Mr Siahaan.
AAIPI Profile
AAIPI is a professional organization composed of individuals and APIP work units, which meet membership requirements as set out in the organization´s requirements.
The APIP work unit is a government agency formed with the task of implementing internal control within the central and/or regional governments, comprising auditors of financial and development supervisory bodies, inspectorates general/inspectorate/internal control unit at ministries/ministries of state, main inspectorate/inspectorate of non-ministerial government institution, inspectorate/internal supervision unit on secretariat of state and state institutions, provincial/regency/municipal inspectorate, and internal control unit of other government legal entity in accordance with the laws and regulations.
AAIPI was established in Jakarta on 30 November 2012 through a plenary meeting in East Jakarta.
The establishment of AAIPI, a joint forum of APIP at the central and regional levels, and other organizations become AAIPI members. The governing board of APIP in the region becomes the AAIPI board in the provinces.