Tiga Aplikasi Online Ditjen PKH Kementan Menang Lomba Inovasi TIK 2019
The Online Application of Indonesian Llivestock Won the IT Competition
Editor : M. Achsan Atjo
Translator : Dhelia Gani

PUBLISHED: Jum'at, 29 November 2019 , 23:29:00 WIB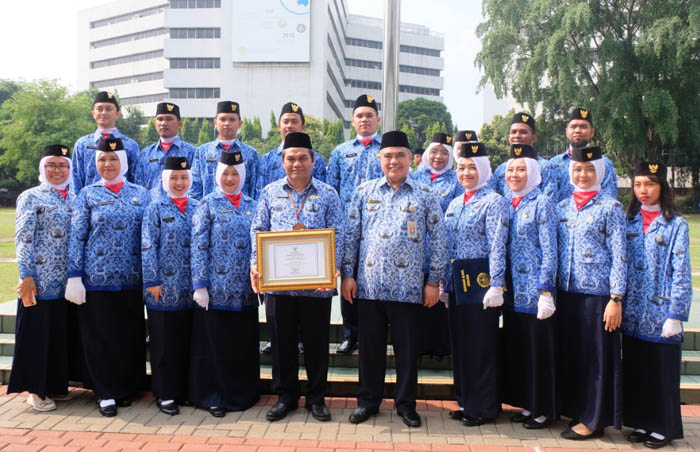 UPACARA HUT KORPRI: Sekretaris Ditjen PKH Kementan, Nasrullah [ke-5 kanan] dan Kepala BET Cipelang, Oloan Parlindungan [memegang piagam SNI Award 2019] bersama pasukan pengibar bendera [Foto: Biro Humas]
Jakarta [B2B] - Sistem Layanan Customer Online BET Cipelang [Siscobeti] dan Layanan Proses Perizinan/Rekomendasi [Simrek PKH] meraih peringkat II kategori aplikasi layanan publik, sementara Sistem Informasi Balai Embrio Ternak Indonesia [Sibeti] meraih peringkat III aplikasi layanan internal pada Lomba Inovasi Teknologi informasi Komunikasi 2019 [TIK].
Ketiga aplikasi online dari Ditjen Peternakan dan Kesehatan Hewan Kementerian Pertanian RI [Ditjen PKH] diumumkan oleh Menteri Pertanian RI Syahrul Yasin Limpo [SYL] pada upacara peringatan HUT Korpri ke-48 di Jakarta pada Senin [29/11].
"Sesuai dengan arahan Menteri Pertanian terkait pertanian Indonesia maju, mandiri dan nodern, Ditjen PKH berkomitmen untuk menyelenggarakan pemerintahan yang efektif, efisien, dengan tolok ukur transparansi dan akuntabilitas penyelenggaraan pemerintahan melalui pemanfaatan teknologi," kata Sekretaris Ditjen PKH Kementan, Nasrullah kepada pers mengutip arahan Mentan SYL.
Menurutnya, Simrek PKH adalah layanan rekomendasi dan perizinan bidang peternakan dan kesehatan hewan, sementara aplikasi Siscobeti dan Sibeti merupakan layanan yang dibangun oleh Balai Embrio Ternak Cipelang [BET], unit pelaksana teknis Ditjen PKH Kementan.
Nasrullah menambahkan pengembangan aplikasi-aplikasi tersebut bertujuan menciptakan pemerintahan yang bersih, transparan, dan akurat serta mampu menjembatani pelayanan masyarakat.
"Kami melayani 25 jenis izin rekomendasi yang bisa diajukan secara online, sehingga pemohon hanya perlu satu kali datang ke Kementan untuk validasi dokumen. Sistem ini terintegrasi dengan Indonesia National Single Window disingkat INSW di bawah naungan Kementerian Keuangan," kata Nasrullah.
Kepala BET Cipelang, Oloan Parlindungan yang meraih penghargaan e-Leadership terbaik atas prestasi layanan BET pada Lomba Inovasi TIK 2019 menjelaskan bahwa aplikasi Siscobeti dibangun untuk memudahkan para pemangku kepentingan mendapatkan layanan di BET Cipelang secara online.
"Sibeti merupakan aplikasi layanan internal BET Cipelang untuk memudahkan penanggung jawab kegiatan melakukan rekapitulasi dan analisis data teknis, sehingga pimpinan lebih mudah memantau dan evaluasi kinerja," katanya.
Jakarta [B2B] - Online applications for the livestock and animal health subsector of Indonesian Agriculture Ministry Simrek, Sisco BETi and Sibeti won the award of information and communication technology innovation competition, held by the Agricultural Data and Information Center, according to the senior official of agriculture ministry.