Tercemar Hama Berbahaya, Benih Jagung 6,1 Ton asal India Dimusnahkan Kementan
Indonesia Destroyed Indian Corn Seeds Contaminated of Deadly Bacteria
Reporter : Gusmiati Waris
Editor : Cahyani Harzi
Translator : Dhelia Gani

PUBLISHED: Minggu, 31 Maret 2019 , 23:30:00 WIB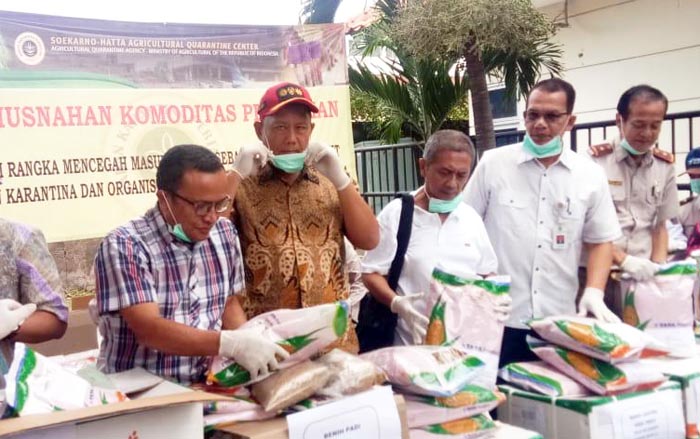 TINDAKAN TEGAS: IrJenTan Justan R Siahaan [kiri] melakukan pemusnahan benih jagung tercemar bakteri PSS didampingi Dirjen Tanaman Pangan, Sumarjo Gatot Irianto [bertopi] dan Kepala Barantan Ali Jamil.
Tangerang, Banten [B2B] - Dokumen resmi dan lengkap dari otoritas berwenang, tak menghalangi tekad Kementerian Pertanian RI, untuk mencegah masuknya 6.1 ton benih jagung asal India positif mengandung bakteri pseudomonas syringae pv syringae [PSS] yang masuk melalui Bandara Soekarno - Hatta di Tangerang, Banten tahun lalu, ternyata berpotensi merusak produksi jagung dalam negeri, dan sangat berbahaya karena dapat menyerang berbagai jenis family tanaman lain, dan perwakilan pemilik benih jagung, PT MLSI menyatakan siap menerima perlakuan tindakan pemusnahan oleh Karantina Pertanian Soekarno - Hatta.

"Langkah tegas ini harus ditegakkan untuk melindungi sumber daya alam hayati Indonesia. Lindungi petani kita. Tindakan pemusnahan merupakan komitmen petugas Barantan mengawal sumber daya alam hayati kita," kata Inspektur Jenderal Kementerian Pertanian RI [IrJenTan] Justan R Siahaan saat pemusnahan benih jagung 6,1 ton asal India berpenyakit PSS di Instalasi Karantina Hewan, Bandara Soekarno - Hatta pada Sabtu [30/3].

Justan menambahkan pemusnahan dilakukan karena positif mengandung PSS dengan kategori organisme pengganggu tumbuhan karantina [OPTK] A1 bernama Pseudomonas Syringae Pv Syringae (PSS).

Menurutnya, selain benih jagung, Kementan juga memusnahkan 2 kg benih padi asal Jepang yang dibawa perorangan secara ilegal tanpa persyaratan dokumen karantina sesuai UU Karantina Hewan, Ikan dan Tumbuhan No 16/1992.

"Kami dari inspektorat jendral berkomitmen untuk turut serta mewujudkan visi lumbung pangan dunia 2045 dengan melakukan pengawasan jalannya pembangunan pertanian," kata Justan Siahaan.

Potensi Kerugian
Kepala Badan Karantina Pertanian [Barantan] Ali Jamil mengatakan meskipun benih yang dimusnahkan masuk ke Indonesia tahun lalu dilengkapi dokumen resmi dari India, Barantan tetap wajib melakukan pemeriksaan laboratorium, dan hasilnya benih tersebut tidak lolos dalam verifikasi perkarantinaan Indonesia.

"Barantan menjaga pertanian dalam negeri dari ancaman OPTK, terlebih bakteri ini belum pernah ada di Indonesia, selain merusak produksi jagung dalam negeri, bakteri ini juga sangat berbahaya karena dapat menyerang berbagai jenis family tanaman lain," katanya.

Dirjen Tanaman Pangan Kementan, Sumarjo Gatot Irianto mengatakan bahwa bakteri PSS sangat berbahaya karena berpotensi mengurangi produksi jagung secara signifikan hingga 40% dari hasil panen, dan apabila terlanjur tersebar maka potensi kerugiannya mencapai Rp11 triliun per tahun.

"Angka tersebut belum termasuk biaya pengendalian yang harus dikeluarkan pemerintah. Hal ini tidak hanya mengancam ketahanan pangan nasional tetapi juga pendapatan 6,7 juta keluarga petani jagung," kata Dirjen Gatot.

Berdasarkan data, luas pertanaman jagung mencapai 6,5 juta ha, produksi 3,4 ton per hektar, apabila kemampuan berproduksi tanaman diestimasi berkurang hingga 40% maka total kehilangan produksi bisa mencapai 8,84 juta ton, apabila harga per ton Rp2,5 juta maka akumulasi kerugian mencapai Rp22 triliun.

Sementara itu, perwakilan pemilih benih Jagung, PT MLSI menyatakan siap dan menerima perlakuan tindakan pemusnahan yang dilakukan Barantan, dan hal ini merupakan pembelajaran bagi pihaknya untuk lebih berhati-hati dalam melalukan importasi benih ke Indonesia.
Tangerang of Banten [B2B] - Indonesian government destroyed 6.1 million tons of corn seeds from India despite it has official authority documents to prevent bacterial pseudomonas syringae pv syringae [PSS] spread in Indonesia, because it has the potential to damage domestic corn production, and very dangerous because it can attack various types of other plant families.
"The destruction of corn seeds from India as a step to protect Indonesia's living natural resources. Protect our farmers. The act of extermination is a commitment
Indonesian Agricultural Quarantine Agency," the Inspector General of Indonesian Agriculture Ministry, Justan R Siahaan told the press here on Saturday [March 30].
Siahaan added that the destruction was carried out because it positively contained PSS in the category of quarantine plant pest organisms, Pseudomonas Syringae Pv Syringae (PSS).
According to him, the ministry also destroyed 2 kg of rice seeds from Japan who was illegally carried by individuals without quarantine documents according to the Act Animal, Fish and Plant Number 16/1992.
"The government is committed to supporting the achievement of Indonesia to become the vision of the world food granary in 2045," Siahaan said.