SDM Koperasi Pertanian, Dekopin Dukung KonstraTani Revitalisasi BPP di Kecamatan
Indonesian Cooperative Council Support KonstraTani for Agriculture Development
Reporter : Gusmiati Waris
Editor : Cahyani Harzi
Translator : Dhelia Gani

PUBLISHED: Kamis, 14 November 2019 , 02:33:00 WIB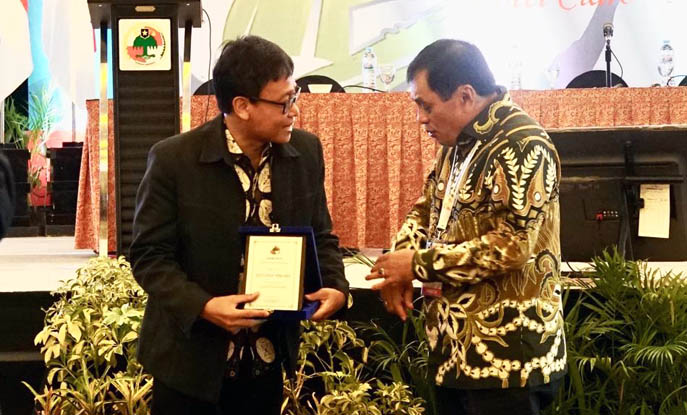 MUNAS DEKOPIN: Kepala BPPSDMP Kementan, Prof Dedi Nursyamsi mewakili Mentan SYL [kiri] menerima plakat penghargaan dari Ketua Umum Dekopin, Nurdin Halid [Foto: Humas BPPSDMP Kementan]
Makassar, Sulsel [B2B] - Dewan Koperasi Indonesia [Dekopin] mengapresiasi upaya Kementerian Pertanian RI melakukan revitalisasi penyuluh pertanian di tingkat kecamatan, balai penyuluhan pertanian [BPP] sebagai center of excellent, dengan mengembangkan Komando Strategis Pembangunan Pertanian [KonstraTani], untuk mendorong petani mengembangkan agribisnis berbasis koperasi pertanian. Ke depan, kegiatan pertanian tidak sebatas penjualan gabah/beras namun meningkatkan nilai tambah dari hasil panen padi melalui packaging dan mengembangkan jaringan pemasaran mandiri, sehingga tidak lagi tergantung pada tengkulak.
Hal itu dikemukakan Kepala BPPSDMP Kementan, Prof Dedi Nursyamsi dan Ketua Dekopin Ridwan Halid pada Musyawarah Nasional [Munas] Dekopin di Makassar, Selasa [12/11].
"Kostra Tani merupakan komitmen Kementan untuk mengembalikan peran penyuluhan pertanian dan BPP sebagai center of excellent di tingkat kecamatan. Dekopin harapkan ada koordinasi program lintas sektoral yang lebih baik sehingga komitmen tersebut juga dilaksanakan oleh kementerian lain guna menguatkan pertanian Indonesia," kata Ketua Umum Dekopin, Nurdin Halid seraya mengapresiasi komitmen Mentan SYL pada koperasi pertanian dengan menghadiri Munas Dekopin, yang kehadirannya diwakili oleh Prof Dedi Nursyamsi.
Dedi Nursyamsi mengatakan KonstraTani yang digagas Mentan Syahrul Yasin Limpo akan dikembangkan menjadi pusat pembelajaran, pusat konsultasi agribisnis, pusat gerakan pemberdayaan petani hingga pusat data dan informasi, dan pusat membangun network. Kostratani akan menjadi center of excellence pembangunan pertanian Indonesia.
"Kostra Tani yang bertumpu pada kinerja BPP di kecamatan akan mengubah paradigma pertanian, sehingga tidak hanya berhenti hanya menjual gabah namun sampai ke penambahan value dari proses pensortiran menjadi beras premium dengan kemasan yang bagus.
Menurut Dedi Nursyamsi, kelak petani akan mampu menjual beras premium dengan packaging terbaik, untuk meningkatkan harga jual gabah, dari Rp4.000 per kg setelah dikemas menjadi beras premium dengan kemasan yang baik akan menguntungkan petani.
"Penyuluh sangat berperan mendampingi petani untuk mengembangkan jejaring usaha melalui Poktan dan Gapoktan, maka KonstraTani akan berkembang sebagai program lintas sektoral berorientasi 4.0, yang melibatkan kementerian terkait," katanya.
Kementerian dan lembaga pemerintah [K/L] yang dimaksud adalah Kementerian Koperasi dan UKM, Kementerian Desa PDTT, Kementerian Pekerjaan Umum dan Perumahan Rakyat [PUPR] dan Kementerian Komunikasi dan Informasi [Kominfo] untuk mendukung akses internet sehingga KonstraTani berorientasi 4.0. [Prb]
Makassar of South Sulawesi [B2B] - Indonesian Cooperative Council [Dekopin] support Indonesian Agriculture Minister Syahrul Yasin Limpo will optimize the role of agricultural extensionists at the sub-district level across the country, which is controlled and monitored through the War Room called as the Kostra Tani in the Jakarta ministry office.