Tukin Kementan Naik? Mentan Syaratkan Peningkatan Ekspor Produksi Pertanian
Indonesian Minister Promised to Increase Performance Allowance of Civil Servants
Reporter : Gusmiati Waris
Editor : Cahyani Harzi
Translator : Dhelia Gani

PUBLISHED: Senin, 10 Juni 2019 , 23:40:00 WIB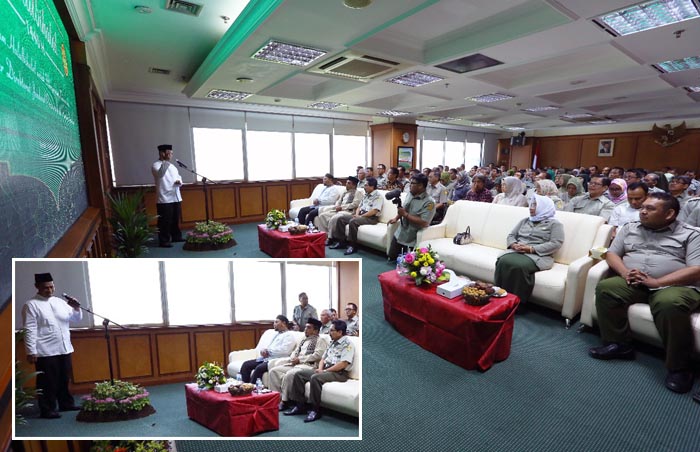 DITJEN PSP: Mentan Amran Sulaiman [baju koko putih] silaturahim dengan jajaran Ditjen PSP di Gedung D Kementan, yang dihadiri Dirjen PSP Sarwo Edhy dan sejumlah direktur [Foto2: Biro Humas Kementan]
Jakarta [B2B] - Menteri Pertanian RI Andi Amran Sulaiman memberi peluang kenaikan tunjangan kinerja [Tukin] bagi pegawai negeri sipil [PNS] di Kementerian Pertanian RI, apabila seluruh jajaran Kementan bekerja keras mendukung peningkatan produksi pertanian, sehingga Indonesia mampu meningkatkan ekspor komoditas pertanian ke mancanegara.
"Kalau bulan depan kita bisa ekspor lagi, saya janji akan segera menghadap Presiden Joko Widodo untuk menaikkan Tukin kalian," kata Mentan Amran Sulaiman yang disambut gemuruh tepuk tangan para pegawai Kementan pada safari halal bihalal di unit kerja eselon satu, Senin pagi [10/6].
Hal itu dikemukakan Mentan pada hari pertama masuk kerja pasca cuti bersama Lebaran, dengan menyambangi empat unit kerja eselon satu Kementan yakni: Direktorat Jenderal Prasarana dan Sarana Pertanian [Ditjen PSP], Badan Penelitian dan Pengembangan Pertanian [Balitbangtan], Ditjen Peternakan dan Kesehatan Hewan [PKH], Ditjen Perkebunan dan Badan Ketahanan Pangan [BKP].
Didampingi istrinya, Martati Sulaiman, Mentan disambut hangat para pegawai di Gedung C, D dan E.
"Saya secara pribadi menghaturkan mohon maaf lahir batin kepada semua pegawai. Hal tak kalah penting, saya sangat puas karena presentasi kehadiran pegawai di hari pertama kerja setelah cuti bersama betul-betul memuaskan," kata Mentan saat silaturahim dengan jajaran Ditjen PSP dipimpin Dirjen PSP Kementan, Sarwo Edhy.
Dia juga meminta seluruh jajaran Kementan lebih serius meningkatkan produksi, mengingat Indonesia saat ini berpeluang meningkatkan ekspor komoditas pertanian.
Menurut Mentan, Kementan pada era Joko Widodo - Jusuf Kalla mampu meraih banyak prestasi yang dahulu sulit diraih seperti kenaikan pendapatan domestik bruto [PDB], Opini Wajar Tanpa Pengecualian [WTP] dari Badan Pemeriksa Keuangan RI selama tiga tahun berturut-turut, penghargaan anti gratifikasi dari Komisi Pemberantasan Korupsi [KPK].
"Capaian kita ini sangat luar biasa. Soal inflasi misalnya, lompatannya cukup bagus. PDB naik, Opini WTP dan penghargaan KPK berhasil kita raih. Saya minta ini dipertahankan dan ditingkatkan," kata Amran Sulaiman.
Mentan juga mengapresiasi upaya seluruh unit kerja eselon satu [Ditjen] mendukung stabilisasi harga pangan jelang Ramadan hingga Lebaran, dan 2019 adalah tahun istimewa karena pemerintah mampu mengendalikan harga pangan secara baik.
"Alhamdullilah semua harga stabil, ekspor kita naik. Pertama saya berpesan harus mengembalikan kejayaan rempah, kedua mengembangkan energi terbarukan B100. Saya berharap ini dapat direalisasikan," katanya kepada jajaran Ditjen Perkebunan.
Jakarta [B2B] - Indonesian Agriculture Minister Andi Amran Sulaiman promised to increase performance allowance of civil servants [Tukin] at the agriculture ministry as long as working hard to support increased agricultural production, so that Indonesia can increase exports of agricultural commodities to foreign countries.
"If we export it again next month, I will immediately meet President Joko Widodo to raise your Tukin," said Minister Sulaiman who was welcomed by the employees here on Monday morning [June 10].
It was stated by Minister Sulaiman on the first day of work after the Eid holidays, by visiting five director general offices: Directorate General of Agricultural Infrastructure and Facilities [Ditjen PSP], Directorate General of Agricultural Research and Development, Livestocks and Animal Health [PKH], Plantations and Food Security [BKP].
"I personally conveyed an inner apology to all civil servants. I am also happy because the level of attendance of civil servants remains high on the first day of work after the Eid holidays," he said.
He also requested that all line ministries be more serious to increase agricultural production considering that Indonesia currently has the opportunity to increase exports of agricultural commodities.