Pengembangan PKBM, Dirjen PSP Kementan Resmikan Warehouse UPJA di Tuban
Indonesian Govt Support Farmers Optimize Agricultural Machinery
Editor : M. Achsan Atjo
Translator : Dhelia Gani

PUBLISHED: Sabtu, 14 September 2019 , 23:41:00 WIB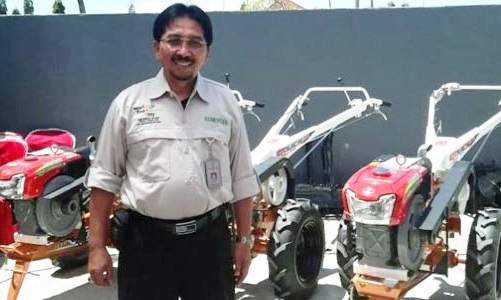 OPTIMALISASI ALSINTAN: Dirjen PSP Kementan, Sarwo Edhy mendukung pengembangan PKBM melalui UPJA untuk menurunkan biaya produksi usahatani, meningkatkan produksi dan pendapatan petani [Foto: istimewa]
Tuban, Jatim [B2B] - Kementerian Pertanian RI mendukung pengembangan Pertanian Korporasi Berbasis Mekanisasi [PKBM] untuk optimalisasi pemanfaatan alat mesin pertanian [Alsintan] melalui usaha pelayanan jasa Alsintan [UPJA] seperti dilakukan Dirjen PSP Kementan, Sarwo Edhy meresmikan Warehouse UPJA Tani Karya Mandiri, di Desa Karangtinoto, Kecamatan Rengel, Kabupaten Tuban, Provinsi Jawa Timur.
Sarwo Edhy menegaskan bahwa Ditjen PSP Kementan mendukung penuh pengembangan PKBM untuk optimalisasi Alsintan melalui (UPJA) untuk menurunkan biaya produksi usahatani, meningkatkan produksi dan pendapatan petani serta meningkatkan minat kaum milenial kembali ke pertanian, sehingga ada kemandirian pemanfaatan Alsintan dan manajemen UPJA dengan bisnis modern.
"Warehouse UPJA Tani Karya Mandiri luar biasa, sudah kita programkan tahun ini dan hasilnya cukup baik, Karena disini ada swadaya masyarakat tani. Kementan dukung dengan dana Rp560 juta dan dari swadaya tani Rp120 juta," kata Sarwo Edhy, Sabtu.
Dia mengharapkan, Warehouse UPJA Tani Karya Mandiri untuk desa-desa dan kecamatan lain di Kabupaten Tuban, yang merupakan proyek percontohan untuk warehouse-warehouse yang ´dibangun´ Kementan di setiap titik di labupaten di seluruh Indonesia.
"Di sini ada ruang pertemuan dan tempat pelatihan. Presiden Joko Widodo ke depan akan fokus pada pembangunan SDM. Kemudian di warehouse ini ada tempat gabah, di sebelahnya dibangun dryer untuk pengering, nanti sebelahnya lagi kita bangun rice miling unit," katanya.
Dia mengharapkan kelompok tani setempat dapat memiliki brand beras sendiri, dari hulu sampai hilir maksudnya mulai dari dari penanaman, pengolah, kemudian panen mendapat gabah langsung digiling menjadi beras.
"Semua sudah terpadu. Ada kios Saprodi, ada layanan bengkel Alsintan, ada unit pengelolaan Alsintan, tempat cuci Alsintan kemudian gudang, kantor UPJA dan ruang pertemuan. Kemudian akan dibangun dryer, kelak semua proses agribisnis mulai tanam sampai pasca panen akan dilaksanakan kelompok UPJA ini," katanya. [Sur]
Tuban of East Java [B2B] - Directorate General of Agricultural Infrastructure and Facilities of Indonesian Agriculture Ministry [Ditjen PSP Kementan] asked the farm machinery rental cooperative [UPJA] to optimize the use of agricultural machinery [Alsintan] to support farmers to develop national agricultural potential, according to the senior official of agriculture ministry.