Rp590 Juta, Ditjen PSP Bantu 37 Unit Alsintan untuk Petani Pesisir Selatan
Indonesian Govt Provided Agricultural Machinery for West Sumatera Farmers
Editor : M. Achsan Atjo
Translator : Dhelia Gani

PUBLISHED: Kamis, 04 April 2019 , 23:42:00 WIB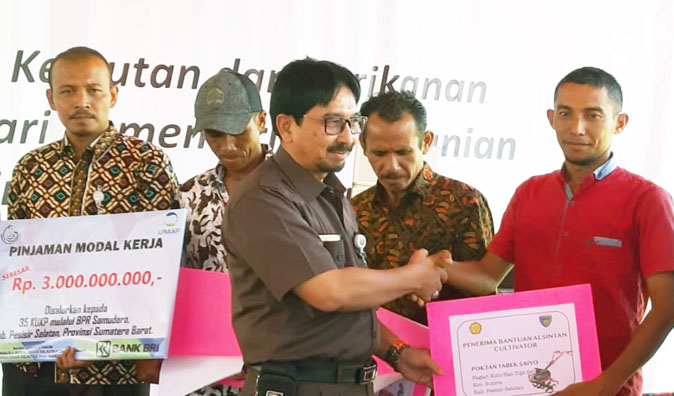 BANTUAN GRATIS: Dirjen PSP Kementan, Sarwo Edhy [kacamata] menyerahkan bantuan Alsintan kepada petani di Kabupaten Pesisir Selatan, Sumbar [Foto: Humas Ditjen PSP]
Pesisir Selatan, Sumbar [B2B] - Sebanyak 37 unit alat mesin pertanian [Alsintan] senilai Rp590 juta berikut pupuk bersubsidi; fasilitas dukungan Alsintan, pembiayaan pertanian dan manajemen Upsus diserahkan oleh Dirjen Prasarana dan Sarana Pertanian - Kementerian Pertanian RI [Dirjen PSP] Sarwo Edhy kepada petani di Kabupaten Pesisir Selatan, Provinsi Sumatera Barat didampingi Anggota IV Badan Pemeriksa Keuangan (BPK) Rizal Djalil, Kamis [4/4].
Penyerahan Alsintan senilai Rp590 juta diserahkan secara simbolis kepada sejumlah kelompok tani, adapun Alsintan yang diberikan berupa 12 unit traktor roda dua [TR2], dua unit cultivator, 13 unit pompa air dan selebihnya berupa bantuan penyaluran pupuk bersubsidi; fasilitas dukungan kegiatan Alsintan, pembiayaan petanian dan layanan dukungan manajemen upaya khusus padi, jagung dan kedelai [Upsus Pajale].
"Bantuan Alsintan gratis ini diserahkan kepada petani Pesisir Selatan untuk meningkatkan hasil pertanian, dan mendukung penghematan biaya produksi," kata Dirjen PSP Sarwo Edhy.
Dirjen Sarwo Edhy menyampaikan salam dari Menteri Pertanian RI Andi Amran Sulaiman yang mengingatkan bahwa bantuan gratis dari Pemerintah RI harus dimanfaatkan semaksimal mungkin, jangan sampai hanya disimpan di rumah atau kantor Poktan, karena hal itu sudah terjadi di daerah lain yang mengakibatkan tindakan tegas dari Kementan untuk menariknya kembali untuk realokasi ke daerah lain yang lebih membutuhkan.
"Ada daerah lain, bukan di sini, ditemukan Alsintan tidak dipergunakan bahkan ada yang dijual. Jangan sampai hal ini terjadi di sini karena kantor dinas pertanian akan menarik kembali Alsintan tersebut untuk diberikan kepada daerah lain," katanya.
Penerima bantuan TR2 antara lain untuk kelompok tani [Poktan] Sawah Laweh dan Sawah Jambak di Nagari Taluak Tigo Sakato; dan Poktan Kapalo Koto di Nagari Tuik. Sementara pompa air diserahkan pada Poktan Ranau Indah di Nagari Taratak Tangah Lumpo, Poktan Gadih Basanai di Nagari IV Koto Mudiek, Poktan Tani Taman Jaya di Nagari Sungai Nyalo.=
Bantuan gratis cultivator diberikan kepada Poktan Tabek Saiyo di Nagari Koto Nan Tigo Selatan dan Poktan Tani Harapan Tani di Nagari Kambang Barat. Sementara bantuan power thresher diterima oleh Poktan Tani Sikabu Indah di Nagari Gunuang Bungkuak dan Kelompok Wanita Tani Lansano di Nagari Koto VII.
Pesisir Selatan of West Sumatera [B2B] - At least 37 units of agricultural machinery of IDR590 million were handed over by the Director General of Agricultural Infrastructure and Facilities at the Indonesian Agriculture Ministry [Dirjen PSP] Sarwo Edhy to Pesisir Selatan farmers in West Sumatera province here on Thursday [April 4] was witnessed by Member of the Supreme Audit Agency [BPK] Rizal Djalil.
Agricultural machinery assistance of Jakarta was handed over consists of 12 units of two-wheeled tractors, two cultivator units and 13 units water pump.
"Free agricultural machinery assistance is given by the central government to South Coastal farmers to increase agricultural production, and supports production cost savings," Sarwo Edhy said.
The Dirjen PSP reminds the agricultural machinery of Jakarta must be utilized as much as possible, don´t just keep it like in other districts, it will result in strict sanctions from the government to reallocate to other areas that are more in need.
"There are other areas, not in here, it is found that agricultural machines are not used and even sold. Don´t let this happen here because the agriculture office will withdraw and then give it to other regions," he said.
[U$1 = 14,255.0000 rupiah]