Cirad Pantau Dampak, Ditjen PKH Kementan akan Paparkan iSikhnas pada Forum OIE
Indonesian Govt will Elaborate the Animal Health Information System in OIE Forum
Editor : M. Achsan Atjo
Translator : Dhelia Gani

PUBLISHED: Rabu, 19 September 2018 , 23:45:00 WIB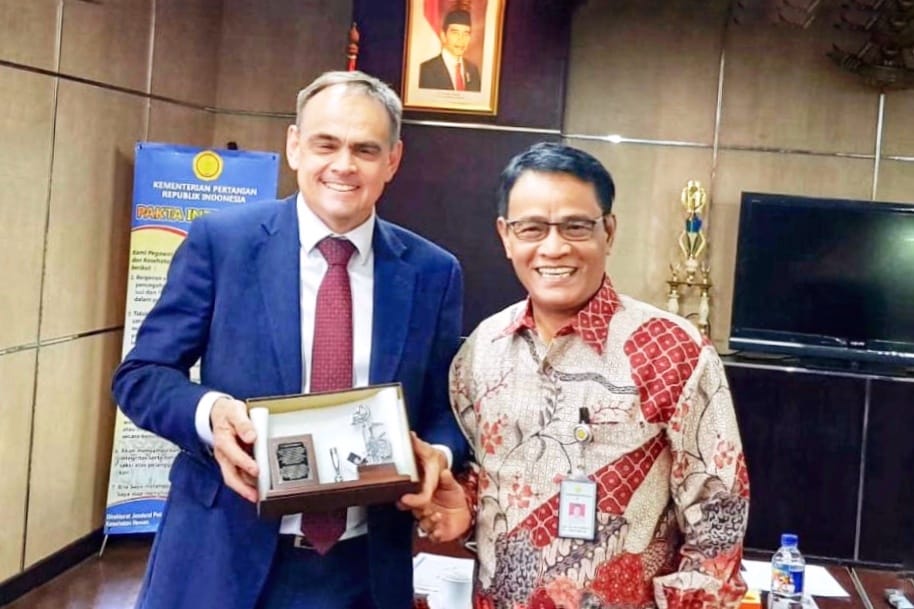 APRESIASI AUSTRALIA: Dirjen PKH I Ketut Diarmita dan pejabat senior Kementerian Pertanian Australia, Tim Chapman di Jakarta (Foto: Humas Ditjen PKH)
Jakarta (B2B) - Kementerian Pertanian RI pada Oktober 2018 akan memaparkan sistem informasi kesehatan hewan nasional terintegrasi disingkat iSikhnas di forum internasional, yang disampaikan oleh Direktorat Jenderal Peternakan dan Kesehatan Hewan (PKH) pada forum Organisasi Kesehatan Hewan Dunia (OIE) dan lembaga riset pertanian Prancis, Cirad akan melakukan penilaian dampak iSikhnas terhadap sektor PKH di Indonesia.
Dirjen PKH I Ketut Diarmita mengatakan pentingnya penguatan sistem pelayanan kesehatan hewan nasional, khususnya upaya menghadapi ancaman masuknya penyakit hewan menular yang baru muncul, sangat berpotensi menghancurkan subsektor peternakan di Indonesia.
"Hal ini menjadi prioritas pemerintah untuk mengendalikan penyakit hewan dan meningkatkan produksi ternak domestik untuk memastikan keamanan pangan dan menstabilkan harga pasar untuk produk ternak," kata Dirjen PKH di Jakarta melalui pernyataan tertulis.
Jakarta (B2B) - Indonesia´s Agriculture Ministry in October 2018 will elaborate an integrated national animal health information system or the iSikhnas which will be delivered by the Directorate General of Livestocks and Animal Health at the forum of World Animal Health Organization or the OIE and the French agricultural research institute, Cirad will conduct an assessment of the impact of iSikhnas in Indonesia.
Director General I Ketut Diarmita said the importance of the national animal health service system, especially facing the threat of emerging infectious animal diseases, has the potential to destroy livestock sub-sectors in Indonesia.
"It is a government priority to control animal diseases and increase domestic livestock production to ensure food security and stabilize market prices for livestock products," Mr Diarmita said through the written statement.