Tembus 80 Negara 5 Benua, Ekspor Obat Hewan RI Capai Rp20,16 Triliun
Indonesia`s Veterinary Medicines Exports reached IDR 20.16 trillion in 3 Years
Reporter : Gusmiati Waris
Editor : Cahyani Harzi
Translator : Dhelia Gani

PUBLISHED: Minggu, 21 Oktober 2018 , 23:49:00 WIB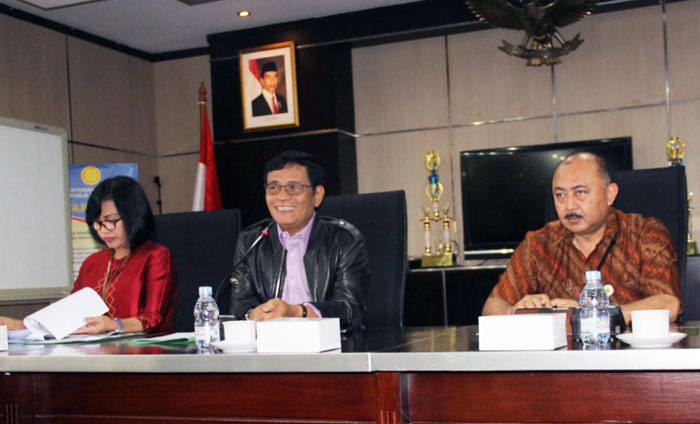 KOORDINASI EKSPORTIR: Dirjen Peternakan dan Kesehatan Hewan (PKH), I Ketut Diarmita (tengah) memimpin rapat koordinasi dengan para eksportir obat hewan (Foto: Humas Ditjen PKH)
Jakarta (B2B) - Ekspor obat hewan Indonesia saat ini menembus 80 negara di lima benua untuk tiga jenis sediaan: biologik, farmasetik, dan premiks sejak 2015. Nilai ekspor periode Januari hingga Agustus 2018 naik 7,8% dari 2017, sementara nilai ekspor mencapai Rp20,16 triliun sejak 2015 hingga Juni 2018.
Dirjen Peternakan dan Kesehatan Hewan (PKH), I Ketut Diarmita mengapresiasi para produsen obat hewan di seluruh Indonesia, dan Kementerian Pertanian RI akan memfasilitasi akselerasi ekspor dengan menjalin harmonis persyaratan ekspor dengan berbagai negara tujuan.
"Kementan meyakini ekspor obat masih dapat ditingkatkan baik volume ekspor, jenis ekspor, dan tujuan pasar baru di mancanegara. Perusahaan obat hewan harus jeli melihat dan mengatasi hambatan teknis di negara tujuan, dan menyampaikannya kepada Ditjen PKH," kata Ketut Diarmita.
Menurutnya, saat ini Ditjen PKH telah membentuk Tim Percepatan Ekspor komoditas PKH, dan telah menerbitkan surat edaran kepada pimpinan perusahaan ekspor obat hewan dan Asosiasi Obat Hewan Indonesia (Asohi) bahwa obat hewan produksi dalam negeri yang didaftarkan untuk orientasi ekspor, akan diprioritaskan dalam proses penerbitan surat keputusan (SK) nomor pendaftarannya, dengan tetap mengacu pada ketentuan yang berlaku.
"Ditjen PKH juga sedang melakukan pemutakhiran peraturan menteri pertanian tentang pendaftaran obat hewan, sehingga terbit lebih cepat dengan tetap mengacu aspek teknis terkait mutu, khasiat, dan keamanan obat hewan," kata Ketut Diarmita.
Jakarta (B2B) - Indonesian veterinary medicines exports currently penetrate 80 countries of five continents includes biology, pharmaceuticals and premixes since 2015. The export value for the period of January to August 2018 rose 7.8% from 2017, while the export value reached IDR20.16 trillion from 2015 to June 2018, according to senior ministry official.
Director General of Livestock and Animal Health, I Ketut Diarmita appreciated the producers of veterinary medicines across the country, and the agriculture ministry will support acceleration of export to meet the requirements of the destination country of export.
"The ministry believes that exporters of aveterinary medicines can increase the volume, type and export destinations. veterinary medicines companies must be keen to see and overcome technical barriers in the export destination," Mr Diarmita said.
According to him, the ministry has now formed a special team, and has issued a circular letter to the leaders of veterinary medicines exporters and associations.
"The ministry is also updating data from the agriculture minister´s regulation on registration of veterinary medicines so it is published faster by still referring to the technical aspects related to the quality, efficacy and safety of veterinary medicines," Mr Diarmita said.