Buka Peluang Kerja, Mentan Ajak Mahasiswa Pertanian Unhas jadi Pengusaha
Indonesian Minister Invites Students become an Entrepreneur
Reporter : Gusmiati Waris
Editor : Cahyani Harzi
Translator : Dhelia Gani

PUBLISHED: Jum'at, 07 September 2018 , 23:53:00 WIB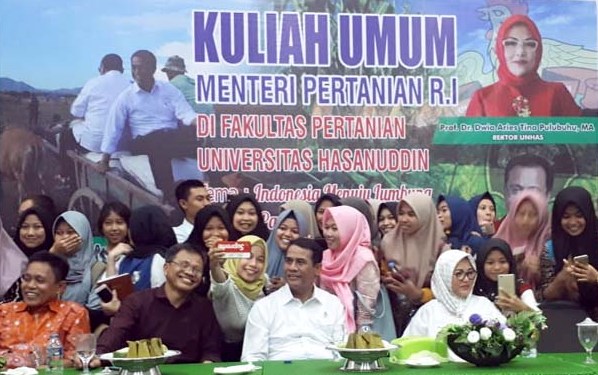 MOTIVASI MAHASISWA: Mentan Amran Sulaiman (kemeja putih) didampingi Rektor Dwia Aries Tina Pulubuhu foto selfie dengan para mahasiswa Fakultas Pertanian Unhas Makassar (Foto: Humas Kementan)
Makassar, Sulsel (B2B) - Mahasiswa fakultas pertanian khususnya di Universitas Hasanuddin Makassar (Unhas) diingatkan dan didorong oleh Menteri Pertanian RI Andi Amran Sulaiman untuk menjadi pengusaha di sektor pertanian, syarat utamanya adalah berkarakter, cerdas, dan inovatif.
"Mahasiswa fakultas pertanian Unhas harus jadi pengusaha. Topang dengan tekad kuat dan kerja keras, untuk mengubah nasib. Kami akan bantu permudah izinnya," kata Mentan Amran Sulaiman pada kuliah umum di Unhas Makassar, Jumat (7/9).
Indonesia ke depan membutuhkan sarjana yang mandiri dan mampu membuka lapangan kerja, seharusnya sejak di bangku kuliah dapat memanfaatkan waktu luang dengan bekerja paruh waktu (part-time work) daripada nongkrong dan terlibat tawuran massal, manfaat penting lain adalah mahasiswa tidak lagi tergantung pada uang orangtua.
Saya juga pernah menjadi mahasiswa dan tinggal di pondokan, saya lahir miskin tapi saya tidak mau dikubur dalam keadaan miskin," kata Mentan.
Mentan kemudian menguraikan pengalaman hidup sebagai mahasiswa yang hidup di pondokan mahasiswa dekat kampusnya di Unhas Makassar dengan bekerja serabutan demi menutup biaya kuliah dan mencukupi kebutuhan sehari-hari sebagai mahasiswa di ibukota Sulawesi Selatan.
Makassar of South Sulawesi (B2B) - Students in the faculty of agriculture especially at Makassar´s Hasanuddin University or the Unhas reminded by Indonesian Agriculture Minister Andi Amran Sulaiman to become an entrepreneur in the agricultural sector, prerequisite is to have a strong character, smart, and innovative.
"Students of agricultural faculty in Unhas Makassar must become entrepreneurs. Support with strong determination and hard work to change fate," Minister Sulaiman said here on Friday (September 7).
Indonesia´s future requires graduates who are independent and able to create jobs, it should be since the university can use their spare time to work part-time rather than hanging out and engage mass brawl, other important benefits is the students is no longer dependent the parents´ money.
"I have also been a student and lived in the dormitory. I was born poor but I do not want to die remains poor," Minister Sulaiman said.
Minister Sulaiman then elaborate his experiences as a student in the dormitory near the campus in Makassar´s Hasanuddin University (Unhas) to work part time to meet university costs, and meet daily needs as a student in capital of South Sulawesi province.