Mentan Minta Anggaran Pertanian Daerah Fokus pada Sektor Produksi
Indonesian Govt Focuses on Increasing of Agricultural Production
Reporter : Gusmiati Waris
Editor : Cahyani Harzi
Translator : Dhelia Gani

PUBLISHED: Selasa, 20 Februari 2018 , 23:55:00 WIB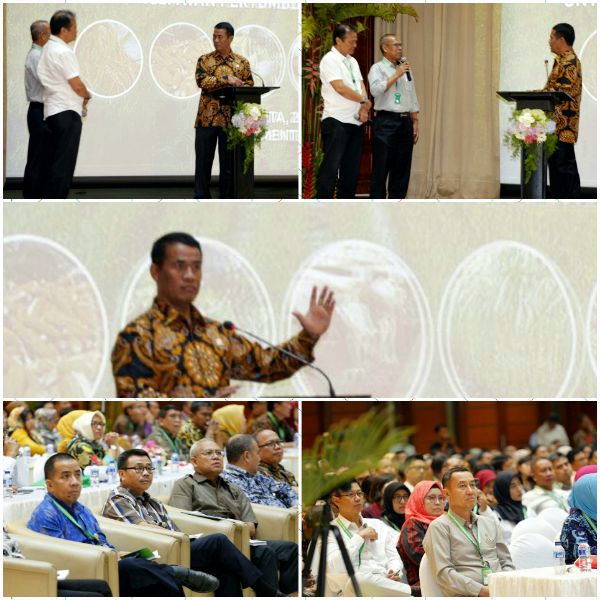 Foto2: Humas Kementan
Jakarta (B2B) - Pemerintah RI mengingatkan para kepala daerah di tingkat provinsi/kabupaten/kota untuk menyusun anggaran pendapatan dan belanja daerah yang fokus pada peningkatan produksi pangan, seperti arahan Presiden Joko Widodo untuk meningkatkan pendapatan dan kesejahteraan petani melalui pengembangan korporasi agar hasil produksi pertanian yang dihasilkan petani memiliki nilai tambah.
"Anggaran harus fokus pada peningkatan kesejahteraan petani seperti ketersediaan air melalui sarana irigasi, pengadaan bibit unggul, pupuk tepat waktu, mesin penggilingan dan pengemasan yang tepat guna, dan diikuti deregulasi yang menghambat pembangunan pertanian nasional," kata Mentan Andi Amran Sulaiman pada pembukaan rapat koordinasi teknis (Rakornis) bertajuk 'Pembangunan Pertanian 2019' di Jakarta, Selasa (20/2).
Rakornis yang dihadiri para sekretaris dinas pertanian provinsi bertujuan mempertemukan top down policy dengan bottom up planning sehingga hasilnya dapat dirumuskan menjadi rancangan kegiatan provinsi/kabupaten/kota untuk musyawarah perencanaan pembangunan (Musrenbang) tingkat nasional.
"Usulkan kepada gubernur, bupati dan walikota untuk menyusun anggaran daerah yang fokus pada peningkatan produksi pertanian," kata Mentan.
Dia mengingatkan semua pihak terkait agar tetap optimistis melihat potensi besar dari sektor pertanian Indonesia, dan kegiatan Rakornis bertujuan melakukan sinergi usulan kebijakan dari pemerintah daerah untuk melakukan penyelarasan kebijakan pada pemerintah pusat, khususnya Kementerian Pertanian RI.
Jakarta (B2B) - The Indonesian government is reminding regional heads across the country to develop regional budgets and expenditures that focus on improving food production, and President Joko Widodo encouraged to increase income and welfare of farmers through the development of corporations or cooperatives.
"The regional development budget should focus on improving the welfare of farmers through the availability of irrigation facilities, superior seeds, timely fertilizers, milling machines and appropriate packaging, and deregulation," said Agriculture Minister Andi Amran Sulaiman while opened the technical coordination meeting here on Tuesday (February 20).
The meeting was attended by the secretaries of the provincial agricultural service aims to bring top down policy with bottom up planning so that the results can be formulated into the draft of provincial/district/city activities for national development planning.
"Convey the proposal to the governors, regents and mayors to arrange regional budgets that focus on increasing agricultural production," Minister Sulaiman said.
He reminded all related parties to remain optimistic about the enormous potential of the Indonesian agricultural sector, and to synergize policies from local governments with the central government, especially the ministry of agriculture.