Cetak Sawah, Kementan Buka Lahan Baru dan Optimalisasi Rawa
Indonesian Govt Encouraged the Regions to Develop New Rice Fields
Editor : M. Achsan Atjo
Translator : Dhelia Gani

PUBLISHED: Selasa, 12 November 2019 , 02:37:00 WIB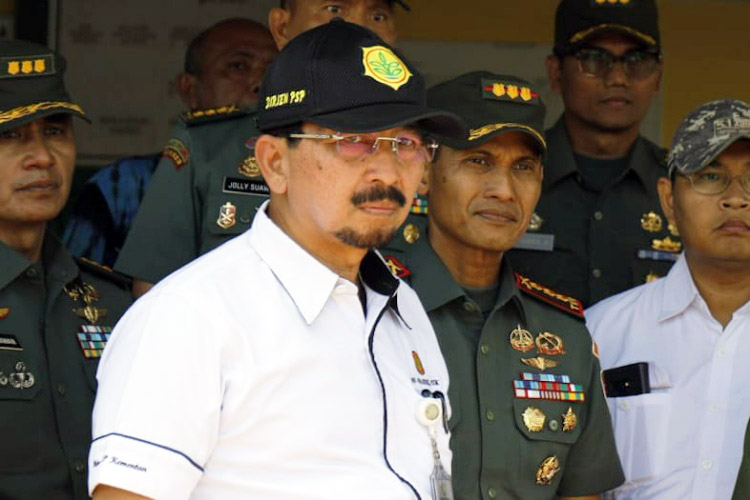 PANTAU LAPANGAN: Dirjen PSP Kementan, Sarwo Edhy memantau pengembangan sawah baru [Foto: Humas Ditjen PSP]
Jakarta [B2B] - Membuka lahan baru untuk mencetak sawah dan mengubah lahan tidur menjadi sawah melalui optimalisasi lahan rawa ditempuh oleh Kementerian Pertanian RI untuk mendukung NawaCita Presiden RI Joko Widodo dalam kegiatan cetak sawah satu juta hektar, kini terwujud menjadi 1,16 juta hektar.
"Saat ini, perluasan areal luas lahan sudah mencapai 900 ribu hektar. Kita lebih banyak membuka lahan rawa. Perluasan areal sawah yang satu juta hektar tersebut 90%-nya dari optimasi rawa. Untuk saat ini, kegiatan cetak sawah sudah hampir 200 ribu hektar. Jadi, sudah lebih dari 1 juta hektar," kata Dirjen PSP Kementan, Sarwo Edhy di Jakarta, belum lama ini.
Menurutnya, Kegiatan cetak sawah Kementan terbagi dua. Pertama, cetak sawah yang sebenarnya, dalam arti mengubah lahan tidur menjadi sawah. Kedua, optimalisasi lahan, yakni menambah areal luas tanam melalui optimalisasi lahan yang tidak produktif.
Cetak sawah baru dilakukan bekerja sama dengan TNI di lahan-lahan tidur di luar Jawa seperti Lampung, Sumatera Selatan, Pulau Kalimatan, dan Papua.
Direktorat Perluasan dan Perlindungan Lahan - Ditjen PSP Kementan telah membuka sawah baru seluas 20.070 hektar, 2016 berhasil mencetak sawah seluas 132.129 hektar, dan 2017 seluas 60.243 hektar.
Tahun 2018, targetnya hanya sekitar 12.000 hektar. Sebagai gantinya, Kementan menggarap rawa pasang surut. Lahan pasang surut seperti di Sumatera Selatan dan Kalimantan sudah dioptimalkan, sehingga dapat menambah produksi pangan nasional.
Dengan demikian, Kementan melalui Ditjen PSP, dalam kurun waktu tiga tahun, telah berhasil mencetak sawah baru seluas 212.442 hektar. Sedangkan target cetak sawah tahun anggaran 2018 seluas 12.000 hektar.
"Cetak sawah seluas 212.442 hektar yang berhasil dicetak itu menambah luas baku lahan sawah di tanah air. Minimal akan mampu menambah produksi beras nasional sebanyak 673.326 ton per tahun dengan rata-rata produksi tiga ton per hektar. Secara berkesinambungan, produksi dan produktivitas tersebut akan bertambah," kata Sarwo Edhy.
Menurut dia, hal ini tidak terlepas dari upaya memberdayakan masyarakat agraris atau bisa disebut juga masyarakat pedesaan di Indonesia sebagai masyarakat yang paling rentan terhadap perubahan budaya. [Sur]
Jakarta [B2B] - Open land to develop rice fields and turn abandoned land into rice fields through optimization of swamp land pursued by Indonesian Agriculture Ministry to increase Indonesian rice production, according to senior official of the ministry.