87 Ribu Ha, Dirjen PSP Salut Perda `Lahan Pertanian Abadi` Karawang
Indonesia`s Karawang District Stipulates Eternal Farmland of 87.000 Hectares
Editor : M. Achsan Atjo
Translator : Dhelia Gani

PUBLISHED: Kamis, 14 Maret 2019 , 23:08:00 WIB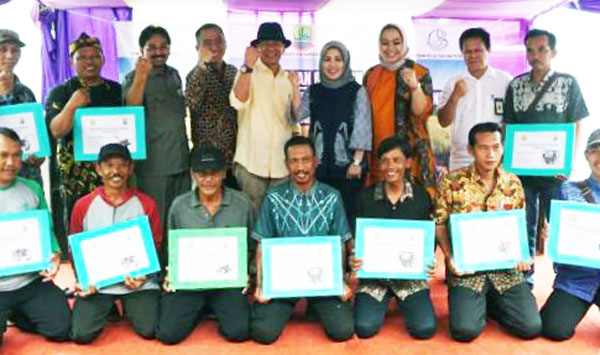 ANTI ALIH FUNGSI LAHAN: Dirjen PSP Kementan, Sarwo Edhy [berdiri ke-3 kiri] dan Bupati Cellica Nurrachadiana (berdiri ke-3 kanan) bersama para petani penerima bantuan Alsintan [Foto: Humas Ditjen PSP]
Karawang, Jabar [B2B] - Kementerian Pertanian RI menyatakan salut pada komitmen Pemkab Karawang menerbitkan Perda 'Lahan Pertanian Pangan Berkelanjutan' disingkat LP2B, dengan menetapkan 87.000 hektar sebagai 'lahan pertanian abadi' atau terlarang beralih fungsi, hanya 10.000 hektar dapat beralih fungsi hingga 2030, untuk mempertahankan Karawang sebagai lumbung pangan nasional dengan potensi 1,3 juta ton gabah setara 800.000 ton beras dari 97.000 hektar sawah.

Hal itu dikemukakan oleh Dirjen Prasarana dan Sarana Pertanian Kementan [PSP] Sarwo Edhy pada komitmen dan keberanian Bupati Karawang Cellica Nurrachadiana menetapkan LP2B di tengah posisi Karawang, yang berada dekat dengan kawasan Jabodetabek sehingga lahannya berpotensi diincar oleh dunia usaha dan industri.

"Tadi ibu bupati menyampaikan komitmennya akan mempertahankan lahan pertaniannya agar tidak beralih fungsi. Salut dan sangat kami apresiasi keluarnya Perda LP2B karena produksi beras Karawang merupakan salah satu penopang kebutuhan pangan nasional," kata Dirjen Sarwo Edhy dalam sambutannya usai menyerahkan bantuan 30 unit Alsintan senilai Rp677 juta kepada sejumlah Poktan dan Gapoktan di Karawang, Selasa [12/3].

Sebagaimana diketahui, sejumlah pemerintah kabupaten telah menetapkan 'lahan pertanian abadi' seperti Sukabumi dan Bandung namun hanya ratusan hektar, maka komitmen Karawang tergolong luar biasa lantaran luasnya mencapai 87.000 hektar sebagai hal yang fantastis.

"Kementan akan membantu pertanian Karawang, inshaa Allah kami selalu support Karawang," kata Sarwo Edhy.

Apresiasi serupa dilontarkan oleh Anggota IV Badan Pemeriksa Keuangan [BPK] Rizal Djalil tentang pasokan beras Karawang yang selama ini mendukung 'kondisi politik pangan' menjadi kondusif.

"Karawang harus mempertahankan lahan pertaniannya, karena pasokan beras Karawang sangat penting. Semoga bantuan Alsintan Kementan membuat surplus produksi padinya kian meningkat," kata Rizal Djalil.

Anti Alih Fungsi
Bupati Cellica Nurrachadiana mengungkapkan apresiasinya kepada Kementan melalui Dirjen PSP atas bantuan untuk Karawang, dan meminta kelompok tani yang menerima bantuan Alsintan untuk menjaga, mengoptimalkan dan merawat untuk mendukung peningkatan produksi sekaligus meningkatkan kesejahteraan keluarga petani.

"Pemkab Karawang telah menerbitkan Perda LP2B yang menetapkan 87.000 hektar sawah terlarang beralih fungsi. Hingga 2030, hanya 10.000 hektar yang dapat beralih fungsi," katanya.

Cellica meminta kelompok tani yang menerima bantuan, menjaga, mengoptimalkan, dan mengelola bantuan tersebut dengan hati dan tekad untuk meningkatkan kesejahteraan para petani.

"Kami meminta komitmen petani untuk menjaga dan mengoptimalkan Alsintan sehingga berkorelasi meningkatkan kesejahteraan para petani. Bantuan alsintan dari pemerintah pusat menandakan sebuah perhatian khusus dari Kementerian Pertanian kepada Karawang," katanya.
Karawang of West Java [B2B] - Indonesian Agriculture Ministry expressed salute to the commitment of Karawang district government establish regional regulations of 'eternal farmland' as the sustainable agricultural land of 87,000 hectares or forbidden of land conversion to keep Karawang as the national food barn for potential production of 800,000 tons of rice from 97,000 hectares of rice fields.

It was stated by the ministry's Director General of Agriculture Infrastructure and Facilities, Sarwo Edhy to the on the commitment and courage of Karawang Regent Cellica Nurrachadiana to establish regional regulations classified as out of the box.

"The regent conveyed hers commitment to keep agricultural land of land conversion. Salute and we appreciate the regional regulations because Karawang rice production is one of the pillars of national food needs," said DG Edhy here on Tuesday [March 12].

As is known, several district governments in Indonesia have stipulate 'eternal farmland' such as like Sukabumi and Bandung but only hundreds of hectares, so the Karawang's commitment is extraordinary because almost 100,000 hectares are fantastic.

"Jakarta will always support Karawang's agriculture," Edhy said.

Similar appreciation was conveyed by Members of the Supreme Audit Agency or BKP Rizal Djalil about the supply of Karawang rice which has been supporting 'food political conditions' to be conducive.

"Karawang must keep its agricultural land, because the supply of Karawang rice is very important for the basic food needs of Indonesian people," Djalil said.

Anti Land Conversion
Regent of Cellica Nurrachadiana expressed her appreciation to Jakarta through the agriculture ministry for its support for Karawang, and asks farmer groups who receive agricultural machinery assistance to maintain and optimize their functions.

"The Karawang district government has set a regulation that stipulates of 87,000 hectares as the forbidden rice fields to land conversion. Until 2030, only 10,000 hectares for land conversion," she said.

Regent Nurrachadiana asked farmer groups to receive assistance from agricultural machinery to properly maintain, optimize and manage it to improve the welfare of farmers.

"We ask commitment of farmers to maintain and optimize agricultural machinery so that it correlates to improve the welfare of farmers. The assistance of Jakarta signifies special attention from the agriculture ministry to Karawang," he said.