Subsidi Pupuk Rp2.700 per Kg, Ditjen PSP Tingkatkan Pengawasan Distribusi
Indonesian Agriculture Ministry Improve Supervision of Subsidized Fertilizer
Editor : M. Achsan Atjo
Translator : Dhelia Gani

PUBLISHED: Selasa, 07 Mei 2019 , 02:56:00 WIB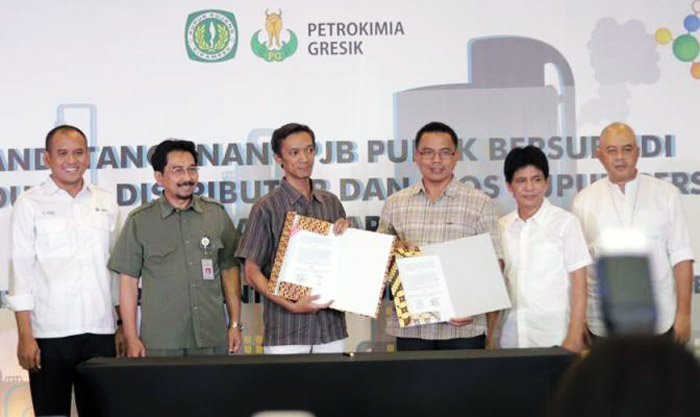 KONTRAK JUAL BELI: Dirjen PSP Sarwo Edhy (ke-2 kiri) menyaksikan kontrak jual beli 24 distributor dan 476 dengan Pupuk Kujang dan Petrokimia Gresik pada akhir Maret 2019 [Foto: Humas Ditjen PSP]
Jakarta [B2B] - Pupuk bersubsidi merupakan pupuk yang pengadaan serta penyalurannya memperoleh subsidi dari pemerintah, untuk memberikan petani manfaat optimal dengan harga jual Rp1.800 dari harga normal Rp4.500 per kg, Direktorat Jenderal Prasarana dan Sarana Pertanian - Kementerian Pertanian RI [Ditjen PSP] berupaya meningkatkan pengawasan distribusi pupuk aman dan lancar ke seluruh Indonesia, alokasi 2019 adalah 9,55 juta ton senilai Rp29 triliun.

"Distribusi tepat waktu dan sasaran diharapkan dapat membantu petani memanfaatkan pupuk subsidi bertepatan dengan dimulainya musim tanam 2019 pada sejumlah sentra produksi pangan," kata Dirjen PSP Kementan, Sarwo Edhy di Jakarta, Senin [6/5].

Menurutnya, peningkatan pengawasan dilakukan untuk mengantisipasi upaya penyelewengan di beberapa daerah, meskipun catatan Ditjen PSP selama 2018 kasus penyelewengan mengalami penurunan.

Dirjen Sarwo Edhy menambahkan, Kementan terus meningkatkan pengawasan untuk menekan angka penyelewengan antara lain dengan memberi reward dan punishment terhadap distributor dan kios yang berperan penting sebagai ujung tombak distribusi pupuk bersubsidi.

"Selama distributor dan kios yang mendistribusikan pupuk subsidi melakukan tugasnya dengan baik, tanpa adanya tindakan penyelewengan, para petani Indonesia bisa mendapatkan manfaat pupuk subsidi dengan maksimal," katanya.

Dia mengakui peran vital distributor dan kios, sehingga diharapkan tidak melakukan upaya penyelewengan seperti mengoplos, atau mengganti karung kemasan menjadi karung ekonomis, karena hal itu adalah tindakan ilegal yang harus dipertanggungjawabkan pelakunya pada aparat penegak hukum.

Anggaran Rp29 Triliun
Sementara, Direktur Pupuk dan Pestisida Ditjen PSP Kementan, Muhrizal Sarwani menambahkan pentingnya kelancaran dan keamanan distribusi, karena pemerintah memberikan subsidi pupuk cukup besar. Harga asli pupuk Rp4.500 dijual kepada petani Rp1.800 per kg.

"Artinya, setiap satu kilogram pupuk terdapat uang subsidi Rp2.700. Subsidi cukup besar inilah yang harus dijaga oleh semua pelaku usaha pupuk di Indonesia. Jika aman dan lancar, petani mendapat keuntungan maksimal dari subsidi pemerintah," kata Muhrizal Sarwani.

Dia mengharapkan alokasi anggaran tersebut dapat mencegah kasus kelangkaan pupuk yang kerap merugikan para petani, mengingat besarnya anggaran subsidi pupuk maka pemerintah berharap petani dapat leluasa dan mudah menanam tanaman pangan lantaran ketersediaan pupuk sudah dijamin oleh pemerintah.

"Peningkatan pengawasan diharapkan memberi manfaat lebih optimal kepada petani," katea Muhrizal [Sur]
Jakarta [B2B] - Indonesian government subsidizes the procurement and distribution of subsidized fertilizers for farmers, the selling price for farmers is IDR 1,800 of normal price IDR 4,500 per kg, the Agriculture Ministry through the Directorate General of Agricultural Infrastructure and Facilities or the Ditjen PSP Kementan seeks to improve supervision to ensure safe and smooth distribution across the country, 2019 allocation is 9.55 million tons or IDR29 trillion.

"Timely distribution and targets are expected to support farmers using subsidized fertilizers to coincide with start of 2019 planting season in number of food production centers," said Director General of PSP Kementan, Sarwo Edhy here on Monday [May 6].

According to him, supervision aims to anticipate fraud in several regions, despite the ministry´s records during 2018 cases of fraud have decreased.

DG Sarwo Edhy said, his ministry continue to improve supervision to reduce the number of fraud such as giving rewards and punishments to distributors and kiosks that play an important role as the spearhead of distribution.

"Indonesian farmers get the maximum benefits from subsidized fertilizers if distributors and kiosks do their jobs well without fraud," he said.

He acknowledged the vital role of distributors and kiosks, so that they were expected not to make efforts to misuse such as mixing, or replacing packaging sacks into economical sacks, because it is an illegal act that must be taken firmly by law enforcement officials.