Kartu Tani, Ditjen PSP Minta Distributor dan Kios Pupuk Bersubsidi Fleksibel
Indonesian Govt Provides Farmer Cards to Facilitate Farmers for Financial Transactions
Editor : M. Achsan Atjo
Translator : Dhelia Gani

PUBLISHED: Jum'at, 17 Mei 2019 , 02:09:00 WIB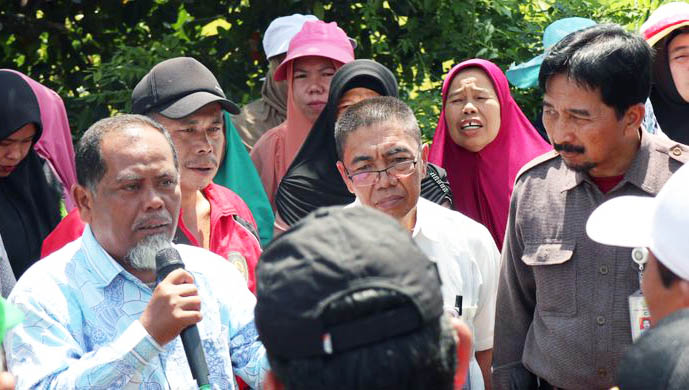 DIALOG PETANI: Dirjen PSP Kementan, Sarwo Edhy [kanan, kemeja coklat] didampingi menyimak ´curhat´ petani tentang keuntungan sekaligus kendala penggunaan Kartu Tani [Foto: Humas Ditjen PSP]
Jakarta [B2B] - Kartu Tani ke depan akan menjadi syarat bagi petani untuk mendapatkan pupuk bersubsidi dan bantuan Pemerintah RI melalui Kementerian Pertanian RI, maka distributor dan kios yang ditunjuk menyalurkan pupuk bersubsidi untuk lebih fleksibel melayani petani yang akan menebus pupuk dengan Kartu Tani, misalnya petani kesulitan mengakses lantaran lupa nomor sandi [PIN] sebaiknya tidak langsung ditolak melainkan diselesaikan dengan musyawarah.
Direktur Jenderal Prasarana dan Sarana Pertanian - Kementerian Pertanian RI [Dirjen PSP Kementan] Sarwo Edhy mengatakan berdasarkan temuan lapangan seperti di Provinsi Jawa Tengah, penolakan kerap terjadi karena petani lupa PIN sehingga tidak bisa menebus pupuk, seharusnya hal itu tidak terjadi, karena petani belum terbiasa menggunakan KartuTani.
"Masih ada kendala tapi jangan langsung diabaikan karena akan menghambat proses usaha tani, seharusnya tetap dilayani oleh distributor atau kios, yang penting identitas dan data petani tersebut tercantum dalam RDKK atau rencana definitif kebutuhan kelompok. Bantu petani untuk membeli pupuk dengan cara manual maupun elektronik," kata Sarwo Edhy di Jakarta, Rabu [15/5].
Dia mengakui, saat ini Kartu Tani baru bisa dipakai untuk menebus pupuk, ke depan, telah dirancang memberikan sejumlah manfaat terutama layanan perbankan terintegrasi yang berfungsi sebagai kartu debit, transaksi keuangan, penyaluran pinjaman hingga kartu subsidi atau e-Wallet.
Keunggulan lain adalah single entry data, proses validasi berjenjang secara online, transparan, dan multifungsi, dan Ditjen PSP Kementan akan menjadikan Kartu Tani sebagai sumber data dan dasar penyusunan kebijakan.
Sementara Direktur Pupuk dan Pestisida Ditjen PSP, Muhrizal Sarwani mengatakan penggunaan Kartu Tani telah diluncurkan di Provinsi Jawa Tengah pada Januari 2018, yang diharapkan dapat dimanfaatkan petani untuk multifungsi.
"Kartu Tani tak sekadar sebagai kartu identitas petani, namun memiliki banyak manfaat lain bagi petani, sehingga memudahkan petani dalam melakukan transaksi. Kartu Tani tak ubahnya alat transaksi yang berbentuk kartu debit," kata Muhrizal S.
Selain berfungsi sebagai pendataan penerimaan jatah pupuk bersubsidi, Kartu Tani bisa digunakan untuk transaksi lainnya, khususnya menebus pupuk bersubsidi menjadi lebih praktis dan mudah. [Sur]
Jakarta [B2B] - The Farmer Card in the future will be requirement for Indonesian farmers to get subsidized fertilizer and assistance of central government through the Agriculture Ministry, so the distributors and kiosks appointed to distribute subsidized fertilizers to more flexibly serve farmers who will redeem fertilizers with Farmer Cards, for example farmers forget the personal identification number of the Farmer Card, it should not be rejected but resolved quickly and easily, according to senior Indonesian official.
Director General of Agricultural Infrastructure and Facilities at the Indonesian Agriculture Ministry [Dirjen PSP Kementan] Sarwo Edhy said based on field findings such as in Central Java province, rejection occurred because farmers forgot their PIN so they could not buy subsidized fertilizer that happened because farmers could not use the Farmer Card.
"There are still obstacles, but don't be ignored right away because it will hinder the farming process, should still be served by a distributors or kiosks, the important thing is that the farmer's identity and data are listed in the definitive plan of the farmer group's needs," Sarwo Edhy said here on Wednesday [May 15].
He admitted, currently the new Farmer Card can be used to redeem fertilizer, in the future, it has been designed to provide many benefits, especially integrated banking services, which functions as a debit card, financial transactions, lending and subsidy cards.
Another benefit is single entry data and online validation processes, and the Ditjen PSP Kementan will make Farmer Cards the data source and basis for policy making.