Aplikasi Online SIAP Picu Minat Petani pada Program Asuransi Pertanian
The Android App Support Indonesian Agricultural Insurance Program
Editor : M. Achsan Atjo
Translator : Dhelia Gani

PUBLISHED: Kamis, 09 Mei 2019 , 02:09:00 WIB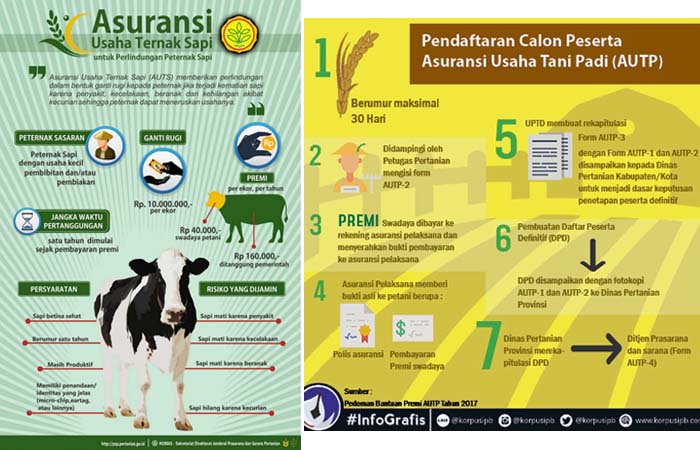 MUDAH & SIMPEL: Layanan AUTP dan AUTS/K dengan aplikasi Android didukung perusahaan asuransi PT Asuransi Jasa Indonesia [Jasindo] didesain sederhana dan simpel [Data & Infografis: Ditjen PSP Kementan]
Jakarta [B2B] - Aplikasi online Sistem Informasi Asuransi Pertanian disingkat SIAP untuk mendukung digitalisasi layanan Asuransi Usaha Tani Padu (AUTP) dan Asuransi Usaha Ternak Sapi/Kerbau (AUTS/K) yang diluncurkan Direktorat Jenderal Prasarana dan Sarana Pertanian - Kementerian Pertanian RI [Ditjen PSP] diyakini oleh Sekretaris Ditjen PSP, Mulyadi Hendiawan akan memikat petani di seluruh Indonesia mengikuti program asuransi AUTP dan AUTS.
Keyakinan Mulyadi Hendiawan mengacu pada inisiatif dan dukungan Ditjen PSP Kementan kepada pemerintah daerah melakukan sosialisasi aplikasi online SIAP di beberapa provinsi seperti Lampung, Sumatera Selatan, Yogyakarta, Sumatera Utara, Banten dan beberapa provinsi lainnya.
"Daerah merespons dengan baik, sehingga sosialiasi aplikasi online SIAP banyak dilakukan oleh daerah," kata Mulyadi Hendiawan di Jakarta, belum lama ini.
Menurutnya, layanan AUTP dan AUTS/K dengan aplikasi Android didukung perusahaan asuransi PT Asuransi Jasa Indonesia [Jasindo] didesain sederhana dan simpel, agar mudah digunakan oleh petani untuk proses administrasi dan pembayaran premi asuransi pertanian.
"Aplikasi SIAP menjadi salah satu jawaban atas keluhan para dinas pertanian di seluruh Indonesia dan beberapa pihak lainnya mengenai penyajian data atau pendaftaran asuransi tani," katanya.
Mulyadi menambahkan, penggunaan aplikasi IT sangat penting untuk pendaftaran peserta, khususnya tertib administrasi dan transparansi kepersetaan petani mengikuti AUTP dan AUTS/K.
"Proses pendaftaran akan semakin cepat, mudah, tertib dan terkontrol. Semua pihak yang terlibat bisa memantau langsung progress tiap peserta asuransi tani, begitu pula dengan petani misalnya terkait premi dan lain-lain," katanya. [Sur]
Jakarta [B2B] - Indonesian government targets a million hectares of land owned by rice farmers will be registered in the agricultural insurance program, the process was facilitated by the Agriculture Ministry through the Directorate General of Agricultural Infrastructure and Facilities or Ditjen PSP supported by insurance company Jasindo, by launched the Agricultural Insurance Information System application or the SIAP.
The Secretary of Ditjen PSP Mulyadi Hendiawan´s belief refers to the initiative and support of his office to the local government to disseminate SIAP online applications in several provinces such as Lampung, South Sumatra, Yogyakarta, North Sumatra, Banten and several other provinces.
"The regions responded well, so that the socialization of SIAP´s online application was carried out by the regions," Hendiawan said.
According to him, the SIAP application was developed to support digitalization of agricultural insurance services with an Android app that is designed in a simple way so that it is easy for farmers to use for administrative processes and insurance premium payments.
"The SIAP application answers complaints of agricultural offices across the country, and other related parties about registering farm insurance," he said.
He said the use of IT app is very important for registration of insurance participants, especially for orderly administration and transparency of farmer insurance participation.
"The registration process will be faster, easier, orderly and monitored. All parties involved can directly monitor the progress of each farmer insurance participant, as well as farmers for example related premiums and others," he said.