Bantuan Alsintan, Ketua DPR RI Yakin Petani Nyaman Bekerja karena Gratis
Indonesian House Speaker Support the Agriculture Ministry Program
Reporter : Gusmiati Waris
Editor : Cahyani Harzi
Translator : Dhelia Gani

PUBLISHED: Senin, 25 Februari 2019 , 03:00:00 WIB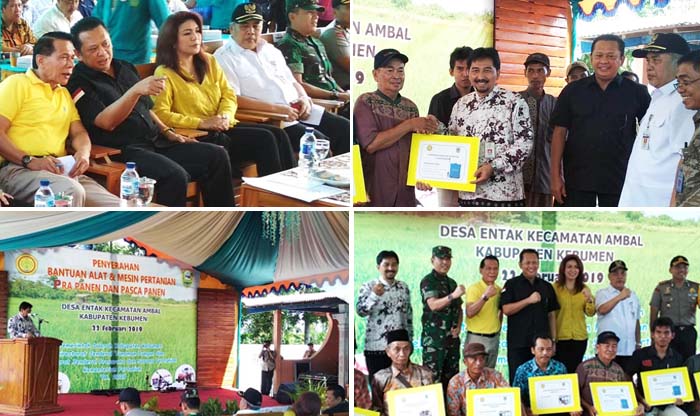 DAPIL VII JATENG: Ketua DPR Bamsoet berbincang dengan Anggota IV BPK Rizal Djalil, Dirjen PSP Sarwo Edhy (batik putih) menyerahkan bantuan Alsintan didampingi Bamsoet (safari hitam) Foto2: Humas Ditjen PSP)
Kebumen, Jateng (B2B) - DPR RI meyakini penyempurnaan manajemen teknis pertanian nasional melalui pengadaan mesin pertanian (Alsintan) gratis di era Joko Widodo membuat petani lebih nyaman mengelola lahan pertanian, karena tidak perlu memikirkan biaya untuk membeli Alsintan, dan parlemen selalu memastikan kebutuhan petani terfasilitasi dengan baik mulai dari benih, bibit, pupuk, irigasi hingga pemasaran hasil pertanian.
Hal itu dikemukakan Ketua DPR RI Bambang Soesatyo akrab disapa Bamsoet saat menyerahkan bantuan lebih 100 unit Alsintan untuk petani di Kabupaten Kebumen, Provinsi Jawa Tengah didampingi Sarwo Edhy, Direktur Jenderal Prasarana dan Sarana Pertanian - Kementerian Pertanian RI (Dirjen PSP) yang dipusatkan di Desa Entak, Kecamatan Ambal akhir pekan lalu (22/2).
"Saya percaya, menyejahterakan bangsa Indonesia salah satu caranya harus dimulai dengan menyejahterakan petaninya," kata Bamsoet saat menyerahkan bantuan Alsintan kepada petani Kebumen.
Turut hadir Anggota IV Badan Pemeriksa Keuangan (BPK RI) Rizal Djalil, Bupati Kebumen Yazid Mahfudz, Kapolres Kabupaten Kebumen AKBP Robertho Pardede, dan Komandan Kodim 0709/Kebumen Letkol Inf Zamril Piliang.
Legislator dari Partai Golkar daerah pemilihan VII Jawa Tengah (Purbalingga, Banjarnegara, dan Kebumen) memaparkan data Kementan tentang potensi lahan pengembangan padi, jagung, kedelai, dan ubi kayu di Kebumen mencapai 45.331 hektar, terdiri atas lahan basah (sawah) eksisting 41.278 hektar dan potensi pengembangan tanaman pangan lahan kering 4.053 hektar.
"Bahkan pada 2018, Kebumen mampu menaikkan luas tambah tanam atau LTT menjadi 81.056 hektar dari periode sebelumnya, Oktober 2016 sampai September 2017 hanya 78.145 hektar. Surplus sekitar 2.911 hektar menjadi bukti bahwa petani Kebumen tergolong tangguh," kata Bamsoet.
Sementara Dirjen PSP Sarwo Edhy mengingatkan petani Kebumen yang mendapat bantuan Alsintan untuk merawat dan memanfaatkan secara optimal Alsintan untuk mendukung peningkatan produksi pangan.
"Alsintan hendaknya dirawat dengan baik. Jangan biarkan jadi sia-sia, karena yang rugi bukan hanya para petani, melainkan juga bangsa Indonesia," katanya.
Bantuan Alsintan yang diberikan adalah satu unit traktor roda empat (TR4), 25 TR2, 22 unit pompa air, 50 unit hand sprayers, dan lima unit power treshers.
Kebumen of Central Java (B2B) - Indonesian parliament believes improvement of agricultural technical management by providing free agricultural machinery in the era of Joko Widodo´s administration make farmers comfortable working, because they do not have to think of the cost to buy agricultural machinery or the Alsintan.
It was stated by Indonesian House Speaker Bambang Soesatyo familiarly called Bamsoet while handed over more than 100 Alsintan units to farmers in Kebumen district of Central Java province accompanied by Sarwo Edhy, Director General of Agricultural Infrastructure and Facilities of the agriculture ministry or Dirjen PSP in Entak village of Ambal subdistrict, last week (February 22).
"I believe that the welfare of Indonesian people must be started by improving the welfare of farmers," Bamsoet said while handed over Alsintan to Kebumen farmers.
Legislator of the Golkar Party in the VII regions of Central Java (Purbalingga, Banjarnegara, and Kebumen) presented data of the agriculture ministry about potential for developing rice, corn, soybeans and cassava in Kebumen to reach 45,331 hectares, consisting of 41,278 hectares of existing rice fields, and 4,053 hectares of dry land potential.
"Even in 2018, Kebumen increase the planting area to 81,056 hectares of the previous period, October 2016 to September 2017 only 78,145 hectares as proof of Kebumen´s farmers are formidable," Bamsoet said.
Meanwhile the Director General of PSP Sarwo Edhy reminded Kebumen farmers who received Alsintan´s assistance to maintain and utilize optimally to support increased food production.
"The Alsintan must be treated and utilized optimally because the loss is not only farmers, but also Indonesian people," he said.