Petani Konsultasi Penyuluh, Kiat Ditjen PSP Antisipasi Pupuk dan Pestisida Palsu
Indonesian Agricultural Extensionists Support Farmers Anticipate Fake Fertilizers
Editor : M. Achsan Atjo
Translator : Dhelia Gani

PUBLISHED: Senin, 03 Juni 2019 , 03:15:00 WIB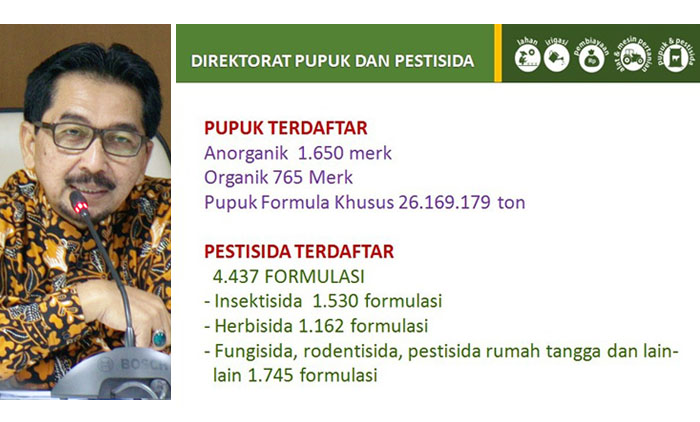 PRODUK RESMI: Dirjen PSP Kementan, Sarwo Edhy [kiri] dan daftar produk pupuk dan pestisida terdaftar di Ditjen PSP Kementan [Foto & Tabel: Humas Ditjen PSP]
Jakarta [B2B] - Petani diminta berinisiatif konsultasi dengan penyuluh pertanian untuk mengantisipasi maraknya peredaran pupuk dan pestisida palsu di sejumlah daerah, seperti diungkap Polri di Kabupaten Brebes, Provinsi Jawa Tengah hasil koordinasi dengan Direktorat Jenderal Prasarana dan Sarana Pertanian - Kementerian Pertanian RI [Ditjen PSP Kementan], sehingga petani dapat terhindar dari peredaran sarana produksi [Saprodi] pertanian ilegal tersebut.
Dirjen PSP Kementan, Sarwo Edhy mengingatkan petani untuk konsultasi dengan penyuluh pertanian, yang telah dibekali pengetahuan dan kemampuan untuk mengenali pupuk dan pestisida ilegal, dan petani diharapkan mendapat penyuluhan intensif untuk mengenali ciri-ciri Saprodi palsu tersebut, sebagai upaya deteksi dini.
"Konsultasi dengan penyuluh jadi upaya deteksi dini bagi petani agar tidak mengalami kekhawatiran gagal panen akibat beredarnya pupuk dan pestisida palsu," kata Sarwo Edhy di Jakarta, belum lama ini.
Dia mengingatkan meskipun sudah ada pelakunya yang diproses hukum di kepolisian seperti di Brebes, namun petani harus tetap waspada terhadap produk Saprodi palsu. "Kalau tidak diantisipasi sejak dini, bisa-bisa gagal panen."
Dirjen PSP Kementan menambahkan kasus peredaran pestisida palsu di Brebes merupakan kasus perorangan dengan membuat ramuan sendiri.
"Dampak buruk dari pestisida dan pupuk palsu mengakibatkan kematian pada tanaman pangan, hortikultura maupun perkebunan. Contoh kasus di Brebes, banyak petani yang mengalami kerugian," katanya.
Sebagaimana diketahui, Penyuluh pertanian berperan vital mengawal operasional program dan kebijakan pemerintah pusat bersama penyuluh pertanian provinsi/kabupaten/kota, seperti dikemukakan Kepala Pusat Penyuluhan Pertanian [Pusluhtan BPPSDMP Kementan] Siti Munifah pada berbagai kesempatan.
"Peran Balai Penyuluhan Pertanian disingkat BPP di tingkat kecamatan, pertama adalah pusat koordinasi program antara BPTP, instansi teknis dan kantor kecamatan. Melaksanakan fungsi pusat pembelajaran bagi penyuluh dan petani dalam bentuk demplot, demarea, pengolahan hasil, Saprodi, dan mekanisasi petanian," kata Siti Munifah pada kunjungannya di Kota Palu, Provinsi Sulawesi Tengah, belum lama ini.
BPP juga menjadi pusat data dan informasi dengan bantuan penguatan brainware, software dan hardware yang terhubung langsung dengan jaringan teknologi informasi. Dengan demikian, kata Siti Munifah, gerak langkah kinerja penyuluh di daerah akan menjadi dinamis dan lebih bersemangat dalam melaksanakan tugasnya. [Sur/Liene]
Jakarta [B2B] - Indonesian farmers are asked to initiate consultations with agricultural extensionists to anticipate the circulation of fake fertilizers and pesticides in several regions, as revealed by National Police [Polri] in Brebes district of Central Java province after coordination with Agriculture Ministry so that farmers avoid the circulation of fertilizers and pesticides, according to the ministry´s senior official.
Director General of Agricultural Infrastructure and Facilities, Sarwo Edhy reminded farmers to consult with agricultural extensionists who have been given the knowledge to know about illegal fertilizers and pesticides, and farmers are expected to get intensive counseling to recognize the characteristics of illegal pesticides and fertilizers, as early detection.
"Consultation with agricultural extensionists is an early detection effort to prevent crop failure because illegal fertilizers and pesticides," Edhy said here recently.