ItJenTan Dorong Percepatan Penyelesaian Tindak Lanjut Hasil Pengawasan
Update the Financial Report Data of Indonesian Agriculture Ministry
Editor : M. Achsan Atjo
Translator : Dhelia Gani

PUBLISHED: Minggu, 13 Oktober 2019 , 03:29:00 WIB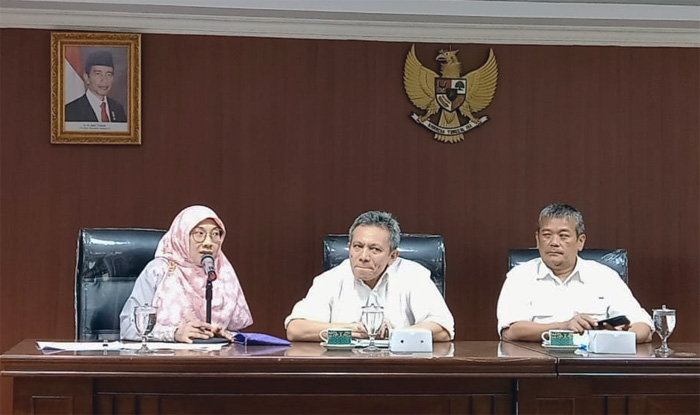 ADVOKASI PENGAWASAN: Sekretaris Inspektorat Jenderal Kementerian Pertanian RI [ItJenTan] Suprodjo Wibowo [kanan] Foto: Humas ItJenTan/Irfan]
Jakarta [B2B] - Inspektorat Jenderal Kementerian Pertanian RI [ItJenTan] menekankan prinsip pengawasan bukan sekadar untuk mencari-cari kesalahan. Pengawasan justru berguna apabila rekomendasi yang disampaikan dalam laporan hasil pengawasan dapat menghilangkan faktor penyebab dan mengeliminir akibat temuan.
Hal itu dikemukakan Sekretaris ItJenTan Suprodjo Wibowo saat membuka secara resmi kegiatan 'Pemutakhiran Data Tindak Lanjut Hasil Pengawasan Inspektorat Investigasi' yang dihadiri hampir 50 auditor dan perwakilan eselon satu lingkup Kementan di Jakarta, belum lama ini.
"Pentingnya tindak lanjut hasil audit sesegera mungkin, sebagai upaya perbaikan tatakelola pemerintahan dan menekan risiko adanya risiko berulang di kemudian hari," kata Suprodjo Wibowo.
Menurutnya melalui kegiatan tersebut, ItJenTan menegaskan peran mereka sebagai consulting partner bagi mitra kerja, dengan memberikan advokasi untuk mengatasi kendala yang dihadapi dalam melaksanakan tindak lanjut rekomendasi yang belum selesai untuk mendukung terciptanya Zona Integritas Menuju Wilayah Bebas dari Korupsi dan Wilayah Birokrasi Bersih Melayani [ZI-WBK/WBBM].
"Khususnya rekomendasi hasil audit investigasi, audit tujuan tertentu, penilaian maturitas aparat pengawas intern pemerintah atau APIP, survei integritas dan penilaian ZI-WBK/WBBM," kata Suprodjo Wibowo.
Dia mengharapkan mitra mitra kerja Itjentan dapat memanfaatkan kesempatan tersebut, untuk mempercepat penyelesaian rekomendasi auditor, serta mencari jalan keluar jika terdapat permasalahan yang dihadapi terkait penyelesaian rekomendasi tersebut.
Percepatan penyelesaian temuan tersebut juga sekaligus sebagai upaya mewujudkan misi Inspektorat Jenderal untuk meningkatkan akuntabilitas program pembangunan lingkup Kementan," katanya.
Jakarta [B2B] - The Inspectorate General at the Indonesian Agriculture Ministry reminded all work units to recommend financial supervision reports related to state and administrative losses to be resolved immediately supported by sufficient evidence, according to the senior official of the agriculture ministry.