Petani Kabupaten Bandung Dapat Bantuan Pompa Air dari Ditjen PSP Kementan
Indonesian Govt Seeks to overcome the Shortage of Water for Irrigation
Editor : M. Achsan Atjo
Translator : Dhelia Gani

PUBLISHED: Jum'at, 23 Agustus 2019 , 03:29:00 WIB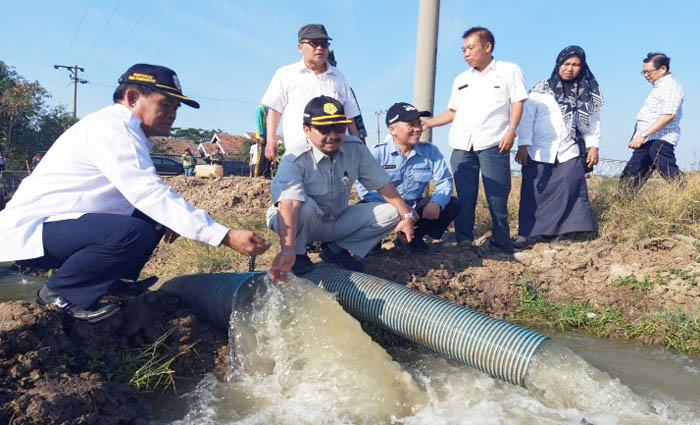 SARANA IRIGASI: Dirjen PSP Kementan Sarwo Edhy [kiri] meninjau sarana pompanisasi di Kabupaten Bandung, Jabar [Foto: Humas Ditjen PSP]
Bandung, Jabar [B2B] - Ditjen PSP Kementan memberi solusi bagi petani di Desa Panenjoan Kecamatan Cicalengka, Kabupaten Bandung, Provinsi Jawa Barat yang hanya menanam padi sekali setahun, karena mengandalkan sawah tadah hujan, dengan mendukung pengembangan irigasi perpompaan melalui Poktan UPJA Mekar Wangi, sehingga indeks pertanaman [IP] meningkat dari 100 menjadi 200 atau dua kali tanam padi dalam setahun.
"Kita berharap, bantuan irigasi ini bisa dimanfaatkan dengan maksimal, sehingga petani bisa menanam dengan tenang, dengan hasil maksimal juga," kata Dirjen PSP Kementan, Sarwo Edhy di Jakarta, Jumat [23/8].
Sebelumnya, bantuan perpompaan poktan hanya bisa menanam 25 - 30 hektare dalam setahun sekali, dan sekarang di lahan 50 hektare dapat tertanami semuanya.
"Kalau IP kelompok tani naik, maka pendapatan dan tingkat kesejahteraan anggota petani meningkat. Selain bisa membudidayakan tanaman padi, rencana yang akan datang, dengan ketersediaan air yang kontinyu, kelompok tani bisa melakukan sistem tanam ´mina padi´. Selain petani punya pendapatan dari padi, penghasilan mereka bisa bertambah dari hasil budi daya ikan," kata Dirjen PSP Kementan.
"Ke depan, akan ada program program lain yang lebih bermanfaat untuk kelompok tani," pungkasnya. [Sur]
Bandung of West Java [B2B] - Indonesian´s Agriculture Ministry targets to relief pump water by 30,000 units to overcome the dryness in rice fields throughout Indonesia from refocusing funds, the state budget, and the 2015 Revised State Budget.