Pupuk Bersubsidi, Dirjen PSP Pastikan Petani Lampung Tetap Dapat Jatah
Indonesian Govt Ensures Lampung Farmers Will Get Subsidized Fertilizer
Editor : M. Achsan Atjo
Translator : Dhelia Gani

PUBLISHED: Minggu, 19 Mei 2019 , 03:05:00 WIB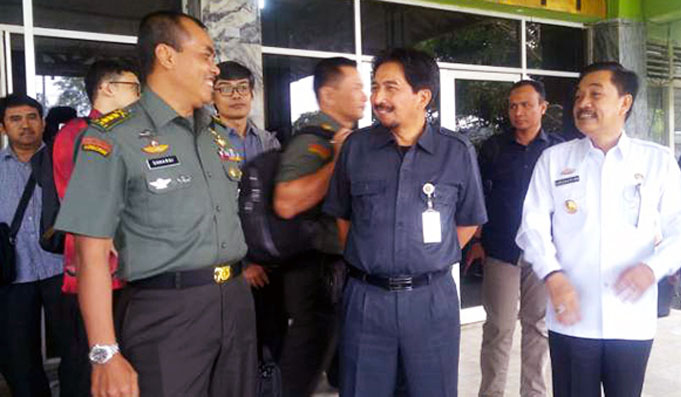 KOORDINASI DAERAH: Dirjen PSP Kementan, Sarwo Edhy [depan tengah] koordinasi dengan pemerintah daerah dan TNI AD mendukung pendampingan dan pengawalan pupuk bersubsidi [Foto: istimewa]
Bandar Lampung, Lampung [B2B] - Kementerian Pertanian RI mengharapkan petani Lampung, khususnya di Kabupaten Mesuji dan Tulangbawang, untuk sementara memakai pupuk nonsubsidi sebagai pengganti pupuk bersubsidi, karena saat ini Kementerian Agraria Tata Ruang/Badan Pertanahan Nasional (ATR/BPN) dan Badan Informasi Geospasial (BIG) dan Kementan tengah memvalidasi lahan sawah yang di-nol-kan dari peta lahan pertanian, dan ditargetkan rampung dalam waktu sebulan.
"Kami sudah mengunjungi Lampung Selatan, Tulangbawang, dan Mesuji untuk memvalidasi lahan pertanian yang dinolkan. Ternyata, saat kami berkunjung ke Lampung Selatan di titik koordinat yang dihapus, ternyata masih ada lahan sawah puluhan ribu hektar hektar," kata Dirjen PSP Kementan, Sarwo Edhy kepada pers di Bandar Lampung, Rabu [15/5].
Menurutnya, akibat di-nol-kan maka data ribuan hektar sawah milik ribuan petani di Kabupaten Mesuji dan Tulangbawang menjerit lantaran tak lagi mendapatkan jatah pupuk bersubsidi.
Total lahan sawah yang di-nol-kan di Provinsi Lampung hampir 27.599 hektar. Di Kabupaten Mesuji meliputi tiga kecamatan: Mesuji seluas 4.791 hektar, Mesuji Timur 7.928 hektar, Rawajitu Utara 9.108 hektar. Tiga kecamatan di Kabupaten Tulangbawang meliputi: Kecamatan Banjar Margo 226 hektar, Dente Teladas 4.634 hektar, dan Penawartama 912 hektar.
"Memang ada di sejumlah provinsi yang datanya berbeda dengan hasil ground check di lapangan. Ada perbedaan sekitar 600 ribu hektare di seluruh Indonesia," kata Sarwo Edhy.
Terkait langkah darurat untuk mengatasi penghentian distribusi pupuk bersubsidi, menurut Sarwo, tetap mengacu pada hasil BPN.
"Kalau kami langgar, akan kena dan diusut sebagai kerugian negara, sehingga untuk menetralkan kembali, kami membentuk tim gabungan untuk memvalidasi ulang perbedaan angka yang signifikan dan mencolok. Ini yang kami telusuri ke berbagai provinsi, kabupaten, kecamatan hingga desa," katanya.
Sarwo Edhy memastikan petani yang lahannya di-nol-kan masih bisa mendapat pupuk bersubsidi sesuai Rencana Definitif Kebutuhan Kelompok (RDKK) setelah ada hasil validasi, sehingga Data Direktorat Jenderal Prasarana dan Sarana Pertanian - Kementerian Pertanian RI [Ditjen PSP] meminta petani bersabar untuk menunggu hasil validasi.
"Hak petani tetap diberikan setelah hasil validasi ternyata lahannya ada dan ditetapkan kembali oleh BPN. Kepada petani yang sementara lahannya terlikuidasi harap sabar menunggu sampai hasil evaluasi ini betul-betul konkrit, dan akan kami sampaikan ke BPN dan akan direvisi hasil validasi terdahulu. Hak petani tetap ada," kata Dirjen PSP. [Sur]
Bandar Lampung of Lampung [B2B] - Indonesian Agriculture Ministry expects Lampung farmers, especially in Mesuji and Tulangbawang districts, temporarily can use non-subsidized fertilizer as the substitute of subsidized fertilizer, because at this time the Agrarian Ministry with Geospatial Information Agency and Agriculture Ministry validate emptied rice fields of farmland maps and targeted to finish one month.
"We have visited South Lampung, Tulangbawang and Mesuji to carry out validation. It turned out, when we went to South Lampung at the deleted coordinate point, there were still 600 hectares of rice fields," Director General of Agricultural Infrastructure and Facilities, Sarwo Edhy told the press here on Wednesday [May 15].
According to him, after being declared zero, the data on thousands of hectares of rice fields owned by thousands of farmers in Mesuji and Tulangbawang protested because they no longer received subsidized fertilizer.
Zero paddy fields in Mesuji district are in three sub-districts: Mesuji 4,791 hectares, Mesuji Timur 7,928 hectares, Rawajitu Utara 9,108 hectares. Three sub-districts in Tulangbawang district: 226 hectares in Banjar Margo, 4,634 hectares in Dente Teladas, and 912 hectares in Penawartama.
"Indeed, there are a number of provinces whose data is different of the results of ground checks in the field. There is a difference around 600 thousand hectares across the country, "said Sarwo Edhy.