Tantangan 4.0, 32 Calon Auditor ItJenTan `Starter` GoW@s! Make It Happen
Auditor of Indonesian Agriculture Ministry Anticipate 4.0 Industrial Revolution
Editor : M. Achsan Atjo
Translator : Dhelia Gani

PUBLISHED: Senin, 04 Februari 2019 , 04:22:00 WIB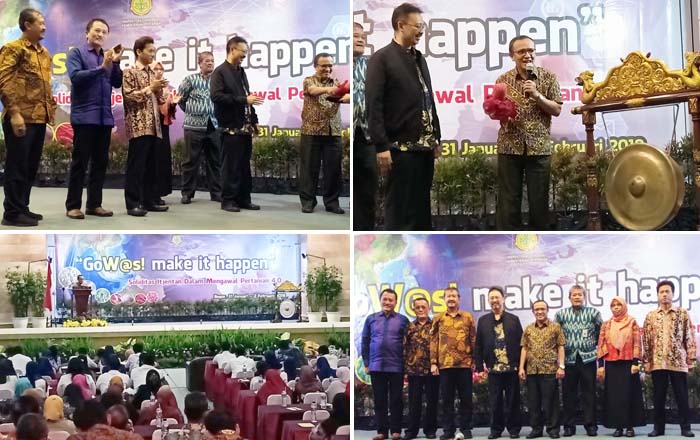 REVOLUSI INDUSTRI: Irjentan Justan Siahaan meluncurkan GoW@s! Make It Happen didampingi Sekjen Kementan, Syukur Iwantoro dan para pejbat eselon dua ItJenTan (Foto2: Humas ItJenTan/Irfan)
Bogor, Jabar (B2B) - Sedikitnya 32 calon auditor tahun 2018 dibentuk menjadi Auditor 4.0 yang siap melaksanakan kegiatan pengawasan di era disruptif mulai 2019, sebagai starter dari GoW@s! Make It Happen yang mencakup tiga aplikasi: Wistleblowing's System, Sigap Protani dan e-Audit, yang dikembangkan oleh Inspektorat Jenderal di Kementerian Pertanian RI disingkat ItJenTan.

Inspektur Jenderal Kementan, Justan Siahaan mengatakan tantangan auditor ke depan makin berat lantaran peraturan baru, perubahan model bisnis, strategi baru, ancaman cyber security, privasi, tantangan keuangan dan perkembangan teknologi.

"Sebanyak 32 calon auditor tahun 2018 dibentuk menjadi auditor 4.0 yang siap melaksanakan kegiatan pengawasan 4.0. Diharapkan 32 calon Auditor itjen ini dapat menjadi starter berjalannya GoWas," kata Irjentan Justan Siahaan dalam arahannya usai peluncuran Aplikasi GoW@s! Make It Happen disaksikan oleh Sekjen Kementan, Syukur Iwantoro di Bogor, belum lama ini.

Menurutnya, bagian penting dari GoW@s! Make It Happen yang menjadi tantangan Auditor 4.0 diantispasi melalui aplikasi Wistleblowing's System disingkat WBS pada laman http://www.pertanian.go.id/wbs/ merupakan sistem pelaporan online untuk melaporkan tindak pidana korupsi yang dilakukan oleh atasan, teman sekerja, dan lain-lain.

"Hal ini untuk mengantisipasi niat pelapor sebagai whistleblower terhalang oleh rasa sungkan, atau khawatir identitasnya terungkap," kata Justan S.

Sementara aplikasi Sigap Protani pada laman http://sigap-upg.pertanian.go.id/ adalah sistem pelaporan online, yang memberi kemudahan bagi para pimpinan dan para pegawai di Kementan untuk melaporkan penerimaan gratifikasi non kedinasan maupun kedinasan.

Tampak hadir Sekretaris ItJenTan, Suprodjo Wibowo; Inspektur I, Susanto MM; Inspektur II, Tin Latifah; Inspektur III Bambang Pamuji; Inspektur IV, IGMN Kuswandana; dan Inspektur Investigasi, Sotarduga Hutabarat. Hadir pula Kabag Organisasi, Kepegawaian, Hukum dan Humas (OKKH) Edi Puspito Nagara dan Kasubbag Humas, Eko Supriyanto.

Aplikasi Online
Tak kalah penting adalah e-Audit, sistem kerja pengawasan ItJenTan secara elektronik. Sistem ini terdiri atas tujuh aplikasi yang mencakup seluruh program kerja ItJenTan antara lain e-kinerja dan e-Tujuan Tertentu, keduanya untuk pelaksanaan audit kinerja yang disesuaikan kebutuhan pengawasan.

Ketiga adalah e-Reviu RKA-KL, bertugas mendeteksi secara dini risiko kegiatan dari penyusunan dokumen perencanaan dan penganggaran tentang program dan kegiatan Kementan dalam satu tahun anggaran.

"Kesalahan-kesalahan seperti redaksional, angka, satuan biaya, dan lainnya. Aplikasi online tersebut juga dapat dengan cepat melakukan filterisasi berdasarkan kriteria-kriteria yang ditetapkan," kata Justan S.

Keempat adalah e-Reviu LK, aplikasi pelaksanaan reviu laporan keuangan (LK); e-Evaluasi sebagai aplikasi pelaksanaan evaluasi kegiatan strategis; dan e-Monitoring LHP, aplikasi pelaksanaan pemantauan laporan hasil pemeriksaan (LHP) dari ItJenTan.

"Ke depan, ItJenTan terus berupaya mewujudkan Kementan sebagai wilayah bebas dari korupsi, serta mengawal kepatuhan pada peraturan yang berlaku melalui berbagai program dan kegiatan," katanya. (Ri2n)
Bogor of West Java (B2B) - At least 32 prospective auditors in 2018 were formed as Auditor 4.0 who were ready to carry out internal supervision activities in the disruptive era, starting in 2019, as the starter of GoW@s! Make It Happen which includes three applications: Wistleblowing´s System, Sigap Protani and e-Audit, who was developed by Inspectorate General at the Indonesian Agriculture Ministry or the ItJenTan.

Inspector General Justan Siahaan said the auditor´s challenges in the future will be heavier due to new regulations, changes in business models, new strategies, cyber security threats, privacy, financial challenges and technological developments.

"32 prospective auditors in 2018 were formed as auditors 4.0 who were ready to carry out 4.0 supervisory activities. They are expected to be the starters of GoWas´ running," said Siahaan in his direction after launched of GoW@s! Make It Happen here, recently.

According to him, an important part of GoW@s! Make It Happen which challenges the Auditor 4.0 is anticipated via the Wistleblowing's System or WBS application in http://www.pertanian.go.id/wbs/ is an online reporting system for reporting criminal acts of corruption committed by superiors, co-workers, and others.

"It was to anticipate the intentions of the complainant as a whistleblower hindered by cheekily, or worried about his identity being revealed," Siahaan said.

While the Sigap Protani application in the http://sigap-upg.pertanian.go.id/ is an online reporting system, which makes it easy for senior ministry officials and civil servants in the ministry to report receipt of non-official and official gratification.

Online App
Equally important is e-Audit, the ItJenTan supervision work system electronically. This system consists of seven applications for the entire ItJenTan work program such as the e-kinerja dan e-Tujuan Tertentu, both for performance audits that are adjusted for monitoring needs.

The third is e-Reviu RKA-KL, for early detection of risks of planning and budgeting documents of the ministry programs and activities within one fiscal year.

"The e-Reviu RKA-KL application to detect errors such as editorial, numbers, unit costs, and others. The online application can also quickly filter based on a number of criteria," Siahaan said.

The fourth is e-Reviu LK, application of implementation of financial report review (LK); e-Evaluasi as an application for evaluating strategic activities; and e-Monitoring LHP is the application for monitoring reports of audit results.

"In the future, the ItJenTan seeks to realize the ministry as the corruption-free region, and oversee compliance with regulations through programs and activities," he said.