Generasi Milenial, Penentu Sukses PJ Upsus Kalteng Capai Target LTT
Indonesia`s Central Borneo Rice Plant Involve the Millennial Generation
Editor : M. Achsan Atjo
Translator : Dhelia Gani

PUBLISHED: Jum'at, 11 Oktober 2019 , 04:03:00 WIB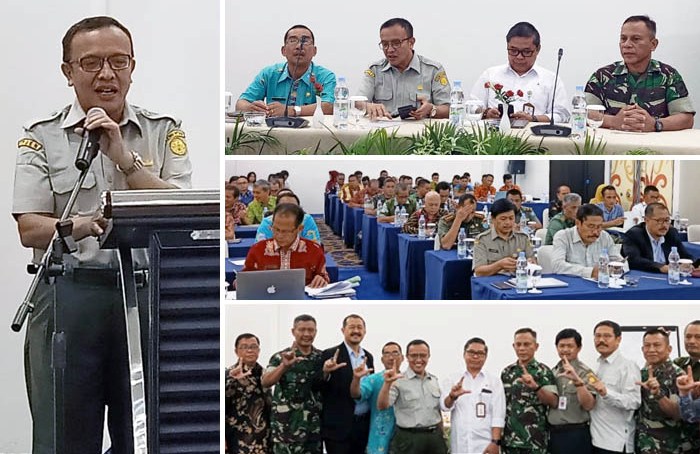 RAKOR LTT: PJ Upsus Kalten, Justan R Siahaan [inset kiri] bersama Kepala UPT BPPBTPH, Manpul; Kepala BPTP Kalteng, Syamsudin; Danrem 102/Panju Panjang, Kolonel Dedy Marwanto [inset atas] dan peserta Rakor [Foto2: Humas/Ririn]
Palangkaraya, Kalteng [B2B] - Provinsi Kalimantan Tengah [Kalteng] diketahui sebagai lahan pertanian terluas di Indonesia, maka kunci sukses luas tambah tanam [LTT] dengan mengajak kaum muda sebagai 'generasi milenial' mencintai pertanian, untuk mengoptimalkan lahan tidur melalui pemanfaatan teknologi dan alat mesin pertanian [Alsintan].
Hal itu dikemukakan Penanggung Jawab Upaya Khusus [PJ Upsus Kalteng] Justan R Siahaan pada rapat koordinasi [Rakor LTT] di Palangkaraya, ibukota Kalteng pada Kamis [10/10] yang dihadiri Kepala Dinas Pemprov Kalteng diwakili oleh Kepala UPT BPPBTPH, Manpul; Deputi Konstruksi, Operasional dan Pemeliharaan BRG, Alue Dohong; Komandan Korem 102/Panju Panjang, Kolonel Dedy Marwanto; Kepala BPTP Kalteng, Syamsudin; pejabat eselon dua Inspektorat Jenderal Kementan [ItJenTan] Inspektur I, Susanto dan Inspektur III, Fuadi.
"Bagaimana cara LTT kita harus naik? Apalagi kita tahu lahan pertanian di Kalteng adalah terluas kedua di Indonesia. Caranya, kita harus mengajak para kaum muda, yang dikenal sebagai generasi milenial untuk mencintai pertanian agar mereka menjadi petani sejati, sehingga dapat membangunkan lahan tidur untuk mengoptimalkan lahan pertanian dengan memanfaatkan teknologi dan Alsintan," kata Justan R Siahaan.
Sebelumnya diberitakan B2B, untuk memudahkan pemantauan dan pengawalan, PJ Upsus Kalteng menetapkan empat area PJ penugasan: Kabupaten Kotawaringin Barat, Sukamara dan Lamandau di bawah kendali dan pengawasan Kepala Badan Karantina Pertanian Kelas II Palangkaraya; Kabupaten Kotawaringin Timur, Katingan, Seruyan dan Kota Palangkaraya [Kepala BPTP Kalteng], Kabupaten Barito Selatan, Barito Utara, Murung Raya dan Barito Timur [Inspektur I ItJenTan] dan Kabupaten Kapuas, Gunung Mas dan Pulang Pisau [Inspektur III].
"Seluruh PJ Upsus tingkat kabupaten turun langsung ke lapangan untuk mengetahui kondisi sesungguhnya. Mengetahui dan menjarin aspirasi petani, dan memotivasi para petugas tingkat lapangan untuk bersama-sama merealisasikan target yang ditetapkan," kata Justan R Siahaan, yang juga menjabat Inspektur Jenderal Kementan [Irjentan].
Danrem 102/Panju Panjang, Kolonel Dedy Marwanto menyatakan siap mendukung capaian target LTT di seluruh Kalteng, didukung seluruh jajaran di tingkat komando distrik militer [Kodim] hingga ke komando rayon militer [Koramil] melalui partisipasi aktif bintara pembina desa [Babinsa] di bawah garis komando Danrem kepada Dandim dan Danramil mendukung swasembada pangan provinsi dan terwujudnya Indonesia menjadi lumbung pangan dunia 2045.
"TNI juga siap dan terus berusaha meminimalisir dampak kebakaran hutan dan lahan di Kalteng. Kita harus mengoptimalkan lahan gambut yang ada dengan membangun sekat kanal, untuk menanggulangi kebakaran hutan. Sekat kanal juga dapat membantu mengairi persawahan," kata Kolonel Dedy Marwanto. [Ri2n]
Palangkaraya of Central Borneo [B2B] - Inspectorate General of Indonesian Agriculture Ministry [ItJenTan] establish four work areas, to support monitoring and oversee the achievement of targets rice extensification in Central Borneo province, while the achievements in July 2019 were around 2,895 hectares or decreased by 1,295 hectares compared to the achievements in July 2018, according to the senior official of agriculture ministry.