Konservasi DAS Citarum, Sejuta Benih Kopi Kementan Dukung Cegah Longsor
Indonesian Govt Supports Conservation of the Citarum River by Planting Coffee
Reporter : Gusmiati Waris
Editor : Cahyani Harzi
Translator : Dhelia Gani

PUBLISHED: Jum'at, 11 Januari 2019 , 04:32:00 WIB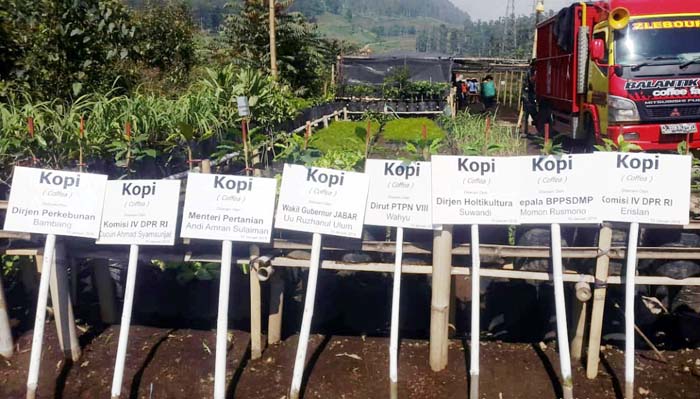 BANTUAN BENIH: Kebijakan Kementan selaras dengan upaya Pemprov Jabar meningkatkan pamor kopi Java Preanger dan mendukung konservasi daerah aliran sungai - DAS Citarum di Kabupaten Bandung (Foto: istimewa)
Bandung, Jabar (B2B) - Kopi merupakan salah satu tanaman konservasi yang mencengkeram agregat tanah dengan kuat, dan mendukung perekonomian petani dengan menanam kopi sebagai sumber penghidupan, dan Kementerian Pertanian RI mendukung konservasi daerah aliran sungai - DAS Citarum di Kabupaten Bandung dengan menyerahkan sejuta benih kopi kepada petani di kawasan DAS Citarum.
Tak cuma sejuta benih kopi, Menteri Pertanian RI Andi Amran Sulaiman juga memberikan bantuan 475 ton pupuk organik, 320.000 benih pala berikut tiga ton pupuk organiknya kepada petani sekitar DAS Citarum, Kamis (10/1).
"Serangkaian kegiatan ini merupakan amanat Peraturan Presiden Nomor 15 tahun 2018 tentang percepatan pengendalian pencemaran dan kerusakan daerah aliran sungai," kata Mentan Amran Sulaiman dalam arahannya kepada petani di kawasan DAS Citarum.
Menurutnya, upaya pemulihan DAS Citarum harus dilakukan bersama oleh pemerintah pusat dan daerah maupun lembaga dan organisasi masyarakat lainnya, karena pencegahan longsor dan pemulihan kawasan Citarum sangat penting untuk mewujudkan Citarum Harum.
Kebijakan Kementan selaras dengan upaya Pemprov Jabar meningkatkan pamor kopi Java Preanger dengan menggandeng pengelola kebun kopi Kertamanah, kelompok masyarakat Desa Kebun dan Desa Cikembang serta Paguyuban Citarum Harum.
"Saya berharap, perjanjian ini bukan sekedar di atas kertas, tapi harus diimplementasikan untuk kepentingan bersama. Bukan zamannya lagi pemberi penerima bantuan tanpa diikat komitmen nyata yang diwujudkan dalam bentuk aksi," kata Mentan. (Liene)
Bandung of West Java (B2B) - Bandung, West Java (B2B) - Coffee is one of the conservation plants that grips the soil aggregate strongly, and supporting the farmers´ economy by growing coffee as a source of livelihood, and Indonesian Agriculture Ministry supports conservation of the Citarum watershed or the DAS Citarum in Bandung regency of West Java province by giving a million coffee seeds to local farmers.
Not only a million coffee seeds, Indonesian Agriculture Minister Andi Amran Sulaiman provided assistance for 475 tons of organic fertilizer, 320,000 nutmeg seeds and three tons of organic fertilizer to farmers around the Citarum watershed here on Thursday (January 10).
"Coffee seed assistance for farmers in accordance with Presidential Regulation Number 15 of 2018 concerning acceleration of pollution control and watershed damage," Minister Sulaiman said in his direction to farmers in the Citarum watershed area.
According to him, the conservation of the Citarum watershed by central and regional government, institutions and community organizations must be carried out to preserve the river environment.
The Jakarta policy is in line with the provincial government´s efforts to boost the prestige of Java Preanger coffee by cooperating with Kertamanah coffee plantation managers and farmers.
"I hope the cooperation agreement between the government and farmers must be carried out for the common interest, not just signed," Minister Sulaiman said.