41 Korban Tewas dalam Insiden Kebakaran Lapas Tanggerang
Fire Kills 41 in Overcrowded Indonesia Prison Block
Editor : Kemal A Praghotsa
Translator : Novita Cahyadi

PUBLISHED: Rabu, 08 September 2021 , 21:28:00 WIB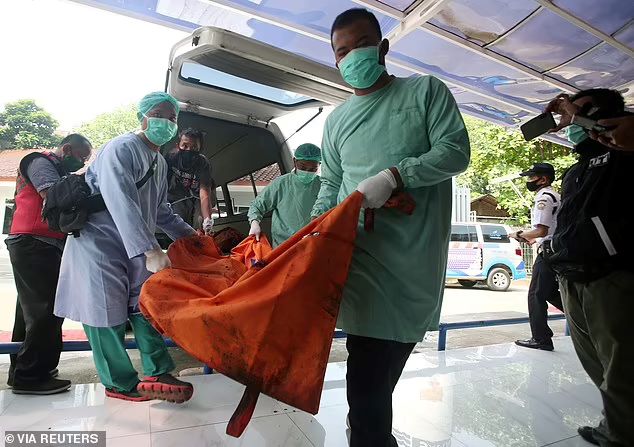 INSIDEN KEBAKARAN: 41 narapidana tewas dan 82 lainnya luka-luka dalam kebakaran yang terjadi di Lapas Kelas I Tangerang, Banten, pada Rabu dini hari [8/9]. [Foto: Reuters]
SEDIKITNYA 41 narapidana tewas dan 82 lainnya luka-luka dalam kebakaran yang terjadi di Lembaga Pemasyarakatan [Lapas] Kelas I Tangerang, Banten, pada Rabu dini hari [8/9].
"Kami bekerja sama dengan otoritas terkait untuk mencari penyebab kebakaran dan tentu saja merumuskan strategi pencegahan agar bencana besar seperti ini tidak terjadi lagi," kata Menteri Hukum dan HAM RI, Yasonna Laoly, setelah mengunjungi tempat kejadian.
Menteri Yasonna mengatakan, dari 41 korban tewas tersebut, sebanyak 39 orang merupakan warga negara Indonesia [WNI]. Dua korban lain merupakan warga negara asing [WNA], masing-masing dari Afrika Selatan dan Portugal.
Ia menambahkan bahwa Lapas tersebut beroperasi dengan kapasitas berlebih ketika kebakaran terjadi.
Sebelumnya, Kepala Humas dan Protokol Dirjen Pemasyarakatan, Rika Aprianti mengatakan 122 napi kasus narkoba ditahan di sebuah blok yang dibangun untuk menampung 38 orang.
Seperti diketahui, penjara di Indonesia terkenal penuh sesak, dengan para ahli mengatakan fenomena ini sebagian karena penekanan pada penahanan daripada rehabilitasi mereka yang dihukum karena pelanggaran terkait narkoba di bawah undang-undang narkotika di Indonesia, seperti dikutip Reuters yang dilansir MailOnline.
Dokter dari Rumah Sakit Umum Tangerang mengatakan kepada Reuters bahwa beberapa mayat telah terbakar begitu parah sehingga tidak dapat diidentifikasi.
Pejabat rumah sakit lain mengatakan beberapa korban berada di ICU.
Juru bicara kepolisian Jakarta mengatakan kepada TV lokal bahwa 73 orang mengalami luka ringan dan kecurigaan awal di balik penyebabnya adalah "korsleting listrik."
Kabel listrik di penjara belum ditingkatkan sejak tahun 1970-an ketika penjara itu dibangun, Kata Mennteri Yasonna saat briefing hari Rabu.
Penjara di Tangerang, pusat industri dan manufaktur di pinggiran Jakarta, menampung lebih dari 2.000 narapidana secara total, jauh melebihi kapasitas 600, menurut data pemerintah pada September.
Ahli kriminolog, Leopold Sudayono mengatakan bahwa kepadatan penduduk juga mempersulit upaya evakuasi darurat, mengingat terbatasnya staf yang bekerja di penjara.
"Upaya deteksi kebakaran dan evakuasi sulit dilakukan," katanya.
Kepala penjara tidak segera bersedia untuk mengomentari rasio narapidana dan penjaga, atau kapasitas fasilitas. Juru bicara departemen penjara Rika mengatakan kepada media lokal bahwa 13 penjaga sedang bertugas di fasilitas tersebut pada saat kebakaran.
A FIRE killed 41 inmates in an overcrowded prison block in Indonesia´s Banten province on Wednesday, a government minister said, injuring scores more in a blaze that police said may have been caused by an electrical fault.
The fire, the country´s most deadly since 47 perished in a firework factory disaster in 2017, broke out at 1.45 a.m. local time in a Tangerang Prison block, said Indonesian law and human rights minister Yasonna Laoly, after visiting the scene.
"We´re working together with relevant authorities to look into the causes of the fire and of course formulating prevention strategies so that severe catastrophes like this won´t happen again," the minister said in a statement.
The minister said two of the dead were foreign nationals, one each from South Africa and Portugal, and confirmed the prison was operating at overcapacity when the fire broke out.
Cells were locked at the time, the minister said, but with the fire raging uncontrollably, "some rooms couldn´t be opened."
Earlier on Wednesday, Rika Aprianti, a spokeswoman for the ministry´s prison department, said 122 were being detained on drug-related offences in a block built to hold 38.
Rika said all 41 fatalities were inmates, adding authorities were still evacuating the facility as of 9.00 a.m. local time.
Prisons in Indonesia are notoriously overcrowded, with experts saying the phenomenon is partly due to the emphasis on incarceration rather than rehabilitation of those convicted of drug-related offences under the country´s strict narcotics laws.
On Wednesday morning local TV showed footage of flames engulfing the detention facility, and later, the building´s charred remains as victims were pulled from the scene in orange body bags.
Dr. Hilwani from Tangerang General Hospital told Reuters that some of the bodies had been so badly burned they were unidentifiable.
Another hospital official said some victims were in the ICU.
Nursin, a father of one of the victims, said at the prison that the family could not afford to pay his 22-year-old child´s legal expenses before going to trial for a drug-related offence.
"We are poor...we couldn´t free our child," he said, tearfully.
Jakarta police spokesperson told broadcaster Metro TV that 73 people had light injuries and the initial suspicion behind the cause is "an electrical short circuit."
The electrical wiring at the prison had not been upgraded since the 1970s when the prison was built, minister Yasonna told Wednesday´s briefing.
The prison in Tangerang, an industrial and manufacturing hub on the outskirts of Jakarta, housed more than 2,000 inmates in total, far exceeding its 600 capacity, according to government data as of September.
Leopold Sudaryono, a criminologist and PhD candidate at the Australian National University, said that overcrowding also complicated emergency evacuation efforts, given the limited staff working at the prison.
"Fire detection efforts and evacuations are difficult," he said.
The head of the prison was not immediately available for comment on the ratio of inmates to guards, nor the capacity of the facility. Prison department spokeswoman Rika told local media that 13 guards had been on duty at the facility at the time of the blaze.
There have been several deadly fires in Indonesia in recent years. As well as the 2017 Tangerang fireworks factory blaze, a 2019 fire at a matchstick factory in North Sumatra killed 30 people.