Dirjen PSP Sarwo Edhy Dorong Penyuluh Gerakkan Petani Pakai Alsintan
Indonesian`s Agricultural Extensionists must Support Agriculture Modernization
Editor : Cahyani Harzi
Translator : Dhelia Gani

PUBLISHED: Senin, 20 Mei 2019 , 04:04:00 WIB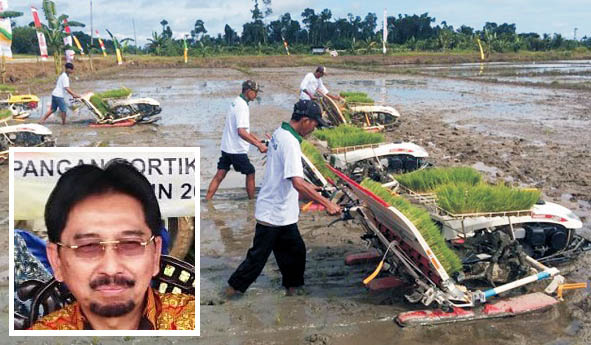 PETANI MODERN: Dirjen PSP Kementan, Sarwo Edhy [inset] berupaya mensosialisasikan pemanfaatan Alsintan khususnya rice transplanter didukung penyuluh pertanian [Foto: Humas Ditjen PSP]
Tanjung Pandan, Babel [B2B] - Penyuluh pertanian diharapkan terus menggerakkan petani memanfaatkan alat mesin pertanian [Alsintan] bantuan Kementerian Pertanian RI pemerintah melalui pendampingan dan pengawalan secara kontinyu, dengan memberi pelatihan kepada petani khususnya pemanfaatan mesin tanam padi [rice transplanter] kemudian melaporkan hasil kinerjanya secara harian.
Dirjen Prasarana dan Sarana Pertanian - Kementerian Pertanian RI, Sarwo Edhy mengatakan pelatihan Alsintan oleh penyuluh kepada petani seperti di Kabupaten Belitung Timur, Provinsi Bangka Belitung sangat mendukung untuk mewujudkan swasembada pangan berkelanjutan, diversifikasi pangan, peningkatan nilai tambah, meningkatkan daya saing, dan membuka peluang ekspor.
"Penggunaan rice transplanter dapat mempercepat tanam padi, karena hanya membutuhkan waktu 10 menit untuk menyelesaikan pekerjaan menanam padi pada areal lahan seluas sepertujuh hektar, dan pasti menghemat biaya," kata Sarwo Edhy, belum lama ini, menyikapi animo penyuluh pertanian Belitung Timur, Babel mendukung petani setempat.
Selain itu, rice transplanter juga merupakan alat penanaman bibit yang cukup memadai dengan jumlah dan kedalaman, jarak dan kondisi penanaman yang seragam. Hal itu disambut baik oleh Sekretaris Dinas Pertanian Kabupaten Belitung Timur, Trijaka Priono bahwa penggunaan Alsintan khususnya rice transplanter merupakan langkah maju bagi petani Belitung Timur, karena masih terbatasnya tenaga kerja dan biaya.
"Secara umum, jenis mesin tanam bibit padi dapat dibedakan dengan cara penyemaian dan persiapan bibit padinya," kata Dirjen PSP Kementan.
Menurutnya, pelatihan yang difasilitasi oleh dinas pertanian dan pangan provinsi/kabupaten/kota untuk para petani muda agar mengoptimalkan pemanfaatan Alsintan dan mempercepat penaman padi, sehingga hemat biaya dan waktu penanaman.
Selain untuk percepatan pola pertanaman, Alsintan bantuan dari pemerintah juga digunakan untuk meningkatkan produksi dan produktivitas diharapkan dapat meningkatkan kesejahteraan petani dan keluarganya. [Sur]
Tanjung Pandan of Bangka Belitung [B2B] - Indonesian agricultural instructors are expected to encourage farmers to use agricultural machinery [Alsintan] of the government through mentoring activities by training farmers, especially rice transplants, then reporting performance every day.
Director General of Agricultural Infrastructure and Facilities at the Indonesian Agriculture Ministry, Sarwo Edhy said training of agricultural machinery by extensionists to farmers such as in East Belitung district of Bangka Belitung province was very supportive to achieve sustainable food self-sufficiency.
"Rice transplanters accelerate rice planting, because it only takes 10 minutes to plant rice on a one-seventh hectare land, and definitely save costs," said Sarwo Edhy, recently.
In addition, a rice transplanter is also a seed planting tool that is quite adequate with the amount and depth of rice plants, the uniform distance and planting conditions.
He is optimistic that agricultural machinery in East Belitung is very beneficial in supporting the extension of rice plants, labor efficiency and costs so that it has a positive impact on farmers' income.
Sarwo Edhy stated his commitment to add units and optimize the use of agricultural machinery so that it is beneficial for farmers.
"In the future, we expect farmers get benefit of agricultural modernization," he said.