Asuransi Pertanian, Mentan Beri Bantuan Rp281,3 Juta untuk Karawang
Indonesia`s Widodo Administration Gave Agricultural Insurance for Rice Farmers
Editor : M. Achsan Atjo
Translator : Dhelia Gani

PUBLISHED: Rabu, 27 Maret 2019 , 05:05:00 WIB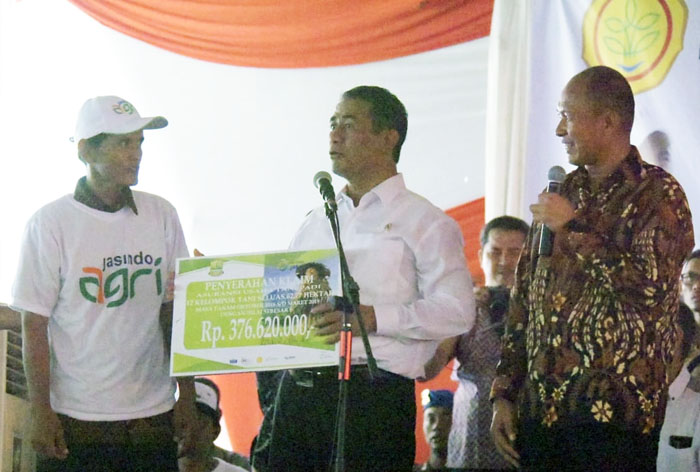 LINDUNGI PETANI: Mentan Andi Amran Sulaiman menyerahkan bantuan asuransi pertanian dari Ditjen PSP pada kunjungan kerja di Karawang [Foto´ Biro Humas Kementan]
Karawang, Jabar [B2B] - Petani di Kabupaten Karawang, Provinsi Jawa Barat menyambut antusias dan mengapresiasi bantuan asuransi pertanian sebesar Rp281,3 juta untuk lahan pertanian seluas 46,89 hektar dari Direktorat Jenderal Prasarana dan Sarana Pertanian [Ditjen PSP] Kementerian Pertanian RI.
Bantuan asuransi pertanian dari Ditjen PSP Kementan diserahkan oleh Menteri Pertanian RI Andi Amran Sulaiman kepada kelompok tani [Poktan/Gapoktan] pada kegiatan ´Apresiasi dan Sinkronisasi Program Kementan 2019´ yang dipusatkan di Desa Pacing, Kecamatan Jatisari, Karawang, Selasa [26/3]
"Bapak Presiden berpesan beliau sangat mencintai petani, bukti nyata dari beliau adalah bantuan langsung dan jumlahnya meningkat luar biasa," kata Mentan Amran Sulaiman.
Dirjen PSP Sarwo Edhy mengatakan bahwa Karawang adalah salah satu kabupaten yang paling tinggi kepeduliannya terhadap asuransi pertanian. Tercatat, pada 2018, dari pagu Asuransi Usaha Tani Padi (AUTP) seluas 29 ribu hektar maka realisasinya mencapai 24,7 ribu hektare, sementara klaim ganti rugi seluas 385 hektar.
"Pemerintah memberi subsidi Rp144 ribu dan petani hanya dibebani Rp36.000 per hektar. Sejauh ini, respon petani Karawang terhadap program asuransi pertanian cukup baik," kata Dirjen PSP kepada pers di Karawang.
Asuransi tani untuk Kecamatan Rengasdengklok diberikan pada Poktan Bojongsari seluas 0.9 hektar senilai Rp 5,4 juta, Poktan Sri Pohaci seluas 1,8 hektar nilainya Rp10,8 juta, Poktan Dewi Sinta seluas 3.02 hektar senilai Rp18,12 juta, Poktan Mekarsari seluas 1.9 hektar senilai Rp11,4 juta.
Kemudian Kecamatan Karawang Barat untuk Poktan Marga Asih I seluas 8,9 hektar senilai Rp53,4 juta, Poktan Marga Asih I seluas 9,17 hektar senilai Rp55.020 juta, Poktan Marga Asih I seluas 9,5 hektar senilai Rp57 juta, Poktan Margalaksana II seluas 5,4 hektar senilai Rp32,4 juta.
Di Kecamatan Tempuran diberikan kepada Poktan Belut Putih seluas satu hektar senilai Rp 6 juta, Poktan Tani Mukti seluas 1,5 hektar senilai Rp9 juta.
Sementara untuk Kecamatan Majalaya kepada Poktan Panglipur II seluas 1,6 hektar senilai Rp9,6 juta, untuk Poktan Tirta Mustika seluas 2,2 hektar senilai Rp13,2 juta.
Mentan hadir di Karawang pada kegiatan ´Sinkronisasi dan Apresiasi Program Kementerian Pertanian 2019´ yang dihadiri oleh lima ribu petani, santri tani milenial, dan penyuluh pertanian. Turut hadir Kepala Badan Penyuluhan dan Pengembangan SDM Pertanian [BPPSDMP] Momon Rusmono; Dirjen Perkebunan, Kasdi Subagyono; Tenaga Ahli Mentan, Baran Wirawan; dan Kepala Balitbangtan, Fadjry Djufry. [Budi]
Karawang of West Java [B2B] - Karawang farmers in West Java province enthusiastically received agricultural insurance assistance from the Indonesian government of IDR281.3 million for 46.89 hectares of agricultural land of the Directorate General of Agricultural Infrastructure and Facilities at the Agriculture Ministry [Ditjen PSP].
Agricultural insurance assistance from the central government in Jakarta was handed over by Agriculture Minister Andi Amran Sulaiman to farmer groups at the 'Agriculture' Ministry Program Synchronization' here on Tuesday [March 26].
"President Joko Widodo said he really loved farmers, and the real proof of the president's commitment is free assistance," Minister Sulaiman said.
The Dirjen PSP Sarwo Edhy said that Karawang was one of the districts with the highest concern for agricultural insurance. Recorded, in 2018, from the agricultural insurance ceiling covering 29 thousand hectares, the realization was 24.7 thousand hectares, while compensation claims were 385 hectares.
"The central government subsidizes IDR144 thousand and farmers only pay IDR36 thousand per hectare. So far, Karawang farmers' response to the agricultural insurance program is quite good," DG Sarwo Edhy told the press here.
(US$1 = 14,255.0000 rupiah)