Tunda Jual, Kiat Ditjen PSP Kementan Stabilisasi Harga Jagung Banyuwangi
Indonesian Govt Quick Response to the Falling Corn Prices in Banyuwangi
Editor : M. Achsan Atjo
Translator : Dhelia Gani

PUBLISHED: Jum'at, 01 Maret 2019 , 04:56:00 WIB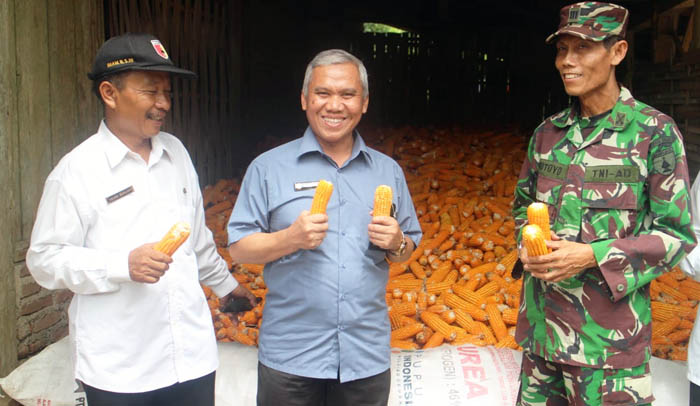 PANEN JAGUNG: Direktur Irigasi Pertanian, Ditjen PSP Rahmanto usai panen jagung di Desa Barurejo Kecamatan Siliragung (Foto: Humas Ditjen PSP)
Banyuwangi, Jatim (B2B) - Kementerian Pertanian RI bertindak cepat mengantisipasi harga jagung Kabupaten Banyuwangi, Provinsi Jawa Timur yang melorot di kisaran Rp3.300 ke Rp3.200 sepekan terakhir, setelah mendengar keluhan para petani di tengah panen raya jagung, dan mengupayakan petani untuk menunda penjualan jagung dengan menyimpan, setelah harga kembali stabil barulah dijual.
Direktur Irigasi Pertanian di Direktorat Jenderal Prasarana dan Sarana Pertanian (Ditjen PSP) Rahmanto mengatakan tren penurunan harga jagung sepekan terakhir lantaran produksi melimpah di tengah panen raya, dan petani dan pedagang tidak bisa menyimpan lama sehingga harga anjlok.
"Pemerintah terus mengupayakan berbagai cara untuk mengatasi harga anjlok dan petani tidak merugi. Keluhan dari petani akan kami respons, dan kami bicarakan di tingkat pusat untuk menjaga semangat petani menanam jagung," kata Rahmanto kepada pers di Desa Barurejo, Kecamatan Silirangun, Rabu (27/2).
Menurutnya, salah satu upaya yang bisa dilakukan adalah tunda jual, produksi jagung disimpan dan dinas pertanian kabupaten disarankan untuk menggelar program menjaga produksi dan stabilsasi harga.
Diakuinya, upaya jangka pendek yang tengah dilakukan pemerintah adalah dengan melibatkan Perum Badan Urusan Logistik (Bulog) untuk penyerapan jagung, meskipun langkah tersebut belum dapat dilakukan sepenuhnya lantaran gudang-gudang Bulog kini penuh dengan hasil penyerapan padi dari petani.
"Masih diproses untuk aksi cepat tanggap terkait hal itu, yang akan didukung Bulog," kata Rahmanto. (Sur)
Banyuwangi of East Java (B2B) - Indonesian Agriculture Ministry responded quickly to the corn price in Banyuwangi district of East Java province, which dropped to IDR3,200 in the past week, after listened the complaints of farmers and asked farmers to delay selling corn and sell corn after prices stabilize.
Director of Agricultural Irrigation at the Directorate General of Agricultural Infrastructure and Facilities or the Ditjen PSP, Rahmanto said the trend of corn prices dropped in the past week due to abundant production in the middle of harvest.
"The government continues to strive for various ways to overcome falling prices and farmers not to lose money. We respond to farmers´ complaints, and we will discuss in Jakarta to keep the spirit of farmers planting corn," Rahmanto told the press here on Wednesday (February 27).
According to him, one of the efforts that can be done is to delay selling and better to store corn and the district agriculture office is advised to hold a corn price stabilization program.
He admitted, the short-term effort being carried out by government was the support of National Logistics Agency or Bulog to buy corn farmers, although it hasn´t been maximized because Bulog´s warehouses now full of rice from farmers.
"It is still being processed for quick response related to that, which will be supported by Bulog," Rahmanto said.