Indikator APIP Profesional, Kementan Raih Level 3 Maturitas SPIP
Indonesia`s Widodo Emphasizes State Financial Accountability
Editor : M. Achsan Atjo
Translator : Dhelia Gani

PUBLISHED: Selasa, 19 Februari 2019 , 05:05:00 WIB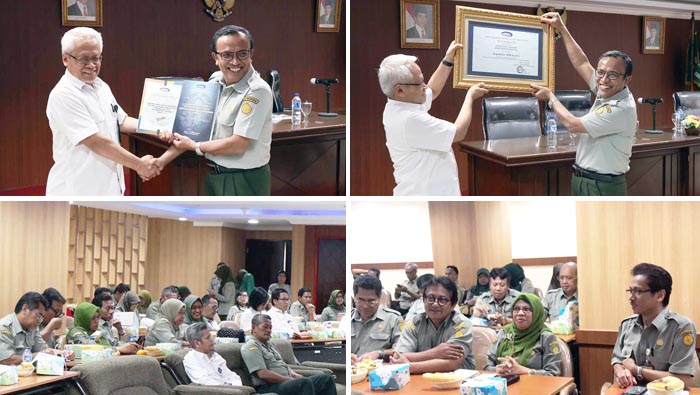 SERTIFIKAT BPKP: Deputi BPKP Nurdin (kemeja putih) menyerahkan sertifikat Level 3 kepada Irjen Justan Siahaan, yang disaksikan jajaran ItJenTan antara lain Sekretaris ItJenTan, Suprodjo Wibowo (Foto2: Humas/Irfan)
Jakarta (B2B) - Badan Pengawasan Keuangan dan Pembangunan (BPKP) menyerahkan hasil validasi capaian Level 3 atas Maturitas Sistem Pengendalian Intern Pemerintah (SPIP) dan Kapabilitas Aparat Pengawas Intern Pemerintah (APIP) kepada Kementerian Pertanian RI, setelah Inspektorat Jenderal (ItJenTan) melakukan berbagai percepatan penerapan sistem pengendalian intern sesuai amanah UU Perbendaharaan No 60/2008 tentang SPIP.
Deputi Bidang Pengawasan Instansi Pemerintah Bidang Perekonomian dan Kemaritiman BPKP, Nurdin, menyerahkan sertifikat hasil validasi kepada Irjentan, Justan Siahaan mewakili Menteri Pertanian RI Andi Amran Sulaiman di Jakarta, Senin siang (18/2).
Nurdin mengatakan pemberian sertifikat berdasarkan UU Perbendaharaan No 60/2008 tentang SPIP. Esensinya bahwa ada dua pilar penting yang dapat mengawal akuntabilitas keuangan negara yakni SPIP dan APIP, selanjutnya kedua pilar tersebut diukur dengan pemeringkatan terendah adalah Level 1 dan tertinggi level 5.
"Saat ini Kementan mencapai Level 3, tidak lepas dari komitmen Mentan menerapkan SPIP, dan mendorong ItJenTan untuk selalu meningkatkan kapabilitas APIP. Namun SPIP dan APIP akan gagal apabila terjadi pengabaian, kolusi dan intervensi dalam pengelolaan keuangan negara," kata Nurdin.
Justan Siahaan mengatakan pencapaian Level 3 merupakan prestasi membanggakan, yang menunjukkan bahwa manajemen aparat pengawasan instansi pemerintah di Kementan berjalan profesional untuk mengawal akuntabilitas Kementan.
"Kapabilitas APIP dan Maturitas SPIP adalah tonggak capaian yang harus terus ditingkatkan untuk mendorong penerapan SPIP, sehingga akuntabilitas program Kementan akan meningkat. Sesuai arahan Presiden Joko Widodo bahwa pembangunan harus cepat namun tetap terjaga akuntabilitasnya," kata Justan S melalui pernyataan tertulis.
Menurutnya, Kementan telah melakukan penilaian secara mandiri (self assessment) kapabilitas APIP menggunakan Internal Audit Capability Model (IACM), dan pengukuran maturitas SPIP yang kemudian divalidasi oleh BPKP.
Validasi bertujuan mendapat keyakinan tentang peningkatan dan penilaian mandiri tersebut telah dilakukan sesuai prosedur. Hasilnya, menggambarkan kapabilitas sebenarnya dapat dimanfaatkan sebagai umpan balik merumuskan program peningkatan kapabilitas ItJenTan di masa-masa mendatang.
Jakarta (B2B) - Indonesian Financial and Development Supervisory Agency or the BPKP handed over the Level 3 certificate for the Maturity of Government Internal Control System or the SPIP and Capability of the Government Internal Supervisory Apparatus or the APIP to the Agriculture Ministry, after the Inspectorate General or ItJenTan seeks to carry out the mandate of Treasury Law Number 60 of 2008 concerning SPIP.
The Deputy of BPKP, Nurdin handed over the validation certificate to the Inspector General, Justan Siahaan represent Agriculture Minister Andi Amran Sulaiman here, Monday afternoon (February 18).
Nurdin said that the certificate was based on the 2008 Treasury Law No 60 concerning SPIP. The common thread is two important pillars for maintaining state financial accountability, namely SPIP and APIP, then the two pillars are measured by the lowest ranking, Level 1 and highest level 5.
"Currently the agriculture ministry reaches Level 3, not free from the commitment to implement SPIP, and encouraging the inspector general to always improve APIP´s capabilities," he said.
Justan Siahaan said achieving Level 3 was an extraordinary achievement, which shows that the management apparatus of supervision of government agencies in the agriculture ministry runs professionally to oversee state financial accountability.
"APIP capability and SPIP Maturity are milestones that must be continuously improved to encourage the implementation of SPIP, so that accountability of the ministry will increase. According to President Joko Widodo´s direction that development must be fast but accountability can be trusted," Justan S said through a written statement.
According to him, the ministry has carried out self assessment of APIP´s capabilities using the Internal Audit Capability Model or IACM, and measurement of SPIP maturity which was then validated by the BPKP.
"Validation aims to get confidence about improvement and self-assessment that has been carried out according to the procedure.