Lahan Beralih Fungsi, Mestinya Volume Pupuk Bersubsidi Diterima Daerah Berkurang
Indonesian Govt Provides Subsidized Fertilizer for Farmers
Editor : M. Achsan Atjo
Translator : Dhelia Gani

PUBLISHED: Selasa, 04 Juni 2019 , 06:11:00 WIB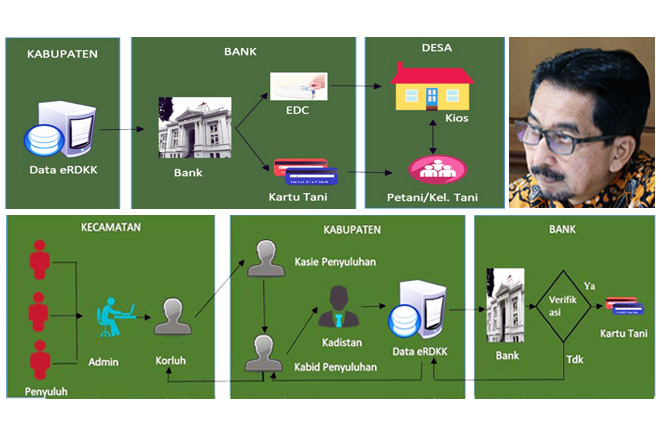 INPUT RDKK: Mekanisme input RDKK ke e-RDKK/Pengusulan Kartu Tani dan Penerbitan Kartu Tani untuk menebus pupuk bersubsidi, Dirjen PSP Kementan, Sarwo Edhy [inset kanan atas] Tabel & Foto: Humas Ditjen PSP
Jakarta [B2B] - Kementerian Pertanian RI menengarai banyak daerah masih menerima pupuk bersubsidi dengan volume tidak berkurang atau tetap dari tahun sebelumnya, padahal semestinya berkurang karena banyak lahan pertanian di daerah penerima telah beralih fungsi. Hal itu ditengarai karena dinas pertanian provinsi/kabupaten/kota belum memiliki data lengkap alih fungsi lahan di wilayah masing-masing, atau belum dilaksanakan cetak sawah untuk menggantikan lahan pertanian yang beralih fungsi.
Dirjen Prasarana dan Sarana Pertanian - Kementerian Pertanian RI [Dirjen PSP Kementan] Sarwo Edhy mengatakan masih banyak daerah yang menerima pupuk bersubsidi dengan volume tetap padahal sudah banyak lahan pertanian khususnya areal persawahan yang telah beralih fungsi untuk pemukiman dan industri, namun Ditjen PSP belum dapat memastikan daerah-daerah dimaksud karena masih proses identifikasi dan konfirmasi.
"Ada dua penyebabnya. Pertama, dinas pertanian ditengarai belum mengetahui adanya alih fungsi lahan di daerah tersebut, namun belum dilaksanakan cetak sawah baru untuk menutupi lahan beralih fungsi menjadi pemukiman dan industri. Akibatnya, kebutuhan pupuk bersubsidi di daerah tersebut volumenya tidak berkurang," kata Dirjen PSP Sarwo Edhy di Jakarta, belum lama ini.
Dia memastikan bahwa distribusi pupuk bersubsidi oleh Pemerintah RI khususnya Kementan tidak ada yang kekurangan atau kelebihan, karena hal itu sesuai dengan usulan kebutuhan petani berdasarkan Rencana Definitif Kebutuhan Kelompok (RDKK).
"Begitu pula dengan kasus keterlambatan distribusi pupuk bersubsidi, hal ini mestinya tidak terjadi. Kontrak telah dibuat lebih awal, sehingga distribusi bisa lebih cepat," kata Sarwo Edhy.
Diketahui, distribusi pupuk bersubsidi dilakukan melalui empat lini yakni Lini I sampai Lini IV, mulai dari produsen hingga pengecer. Panjangnya lini distribusi membuat kemungkinan ada kasus pupuk bersubsidi yang terlambat. [Sur]
Jakarta [B2B] - Indonesian Agriculture Ministry suggests that many regions still receive subsidized fertilizers with volumes not reduced from the previous year, even though much of their agricultural land has been converted. It was result of regional agricultural office do not have data of land conversion in their respective regions.