Embung & Irigasi Tersier, Dirjen PSP Dorong Pemda Ajukan Usul Pembangunan
Indonesian Govt Supports Regions to Rehabilitate and Build Tertiary Irrigation
Editor : M. Achsan Atjo
Translator : Dhelia Gani

PUBLISHED: Minggu, 02 Juni 2019 , 08:00:00 WIB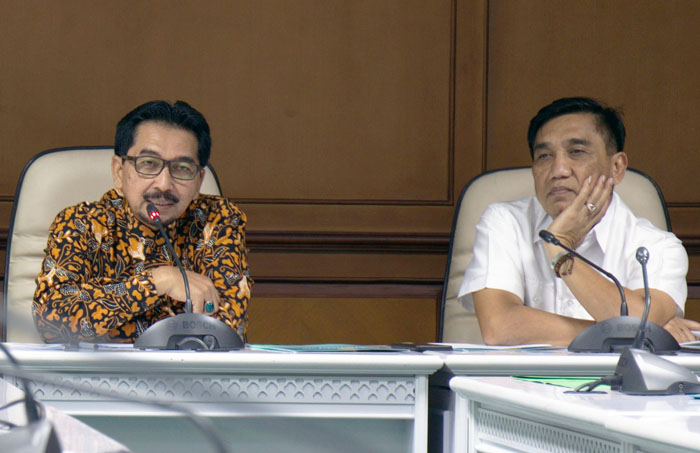 PEMBANGUNAN PENGAIRAN: Dirjen PSP Kementan, Sarwo Edhy [kiri] didampingi Sekretaris Ditjen PSP, Mulyadi Hendiawan menjawab pers di Jakarta [Foto: Humas/Unggul]
Jakarta [B2B] - Pemerintah RI tahun ini akan melakukan rehabilitasi dan pembangunan jaringan irigasi tersier untuk mengairi lahan pertanian 134.075 hektar di seluruh Indonesia, maka Kementerian Pertanian RI mendorong pemerintah daerah yang berniat membangun embung atau irigasi tersier, setelah realisasi 2018 mencapai 399 unit embung dan 134.475 hektar jaringan irigasi tersier yang direhabilitasi oleh Ditjen PSP Kementan.
Direktur Jenderal Prasarana dan Sarana Pertanian - Kementerian Pertanian [Dirjen PSP Kementan] Sarwo Edhy membuka peluang kepada pemerintah daerah tingkat provinsi/kabupaten/kota yang ingin mengajukan pembangunan embung atau irigasi tersier untuk menunjang pembangunan pertanian di daerah.
"Daerah yang ingin membangun embung atau irigasi tersier, silakan ajukan ke Ditjen PSP. Bisa melalui dinas pertanian di wilayahnya masing-masing," kata Sarwo Edhy di Jakarta, belum lama ini.
Menurutnya, program rehabilitasi jaringan irigasi, penembangan irigasi perpipaan/perpompaan, dan pembangunan embung yang saat ini sedang gencar dilakukan oleh pemerintah sangat dirasakan oleh para petani.
"Efek yang langsung dirasakan petani adalah penambahan indeks pertanaman yang tadinya hanya sekali setahun menjadi dua bahkan tiga kali, produktivitas rata-rata per hektar juga meningkat," kata Sarwo Edhy.
Sarwo Edhy mengatakan dukungan jaringan irigasi dan sarana pendukungnya berperan penting meningkatkan indeks pertanaman [IP] 0,5 dari kondisi awal, dengan asumsi dampak dari penambahan IP 0,5 mendorong penambahan luas tanam 29.780 hektar atau menambah produksi 154.850 ton.
"Selama tiga tahun terakhir, 2016 hingga 2019, total kegiatan irigasi perpompaan mencapai 2.359 unit, estimasi luas layanan per unit mencapai 20 hektar, maka luas areal sawah yang diairi irigasi saat musim kemarau lebih 47 ribu hektar," kata Dirjen PSP. [Sur]
Jakarta [B2B] - Indonesian government this year will carry out rehabilitation and build of tertiary irrigation networks to irrigate agricultural land 134,075 hectares across the country, so the agriculture ministry encourages regional governments that intend to build tertiary reservoirs or irrigation to submit proposals to Jakarta.