Rakor ItJenTan: Evaluasi Kinerja 2019, Pemantapan Rencana Kerja 2020
Inspectorate General of Agriculture Ministry Supports the Government`s Program
Editor : M. Achsan Atjo
Translator : Dhelia Gani

PUBLISHED: Rabu, 11 Desember 2019 , 00:52:00 WIB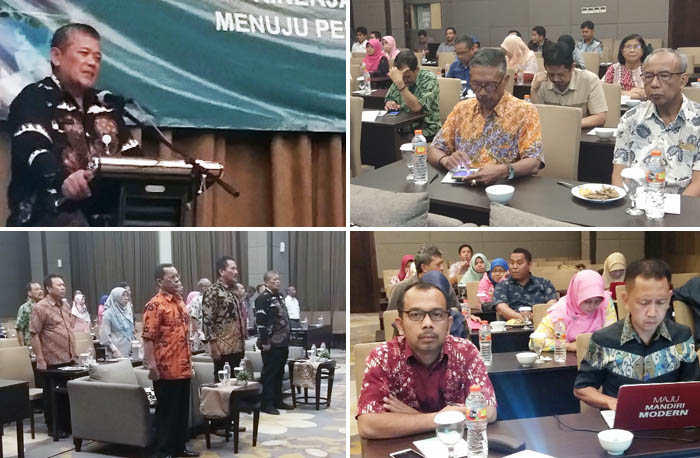 Bogor, Jabar [B2B] - Inspektorat Jenderal Kementerian Pertanian RI [ItJenTan] komitmen mendukung program dan kebijakan Menteri Pertanian RI Syahrul Yasin Limpo [SYL] mengembangkan Agriculture War Room untuk single data, revitalisasi balai penyuluhan pertanian [BPP] di kecamatan melalui Komando Strategis Pembangunan Pertanian [KostraTani], sinergi lintas kementerian dan lembaga pemerintah [LK], perbaikan konsep asuransi dan inisiasi bank pertanian untuk menjamin ketersediaan pangan strategis.
Hal itu dikemukakan Sekretaris ItJenTan, Suprodjo Wibowo saat membuka Rapat Kooordinasi ItJenTan 2019 pada Selasa [10/12] yang membahas 'evaluasi kinerja 2019 dan pemantapan rencana kerja 2020' yang dihadiri Inspektur IV IGMN Kuswandana; Inspektur Investigasi Sotarduga Hutabarat; sejumlah auditor utama, madya, muda dan pertama serta pengawas, administrator, dan para pejabat fungsional.
"Pembangunan pertanian ke depan berbasis kawasan mengacu komoditas unggulan tiap wilayah didukung penyuluh pertanian pada BPP di tiap kecamatan, sekaligus inisiasi komoditas potensial ekspor mendukung gerakan tiga kali ekspor disingkat GratiEks melalui AWR, maka harus disiapkan pula AWR ItJenTan mendukung program dan kebijakan Mentan," kata Suprodjo Wibowo mengutip arahan Mentan SYL pada Rakor ItJenTan yang berlangsung tiga hari, hingga Kamis [12/12].
Menurutnya, sinergitas kegiatan dan anggaran harus fokus untuk mendukung program Kementan, khususnya pada pengembangan AWR menuju single data pertanian yang menjadi prioritas Mentan," kata Suprodjo Wibowo.
Dia mengingatkan bahwa seluruh jajaran ItJenTan untuk meningkatkan kinerja sesuai tugas pokok dan fungsi [Tupoksi] mengacu pada arahan Mentan SYL bahwa seluruh unit kerja eselon satu untuk sinergi internal baik program maupun kegiatan yang diinisiasi mulai 2019 dan berlangsung selama lima tahun, hingga 2024.
"Untuk meningkatkan kinerja tidak perlu mahal, kata kuncinya adalah mau meningkatkan kapasitas, dengan membiasakan membaca, diskusi, mengikuti forum sharing knowledge dan bertukar pengalaman maka mulai Januari 2020 harus mulai full power melaksanakan rencana kerja Mentan," kata Suprodjo Wibowo.
Jakarta [B2B] - Inspectorate General of Indonesian Agriculture Ministry committed to support the programs and policies of Agriculture Minister Syahrul Yasin Limpo to develop the Agriculture War Room for single data, revitalizing agricultural extension centers in the district through the Strategic Agricultural Development Command, synergy across ministries and government agencies, improvement of insurance concept and and initiation of agricultural banks, according to senior official of the ministry.