880.728 Hektar, Realisasi Asuransi Tani Usaha Padi per November 2019
Indonesian Farm Insurance Prevents Farmers of Losing Money due to Drought
Editor : M. Achsan Atjo
Translator : Dhelia Gani

PUBLISHED: Selasa, 12 November 2019 , 01:24:00 WIB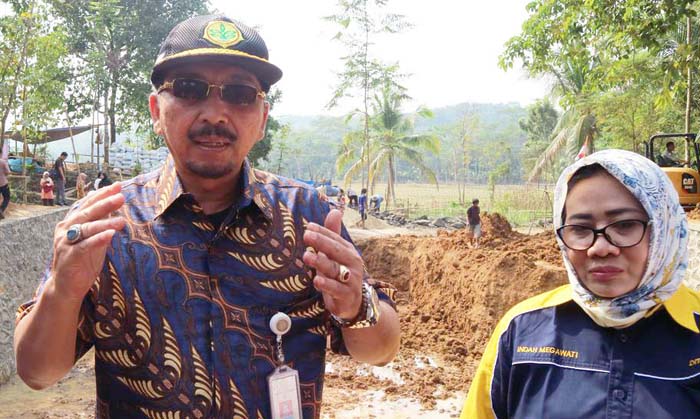 SUBSIDI PEMERINTAH: Dirjen PSP Kementan Sarwo Edhy [kiri] dan Direktur Pembiayaan Ditjen PSP Kementan, Indah Megasari [Foto: Humas Ditjen PSP]
Jakarta [B2B] - Realisasi Program Asuransi Usaha Tani Padi [AUTP] per awal November, menurut Kementerian Pertanian RI mencapai 880.728 hektar dari target 1 juta hektar untuk 2019, sementara klaim dari sawah yang terkena puso tahun ini diperkirakan lebih besar ketimbang 2018 akibat kemarau panjang.
"Klaim kerugian yang sudah dibayar sekitar 625.943 hektar dari lahan yang terdaftar. Tim Ditjen PSP berupaya mempercepat capaian target ke sejumlah daerah seperti Sumsel, Jatim, Kalimantan, Sulsel dan Aceh," kata Direktur Pembiayaan Ditjen Sarana dan Prasarana - Ditjen PSP Kementan Indah Megasari di Jakarta, Minggu [10/11].
Indah Megasari menambahkan capaian tersebut menunjukkan peningkatan minat petani terhadap AUTP. Sementara merujuk capaian AUTP pada 2015 hanya 233.500 hektar dengan luas lahan yang diklaim seluas 3.492 hektar, meningkat menjadi 307.217 hektar pada 2016 dengan klaim kerugian 11.107 hektar.
"Tahun 2017 meningkat menjadi 997.961 hektar, klaim kerugian tercatat 25.028 hektar. Realisasi 2018 sekitar 806.199,64 hektar dari target 1 juta hektar atau 80,62% dengan klaim kerugian 12.194 ha atau 1,51%," katanya.
Indah Megasari tidak menampik AUTP sempat tersendat karena penerapan digitalisasi program Aplikasi Sistem Informasi Asuransi Pertanian [SIAP] yang diluncurkan awal 2019. Namun dia meyakini realisasi AUTP 2019 dapat mencapai 90% atau 900.000 hektar.
Dirjen PSP Kementan, Sarwo Edhy dalam berbagai kesempatan kunjungan kerja di daerah kerap melakukan sosialisasi AUTP, sangatlah penting bagi petani, karena bermanfaat pada musim kering saat ini.
"Preminya murah karena dapat subsidi dari pemerintah, jadi hanya Rp36 ribu per hektar dari aslinya Rp180 ribu. Sayang sekali kalau petani tidak ikut. Karena jika mereka gagal panen, kan ada uang yang akan cair sebesar Rp 6 juta per hektar. Ini kan sangat membantu petani," kata Sarwo Edhy pada panen perdana Demfarm lahan rawa Serasi di Kabupaten Barito Kuala, Kalsel, pekan lalu. [Sur]
Jakarta [B2B] - Indonesian Agriculture Ministry encourages rice farmers across the country to insure paddy fields in the rice farming insurance program or the AUTP. During last four years, 2015 - 2018, total realization of AUTP reached 2,537,627.97 hectares of target 3.5 million hectares or 72.50% while loss claims reached 53,340 hectares or 2.1%. The AUTP 2018 realization around 806,199.64 of target 1 million hectares [80.62%], while the loss claims reached 12,194 hectares [1.51%].