Sekretaris ItJenTan: "Pemutakhiran Data Turunkan Tingkat Perbedaan Persepsi´
Update the Financial Report Data of Indonesian Agriculture Ministry
Editor : M. Achsan Atjo
Translator : Dhelia Gani

PUBLISHED: Kamis, 03 Oktober 2019 , 16:54:00 WIB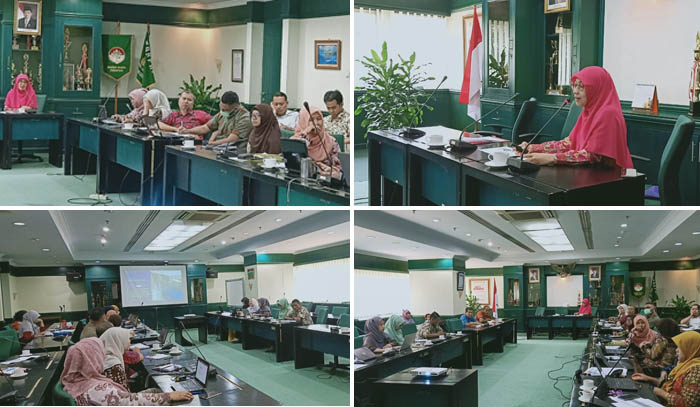 REKOMENDASI LHP: Kabag DPLHA ItJenTan Noermiendari [hijab merah] memimpin Rapat ´Rekonsiliasi dan Pemutakhiran Data yang diikuti seluruh Satker di Kementan [Foto2: Humas ItJenTan]
Jakarta [B2B] - Inspektorat Jenderal pada Kementerian Pertanian RI [ItJenTan] mengingatkan satuan-satuan kerja [Satker] agar seluruh rekomendasi Laporan Hasil Pengawasan [LHP] dari ItJenTan, baik kerugian negara maupun administrasi untuk segera diselesaikan dengan didukung oleh bukti eviden yang cukup, serta melakukan identifikasi terhadap rekomendasi yang sulit ditindaklanjuti oleh Satker, sebagai langkah ´pemutakhiran data untuk menurunkan tingkat perbedaan persepsi´.
Hal itu dikemukakan oleh Sekretaris ItJenTan, Suprodjo Wibowo dalam arahannya saat membuka kegiatan ´Rekonsiliasi dan Pemutakhiran Data´ di Jakarta pada Rabu [2/10].
Suprodjo W menegaskan bahwa kegiatan tersebut dalam rangka pemutakhiran dan penyelesaian tindaklanjut atas LHP yang masih tersisa untuk temuan ItJenTan, Badan Pengawasan Keuangan dan Pembangunan [BPKP] dan Badan Pemeriksa Keuangan RI [BPK].
"Pemutakhiran data LHP bertujuan menurunkan tingkat perbedaan persepsi," katanya pada rapat yang berlangsung di ruang rapat SPI Gedung B, kantor ItJenTan di kawasan Ragunan, Jakarta Selatan.
Kepala Bagian Data Pemantauan Laporan Hasil Audit [DPLHA] ItJenTan, Noermiendari selaku Penanggung Jawab Monitoring seluruh rekomendasi atas LHP menegaskan bahwa peran dari percepatan tindaklanjut temuan Satker merupakan tugas dan fungsi [Tusi] dari Auditor.
"Sedangkan bagian Data Pemantauan Laporan Hasil Pengawasan [DPLHP] bertugas melakukan penatausahaan terhadap hasil tindaklanjut hasil audit sesuai dengan Permentan No 43 tahun 2015 tentang Organisasi dan Tata Kerja Kementan," kata Noermiendari.
Kabag DPLHA ItJenTan Noermiendari mengharapkan kegiatan yang dilakukan secara berkala dan berlangsung rutin dapat mengurangi tingkat perbedaan terhadap temuan kerugian negara maupun administrasi pada masing-masing penanggung jawab [PJ] baik di ItJenTan maupun administrasi pada masing-masing penanggung jawab baik di ItJenTan maupun Biro Keuangan dan Perlengkapan di Sekretariat Jenderal [Setjen Kementan].
Tampak hadir para Auditor Inspektorat I dan II di ItJenTan, para PJ Tindak Lanjut di Biro Keuangan dan Perlengkapan di Setjen Kementan, Ditjen Tanaman Pangan, Ditjen Hortikultura, Ditjen Prasarana dan Sarana Pertanian [PSP], Badan Penyuluhan dan Pengembangan SDM Pertanian [BPPSDMP]. [Ri2n]
Jakarta [B2B] - The Inspectorate General at the Indonesian Agriculture Ministry reminded all work units to recommend financial supervision reports related to state and administrative losses to be resolved immediately supported by sufficient evidence, according to the senior official of the agriculture ministry.