Kementan akan Kembangkan `Food Estate` di Dataran Tinggi Sumut
Indonesia will Develop the Food Estate in North Sumatra Province
Editor : M. Achsan Atjo
Translator : Dhelia Gani

PUBLISHED: Rabu, 01 Juli 2020 , 18:34:00 WIB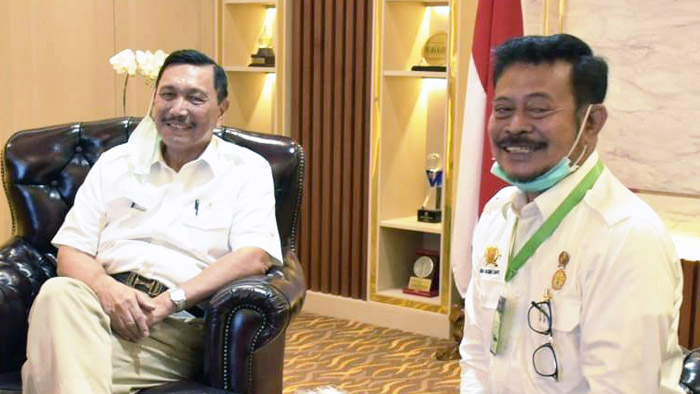 KAWASAN TERPADU: Menteri Koordinator Bidang Kemaritiman dan Investasi RI Luhut Binsar Pandjaitan [kiri] dan Menteri Pertanian RI Syahrul Yasin Limpo [kanan] Foto: Biro Humas Kementan
Jakarta [B2B] - Pemerintah RI akan mengembangkan konsep pangan terintegrasi mencakup pertanian, perkebunan dan peternakan di suatu kawasan [food estate] di Kabupaten Humbang Hasundutan, Provinsi Sumatera Utara sebagai pilot project Super Prioritas Program Pertanian [SP3] di lahan khusus berkualifikasi tinggi dengan komoditas tertentu.
Demikian dikemukakan Menteri Pertanian RI Syahrul Yasin Limpo [SYL] dan Menteri Koordinator Bidang Kemaritiman dan Investasi RI Luhut Binsar Pandjaitan [LBP] usai pertemuan di Jakarta, Rabu [1/7].
"Sesuai petunjuk Presiden Jokowi dan Menko Maritim, saya sebagai menteri teknis di bidang pertanian membuat langkah, atas koordinasi di bawah Menko, ini menjadi SP3," kata SYL kepada pers usai pertemuan di ruang kerjanya.
Menurutnya, SP3 ditujukan pada lahan-lahan khusus yang berkualifikasi tinggi untuk komoditas berkualitas tinggi. Humbang Hasundutan dipilih sebagai percontohan karena potensial untuk pengembangan beberapa komoditas terpilih dengan sumber daya dan sistem pertanian yang terbarukan.
"Bawang [putih] itu harganya mahal. Kentang mahal. Bawang merah juga mahal. Kualitas lahan dan komoditas harus bagus, karena itu intervensinya dengan hi-tech," kata Mentan SYL.
Sementara Menko LBP menyatakan dukungannya pada Program SP3 yang digagas oleh Mentan SYL sebagai plot awal model bagi percontohan pertanian di daerah lain.
"Saya hanya mengusulkan supaya ada tanah-tanah di ketinggian, yang subur bisa dibuat satu pertanian yang mekanis. Itu bisa jadi model, nanti di tempat-tempat lain. Ternyata tanah itu di Kabupaten Humbang Hasundutan. Tanah yang subur dan Mentan baru dari sana," kata LBP.
Dari lahan khusus tersebut, menurutnya, diharapkan pengembangan komoditas lainnya dapat berhasil dibudidayakan, tidak hanya terbatas kepada tiga komoditas yang disebutkan di atas. LBP menaruh harapan pengembangan komoditas pertanian dan lainnya pada Badan Litbang Kementerian Pertanian RI.
"Hasil Litbang Mentan itu jago-jago. Nah pikiran kita tadi, bisa direkayasa sama ahli-ahli kita. Bikin durian yang bagus. Jeruk yang besarnya seragam dan manis, itu tentu ditopang oleh riset dan teknologi untuk menghasilkanya," kata LBP.
Jakarta [B2B] - North Sumatera province has been chosen as the site for Indonesia´s new food barn to be established under the government´s food estate program, said Agriculture Minister Syahrul Yasin Limpo here on July 1. For the first phase of the program, which encompasses the initial construction of the food barn, the government has provided land in the Humbang Hasundutan regency.