Antisipasi Kekeringan, Drone Dukung PJ Serasi Sumsel Capai Target LTT
Rice Planting Drones Support Indonesia to Increase Rice Production
Editor : M. Achsan Atjo
Translator : Dhelia Gani

PUBLISHED: Rabu, 11 September 2019 , 22:07:00 WIB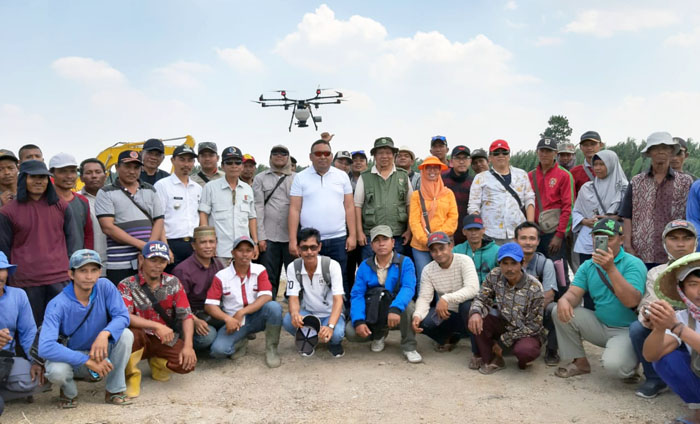 TEBAR BENIH: PJ Upsus #Serasi Andi Nur Alam Syah [t-shirt putih] di bawah drone tabur benih bersama tim PJ Upsus LTT Serasi di Musi Banyuasin [Foto: Humas Ditjen PSP Kementan]
Musi Banyuasin, Sumsel [B2B] - Alat drone tanam atau tebar benih dimanfaatkan oleh Kementerian Pertanian RI mendukung pencapaian target luas tambah tanam [LTT] Provinsi Sumatera Selatan seluas 200.000 hektar, khususnya di lahan rawa dan pasang surut yang dikembangkan oleh Kementan melalui Program ´Selamatkan Rawa Sejahterakan Petani´ disingkat #Serasi di Kabupaten Musi Banyuasin hingga Oktober 2019.
Penanggung Jawab Upsus #Serasi Sumsel, Andi Nur Alam Syah mengtakan Kementan bersama pemerintah provinsi dan kabupaten serta TNI AD meyakini optimalisasi lahan rawa dan pasang surut dari Program #Serasi di Musi Banyuasin dapat tercapai meskipun dilanda kekeringan akibat kemarau.
"Prioritas Kementan adalah menambah bantuan Alsintan seperti ekskavator dan traktor roda empat yang dikerahkan bekerja optimal hingga 16 jam per hari. Percepatan LTT juga digenjot dengan memanfaatkan drone tanam atau tebar benih," kata Andi Nur AS saat melakukan tanam padi hasil Program #Serasi seluas 3.350 hektar di Desa Karang Agung, Kecamatan Lalan, Musi Banyuasin, belum lama ini.
Artinya tebar benih tak lagi manual sehingga waktu dan biaya lebih efisien. Semua tim sinergi langsung kawal proses olah lahan dan tanam agar indeks tanam meningkat menjadi dua hingga tiga kali setahun.
Menurutnya, upaya lain Kementan adalah menyalurkan program bantuan percepatan tanam untuk skala minimum 100 hektar, dengan menyalurkan bahan bakar minyak [BBM] untuk mesin pompa, traktor maupun biaya operator traktor.
"Semua kabupaten di Sumsel kami percepat tanam dan luasnya, jadi tidak hanya di Musi Banyuasin, dengan target LTT Sumsel 200 ribu hektar di musim kemarau ini. Kalau produktivitas padi lima ton per hektar, akan menghasilkan produksi padi sekitar satu juta ton. Produksi ini kita gapai karena berhasil amankan produksi di musim kemarau," kata Andi AS yang juga menjabat Direktur Alsintan di Direktorat Jenderal Prasarana dan Sarana Pertanian [Ditjen PSP Kementan]. [Sur]
Musi Banyuasin of South Sumatera [B2B] - The use of drones to sow rice seeds in wetland paddy fields in South Sumatra province, utilized by Indonesian of Agriculture Ministry to support the achievement of 200,000 hectares of rice planting extensification in Musi Banyuasing district, according to the senior official of the ministry.