Rp21,05 Triliun, Pagu Anggaran Kementan 2020 Disetujui Komisi IV DPR
Indonesian Parliament Approved the Agriculture Ministry`s Budget Ceiling for 2020
Editor : M. Achsan Atjo
Translator : Dhelia Gani

PUBLISHED: Selasa, 17 September 2019 , 02:38:00 WIB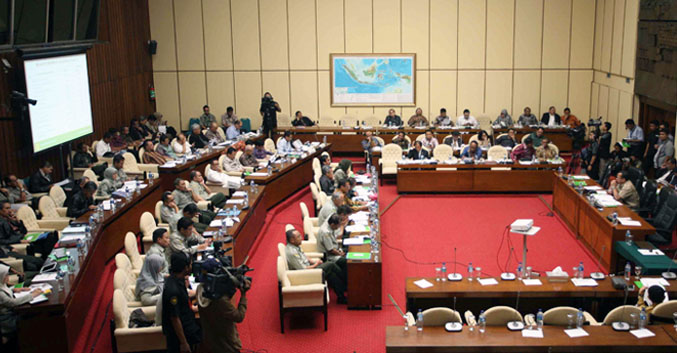 Komisi IV DPR RI mengapresiasi berbagai program Mentan Amran Sulaiman dalam lima tahun terakhir [2014 - 2019] berdampak besar pada peningkatan produksi pangan strategis di seluruh Indonesia [Foto: Humas]
Jakarta [B2B] - Komisi IV DPR RI menyetujui pagu anggaran Kementerian Pertanian untuk 2020 dalam Rancangan Pendapatan dan Belanja Negara (RAPBN) tahun 2020 berdasarkan hasil pembahasan Badan Anggaran DPR RI dengan Pemerintah RI sebesar Rp21,05 triliun. Anggaran tersebut bersumber dari rupiah murni sebesar Rp20,78 triliun dan rupiah murni pendamping sebesar Rp5,15 miliar.
Komisi IV DPR RI juga mendesak Pemerintah RI dalam hal ini Kementerian Keuangan RI untuk segera menyelesaikan kurang bayar subsidi pupuk sebesar Rp9,81 triliun.
"Anggaran lain dari pendapatan negara bukan pajak sebesar Rp 171,8 miliar serta pinjaman dan hibah luar negeri sebesar Rp 96,7 miliar," kata Ketua Komisi IV DPR RI Edhy Prabowo saat membacakan salah satu kesimpulan Rapat Kerja dengan Menteri Pertanian RI Andi Amran Sulaiman beserta jajaran di Jakarta Senin [16/9].
Komisi IV DPR juga menyetujui anggaran Dana Alokasi Khusus [DAK] bidang pertanian tahun 2020 sebesar Rp1,5 triliun yang terdiri atas DAK provinsi sebesar Rp 384 miliar dan DAK kabupaten/kota Rp1,11 triliun.
Mentan Amran Sulaiman menyampaikan terimakasih atas dukungan DPR dalam mensukseskan semua program di Kementan. "Ke depan, kami akan memperbaiki apa-apa saja yang menjadi kekurangan dan meningkatkan apa-apa saja yang menjadi capaian."
Menurutnya, anggaran tersebut merupakan alokasi dana untuk pelaksanaan kegiatan utama peningkatan produksi pangan strategis di 11 eselon satu lingkup Kementan.
Komisi IV DPR RI juga menyetujui alokasi anggaran subsidi pupuk tahun 2020 sebanyak 7.949.303 ton atau setara Rp 26,62 triliun.
Adapun rinciannya adalah urea sebanyak 3.274 ton atau setara Rp11,34 triliun, SP-36 sebanyak 500 ribu ton atau setara Rp1,65 triliun, ZA sebanyak 2.705 ribu ton atau setara Rp11,12 triliun dan pupuk organik sebanyak 720 ribu ton atau setara Rp1,14 triliun.
Turut hadir Sekjen Kementan, Momon Rusmono; Kepala BPPSDMP, Prof Dedi Nursyamsi; Dirjen PKH I Ketut Diarmita; Dirjen PSP Sarwo Edhy dan sejumlah pejabat eselon satu, eselon tiga dan empat terkait dari seluruh unit kerja eselon satu Kementan.
Jakarta [B2B] - The food commission of Indonesian parliament approved the Indonesian Agriculture Ministry´s budget ceiling for 2020 in the State Revenue and Expenditure Plan [RAPBN] based on the results of discussions of parliamentary budget section with the central government amounting to IDR21.05 trillion, according to the chair of parliamentary food commission.