Kementan Apresiasi Paravetindo Dukung Capaian Upsus Siwab
Artificial Insemination Chosen by Indonesian for Increase the Cattle Population
Reporter : Gusmiati Waris
Editor : Cahyani Harzi
Translator : Dhelia Gani

PUBLISHED: Selasa, 03 September 2019 , 02:54:00 WIB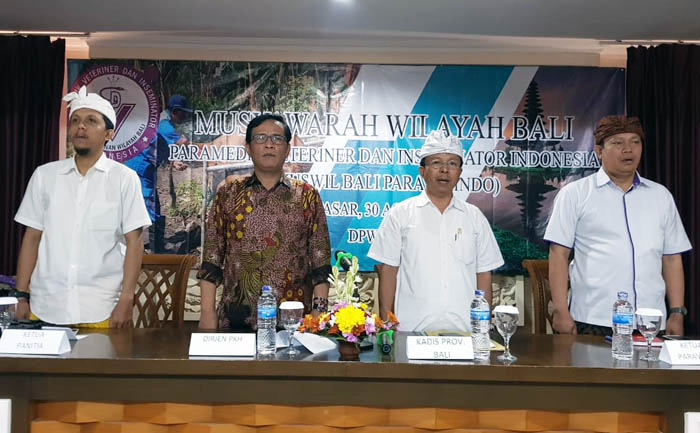 MUSWIL DPW BALI: Dirjen PKH Kementan I Ketut Diarmita [batik coklat] dan Kepala Dinas Peternakan dan Kesehatan Hewan Provinsi Bali, I Wayan Mardiana [ke-2 kanan] dan pengurus DPW Bali [Foto: Humas Ditjen PKH]
Denpasar, Bali [B2B] - Capaian kinerja Upsus Siwab hingga 22 Agustus 2019 adalah akseptor yang di-inseminasi buatan [IB] sebanyak 2,9 juta ekor atau 79,8% dari target tahunan 3 juta ekor, bunting 1,4 juta ekor [68,1% dari 2,1 juta ekor], dan lahir 1,3 juta ekor [76,3% dari 1,6 juta ekor]. Realisasi capaian IB tersebut, salah satu kegiatan dikontribusikan dari penanggulangan gangrep dengan target nasional 67,8 ribu ekor tertangani dan target kesembuhan 47,4 ribu ekor atau 70% dari yang ditangani.
Dirjen Peternakan dan Kesehatan Hewan Kementan [PKH] I Ketut Diarmita mengatakan capaian tersebut berkat dukungan Paramedik Veteriner Indonesia [Paravetindo] mendukung keberhasilan dan merupakan ujung tombak pelaksanaan Program Upsus Siwab. Sejak terbitnya Peraturan Menteri Pertanian Nomor 03/2019 tentang Pelayanan Jasa Medik Veteriner, maka tenaga inseminator, pemeriksaan kebuntingan [Pkb], dan asisten teknik reproduksi [ATR] dimasukkan kedalam kelompok paramedik veteriner.
"Permentan ini juga mengatur legalitas profesi paramedik dalam bentuk surat izin pelayanan paramedik atau SIPP serta kepastian hukum bagi para petugas mandiri maupun aparatur sipil negara dalam melakukan praktik profesi kepada masyarakat," kata Dirjen PKH I Ketut Diarmita saat membuka musyawarah wilayah Paravetindo DPW Bali di Denpasar, belum lama ini.
Menurutnya, dengan jumlah paramedik veteriner yang cukup banyak, terdiri atas 6.583 paramedik kesehatan hewan, 9.277 inseminator, 4.298 PKb, dan 153 ATR maka paramedik merupakan pendukung utama sukses Upsus Siwab.
Saat ini, capaian Upsus Siwab menunjukan hasil menggembirakan, secara nasional sejak 2017 hingga Juni 2019, untuk IB menunjukan realisasi 10,6 juta ekor akseptor atau 105 % dari target 10 juta; kebuntingan 5 juta ekor atau 69,19% dari target 7,2 juta; dan kelahiran 3.7 juta ekor atau 64,18% dari target 5.7 juta ekor.
Sementara itu, capaian Upsus Siwab Bali pada Januari hingga 22 Agustus 2019 untuk realisasi IB mencapai 52 ribu ekor akseptor atau 67.5% dari target 70 ribu ekor, realisasi kebuntingan 30,7 ribu ekor atau 62,6% dari target 49 ribu ekor, dan realisasi kelahiran 22,8 ribu ekor atau 58,2% dari target 20,104 ekor.
Kepala Dinas Peternakan dan Kesehatan Hewan Provinsi Bali, I Wayan Mardiana menyambut baik terbentuknya perhimpunan paramedik veteriner yang meliputi inseminator, Pkb, dan ATR mempunyai fungsi strategis memberikan pelayanan medik veteriner dan medik reproduksi kepada masyarakat.
"Diharapkan peran strategis dalam Upsus Siwab yang sudah baik ini dapat dipertahan dan ditingkatkan," kata Wayan.
Denpasar of Bali [B2B] - Indonesian government developing the special program to increase the population and livestock production for self-sufficiency in proteins of 2019 through the the artificial insemination program for cattle or called the Upsus Siwab with a target of four million artificial insemination of cows that can produce three million of calf.