Sebar ke UMKM, Mentan SYL Instruksi Balitnak `Mapping` Kawasan Ternak
Indonesian Govt will Mapping the Cattle Development Area
Editor : M. Achsan Atjo
Translator : Dhelia Gani

PUBLISHED: Minggu, 22 Desember 2019 , 03:00:00 WIB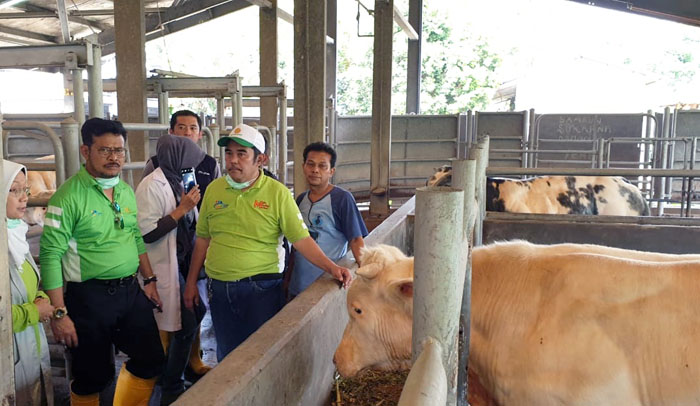 PEMETAAN KAWASAN: Mentan Syahrul Yasin Limpo [ke2 kiri] di kandang ternak sapi Balitnak di kawasan Ciawi, Bogor [Foto: Biro Humas Kementan]
Bogor, Jabar [B2B] - Pengembangan ternak sapi di hulu seharusnya mengacu pada kawasan seperti sapi perah di pegunungan, pembibitan di dataran rendah dan perkebunan untuk penggemukan, yang akan dipantau oleh Agriculture War Room [AWR] di Komando Strategis Pembangunan Pertanian [KostraTani]. Hasil pengembangan disalurkan ke UMKM dengan memanfaatkan dana kredit usaha rakyat [KUR] untuk menumbuhkan wirausahawan di 34 provinsi dan memenuhi kebutuhan ternak sapi di daerah.
"Saya harapkan riset peternakan dapat mendukung kecukupan kebutuhan daging sapi ke depan. Saya mintakan saudara petakan jenis ternak dan daerah pengembangannya. Nanti akan kita pantau sapi-sapi tersebut dari AWR di KostraTani," kata Menteri Pertanian RI, Syahrul Yasin Limpo [SYL] kepada Andi Baso Lompengeng Ishak, Kepala Balai Penelitian Ternak [Balitnak] di Ciawi - Bogor, Jawa Barat pada Sabtu [20/12].
Sambil berkeliling dari kandang ke kandang ternak sapi dari Balitnak, Mentan SYL mengapresiasi koleksi hewan ternak dari unit pelaksana teknis [UPT] Balitbangtan, dan mengharapkan pengembangan budidaya di luar Jawa, khususnya Papua dan Kalimantan.
"Saya melihat ini sudah bagus. Persilangan sapi harus diciptakan dan adaptif terhadap lingkungan kita, untuk pengembangan ke depan, Papua potensial masuk rencana pengembangan sentra ternak lokal," katanya.
Dia mengharapkan Andi Baso LI beserta timnya melakukan mapping [pemetaan] kawasan ternak. Misalnya, di daerah pegunungan untuk sapi perah, dataran rendah untuk pembibitan dan bahkan kawasan perkebunan untuk perbanyakan dan penggemukan.
SYL menyatakan bahwa 34 provinsi akan mendapat indukan ternak unggulan, namun perlu menyiapkan business plan agar tidak sekedar bagi-bagi. Muaranya, untuk menumbuhkan wirausahawan dan terpenuhi kebutuhan daerahnya sesuai kebutuhan.
"UMKM sektor peternakan harus berkembang. Ada KUR yang dapat dimanfaatkan. Tinggal koordinasi di level bawah. KUR akan memfasilitasi industri kecil peternakan dan berorientasi ekspor," katanya.
Menurutnya, offtaker di tiap kluster pengembangan harus diatur dan ditentukan, sehingga jelas arah dan peluangnya bagi peternak, mulai dari hulu hingga hilir. Misalnya, industri peternakan yang sudah besar harus membantu UMKM tertentu sesuai peta komoditas dari Kementerian Pertanian RI hasil pantuan AWR melalui KostraTani.
Bogor of West Java [B2B] - Upstream cattle development should refer to areas such as dairy cows in the mountains, breeding in the lowlands and plantations for fattening, which will be monitored by the Agriculture War Room at the Indonesian Agricultural Development Strategic Command, according to the Agriculture Minister Syahrul Yasin Limpo.