Kegembiraan Buka Fikiran, Ini Faktanya dari Workshop Pusluhtan di Bali
Excitement of Indonesian Agricultural Extension Workshops in Pictures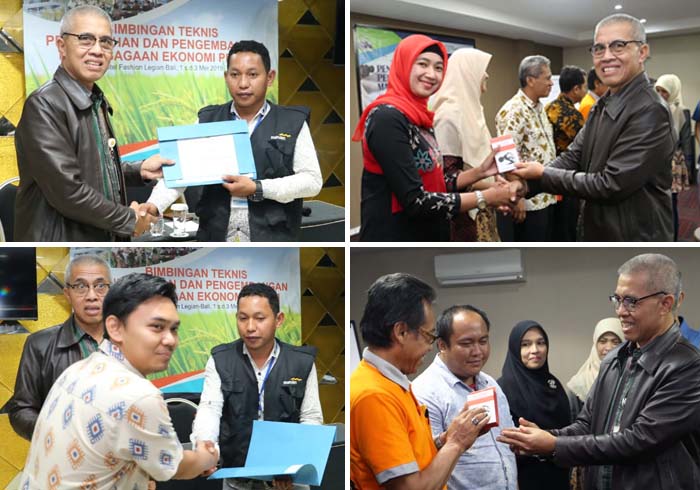 Tak ada yang sia-sia dari kesungguhan
TEMUKAN kegembiraan setiap hari, dan kita akan menjadi orang yang lebih baik dari hari ke hari, kata sang bijak bestari.
Foto lebih dari sejuta kata, mengungkap kegembiraan dari workshop 'peningkatan kapasitas pengelola informasi dan materi penyuluhan' maupun bimbingan teknis 'penyuluhan dan pengembangan kelembagaan ekonomi petani' yang menjadi bagian dari rapat koordinasi dan sinkronisasi [Rakorsin] yang digelar Pusat Penyuluhan Pertanian [Pusluhtan BPPSDMP Kementan] di Bali selama tiga hari [1 - 3 Mei].
Bimtek dan workshop dibuka Kabid Penyelenggaraan Penyuluhan, I Wayan Ediana mewakili Kepala Pusluhtan, Siti Munifah dan diakhiri pemberian penghargaan kepada beberapa peserta terbaik dari hampir 100 partisipan. [Foto2: Humas Pusluhtan/Bima NS]
FIND JOY every day, and we will get better from day to day, said the wise man.
Pictures of more than a million words revealed the joy of workshop about 'improve the management capacity of agricultural extension materials' and and technical guidance of economic development of farmers' institutions was held by Indonesian Agriculture Ministry in Bali, 1 to April 3, 2019,
The two activities were opened by the Head of Agricultural Extension, I Wayan Ediana representing his Director, Siti Munifah.